"This review looks in-depth into the best email marketing services to use in 2021."
When you're selling a product on the internet, building a relationship with your customer is important.
This is because transactions are done online and a healthy relationship can help build trust and credibility. One of the best ways to foster relationships is through email marketing.
The best email marketing service isn't only about generating traffic and leads. Providing your customers relevant information they need can help them reach informed decisions and help them make better decisions.
However, business owners seldom have the time or money to communicate with every single customer. This is where mail marketing services come in.
If you're looking for an email marketing service that can help you send the right message to customers while providing you with efficiency, you're on the right page because our review of the best email marketing services can help you make the right choice.
Best Email Marketing Services
ConvertKit
Free
Pros:
Lets you create landing page even on free plan
Tagging system makes it easy to add or remove subscribers from workflow
Offers paid newsletters
Very good support
Cons:
Paid plan is expensive
Reporting lacks depth
ConvertKit is relatively new compared to familiar brands like AWeber and MailChimp. They are popular with professional bloggers, podcasters, and YouTube creators. One of the reasons for their popularity is because their starting price is zero.
A freemium plan lets you manage up to 1,000 subscribers. Other features of freemium include: unlimited landing pages and forms, send email broadcasts, and email support. While obviously limited in features, it is still a good value for budding podcasters and YouTube bloggers.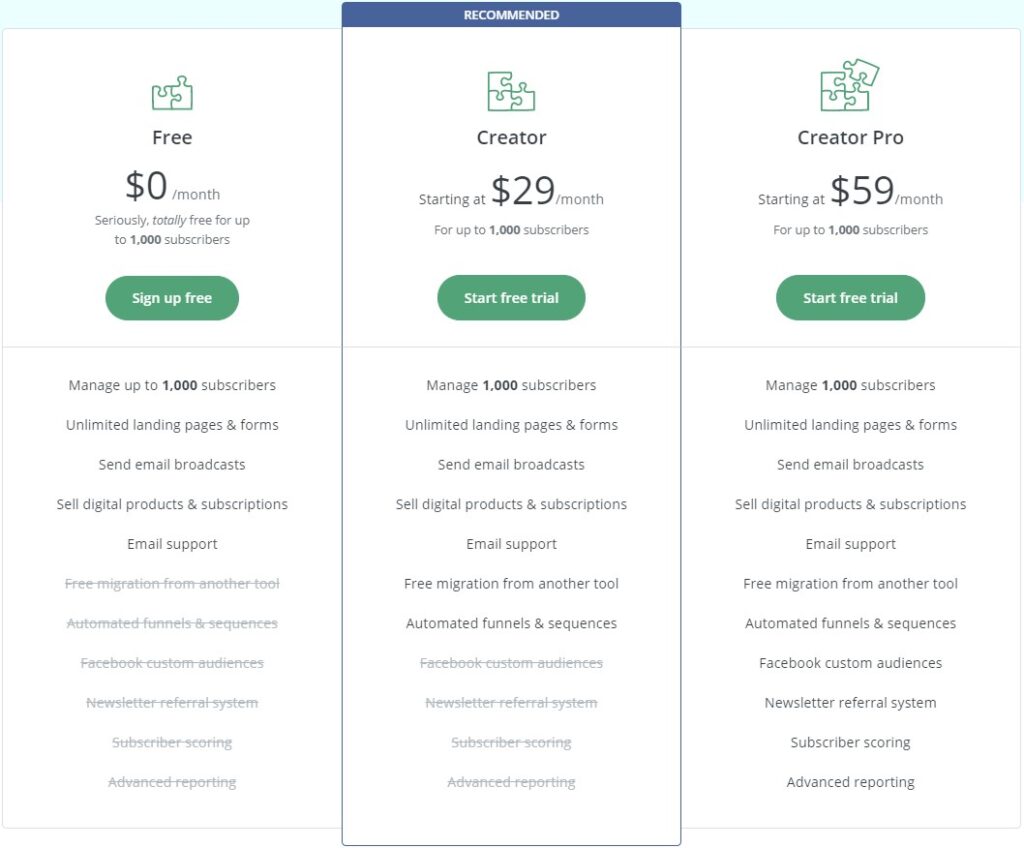 One of the best reasons why I tried ConvertKit was because of their landing page editor. It lets you create a landing page which was a godsend since I did not have a website for a product I was promoting at that time.
This feature is also very useful if you have social media campaigns and comes with lots of attractive templates to choose from. Best of all you can use your own custom domain even with the free plan.
Yes, ConvertKit has a freemium plan albeit limited in features. The next plan on their tier is the Creator at $29 per month which is a bit pricey. Their reporting also lacks depth.
You only get the basic ones like open rates, click-through rates, and unsubscribes. It would be great to also know about geo-tracking, bounce rate, and click maps.
ActiveCampaign
Starts at $9
Pros:
Powerful automation
Thorough reporting
Free migration
Cons:
Feature can be overwhelming
No free plan
ActiveCampaign has everything you need in a newsletter marketing tool. It is easy to use and its advanced automation makes life easier for you as a marketer.
One of the reasons why I like this platform is because of its automation. They thought of everything: triggered campaigns, sales follow-ups, automated segmentation, dynamic email content, and many more.

Unlike ConvertKit, they also have deeper reporting and will let you know about page visits, click maps, and geo-tracking. Other reporting features like purchase tracking are also available in higher plans for Shopify, BigCommerce, and WooComerce.
ActiveCampaign is not just for sending emails. It also lets you set up landing pages, send SMS and set up chatbot automation.
Since ActiveCampaign offers a lot of automation, I don't recommend it for somebody who is looking for a beginner-friendly tool. Yes, it is easy to use but the myriad of features can make it overwhelming for newbies.
There is also no free plan, only a free trial so if you're looking for a simple email marketing tool, there are cheaper alternatives.
Constant Contact
Starts at $20
Pros:
Amazing features like drag and drop email editor
Customizable and responsive templates
Good image library
Cons:
Limited automation
Expensive starting price
Did you know that Constant Contact has been around since 1995? Yep, they are one of the oldest and best email marketing services.
One of the reasons I used their services was because they were dedicated to constantly improving their product. Over the years they have added numerous email options, automation, and recurring newsletter features to name a few.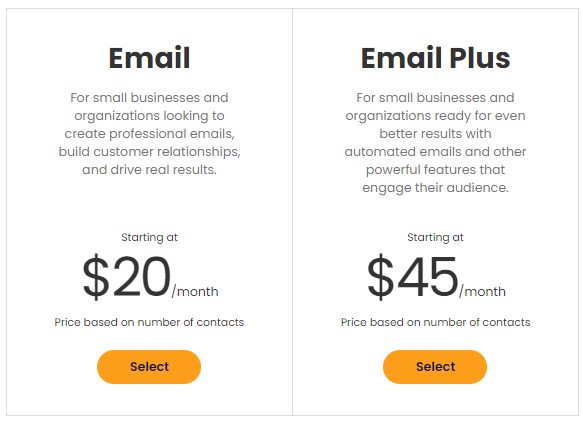 Constant Contact targets small businesses but their starting price is a bit steep at $20 per month at 500 subscribers. They also removed the events management feature which comes in handy for some types of businesses. Automation is also limited.
The good news is that they do have lots of good features such as a drag and drop email editor, customizable responsive email templates, big image library, intuitive landing page editor, and list-building tools for websites, social media, and SMS.
This is a good tool if you are a small business looking to connect regularly with your customers.
AWeber
Starts at $19.99
Pros:
Good customer support
A/B testing with analytics
Mobile apps
Cons:
Pricey
No automation; features need an update
Another familiar name on this list is AWeber. This platform has everything small businesses need for email marketing campaigns. They are also a good choice for newbies since AWeber does a good job teaching via articles, videos, and podcasts. Their customer service is fast and friendly.
Apart from good customer service, they offer A/B testing and email web analytics which allows you to use your own domain when you want to track clicks.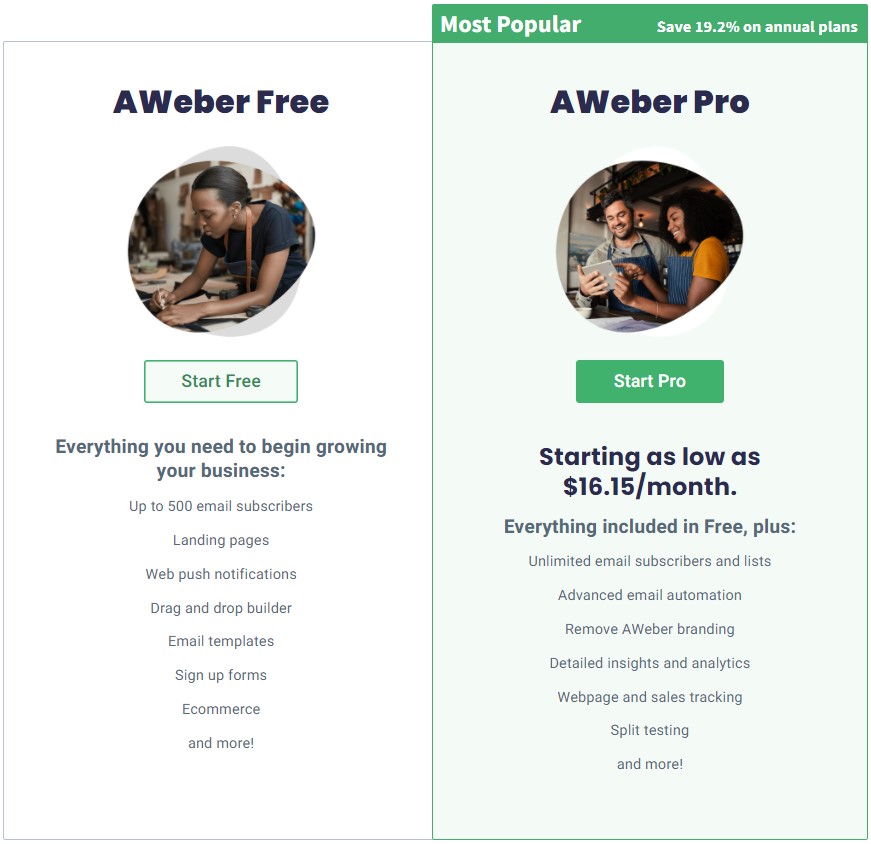 This is very helpful when you want to track product performance and sales. AWeber also offers 3 mobile apps: stats, lead capture on the go, and email curation.
The reason I am not so keen on recommending AWeber to friends is mainly that they don't bring a lot of bang for the buck. At $19.99 per month, they don't offer cool features like more advanced newsletter tools.
In my opinion, the whole platform is in need of an update. They need more functionality like advanced automation, spam, and design testing and an overhaul on the design because they cannot provide an exciting experience for the consumer.
MailerLite
Free
Pros:
Free for less than 1,000 subscribers
Drag and drop editor
Responsive designs
Good customer support
Cons:
Lacks comprehensive reporting
No advanced features
No automation
MailerLite is the best email marketing service among bloggers and small businesses. It is easy to use, powerful and has a lot of beautiful templates for newsletters, forms, and landing pages.
My favorite feature for this platform is their drag and drop editor that lets you create forms and emails without coding knowledge. Best of all, they have a free plan for life if you have less than 1,000 subscribers, making it a great option for beginner bloggers.
All landing pages, newsletters, and emails designed in MailerLite are responsive and mobile-friendly.

There is no need to worry about device compatibility because your email will look good on a desktop, tablet, and smartphone. The company also uploads free videos and webinars for users to educate them on maximizing the platform's features.
Beginners who have no knowledge about email marketing can access these tutorials and gain the tools needed to succeed.
I will recommend MailerLite for beginner bloggers but small businesses or pro bloggers will find that they miss key features in their comprehensive reporting.
You only get standard features like open clicks and purchase tracking (for Shopify). Advanced features that I like such as social tracking are missing. There is also no CRM feature and spam/design testing. They also lack advanced automation.
Moosend
Free
Pros:
Good automation
Free plan has most of the features in paid plans
Ability to create custom data fields and segments
Cons:
Limited pre-designed email templates
Customer support for free plan only available 5 days a week
Native SMS messaging not available
Moosend is a powerful platform that I recommend for small businesses on a budget. Their automation workflows are robust compared to other similarly priced email marketing service providers.
They have a free plan that is free forever and most of the features on paid plans are available for free. The free plan lets you send 3,000 emails per month to up to 1,000 subscribers.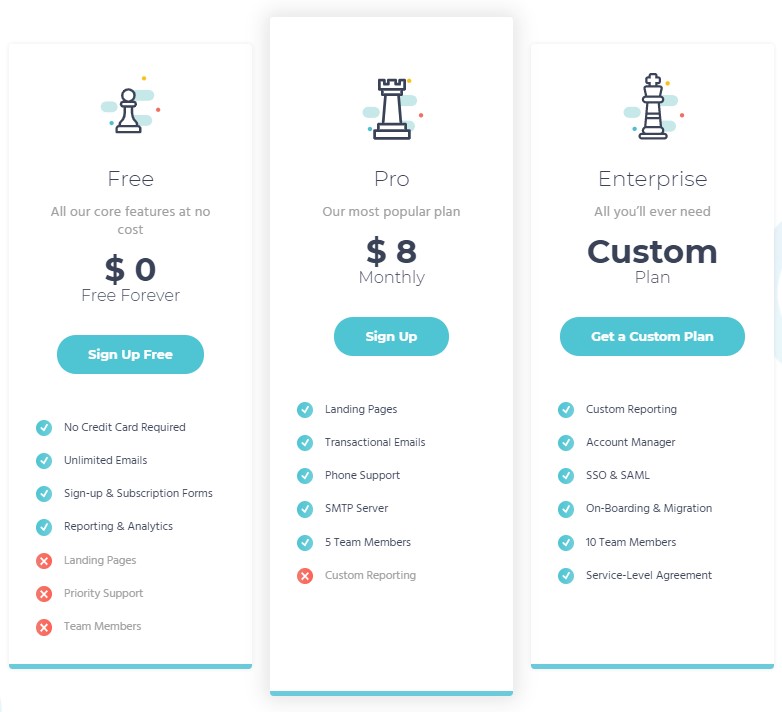 My favorite feature which is the drag and drop editor is available on this platform as well as the ability to create your own design. However, if you're lazy you can access their library of templates.
They also have good automation tools like events trigger email send, shopping cart reminder if the customer does not checkout and other pre-built automation templates.
Moosend also has decent analytics which can be integrated with Google Analytics for better decision making.
Unfortunately for beginners, Moosend customer service does not prioritize free plan users as it is only available 5 days a week and does not include phone or priority support.
However, email, phone, live chat, and self-help knowledge base is available for paid plans. Some people will also find the 70 or so pre-designed templates to be limited.
Mailgen
Starts at $10
Pros:
Autoresponder
Good number of support options
Dynamic segmentation
Cons:
Limited send options
Basic email templates
Basic sign up form functionality
Mailgen is another easy-to-use email marketing service that is best used by small businesses. They don't have a free plan but they have a 30-day free trial and a high volume pricing if you have over 150,000 subscribers.
Mailgen is relatively new compared to the other well-known platforms in this review and they are constantly adding new features and functionality.
Aside from the drag and drop editor, Mailgen's outstanding feature is its autoresponder. The platform helps you create an automatic series of emails that are triggered by your customer's behavior.

Mailgen creates the emails within each template and all you have to do is make edits to customize and personalize the response according to your brand.
It also has simple and logical navigation so that new users can quickly get up to speed and find the features they are looking for. Other features that I like include direct marketing functionality for other marketing channels like SMS and the ability to create as many segments as you like from your list.
Mailgen is still a work in progress. Hopefully, they will work on improving their templates and broaden their send options. Sign-up form functionality also needs to get better.
GetResponse
Starts at $15
Pros:
Impressive automation
Conversion funnel and landing page feature
Live chat
Responsive templates
Cons:
Low score on deliverability
No free plan
Need Plus plan or higher to set up automation workflow
Aside from email marketing, GetResponse also offers landing pages, a CRM, and advanced automation. Their starting price is not the cheapest although it is reasonable considering the features you get from this platform.
Some of the most notable in my opinion include automation segmentation, lead scoring, cart abandonment, activity tracking, and scalable autoresponders.
GetResponse caters to a broad customer spectrum ranging from beginner bloggers to big corporations looking for comprehensive email marketing solutions.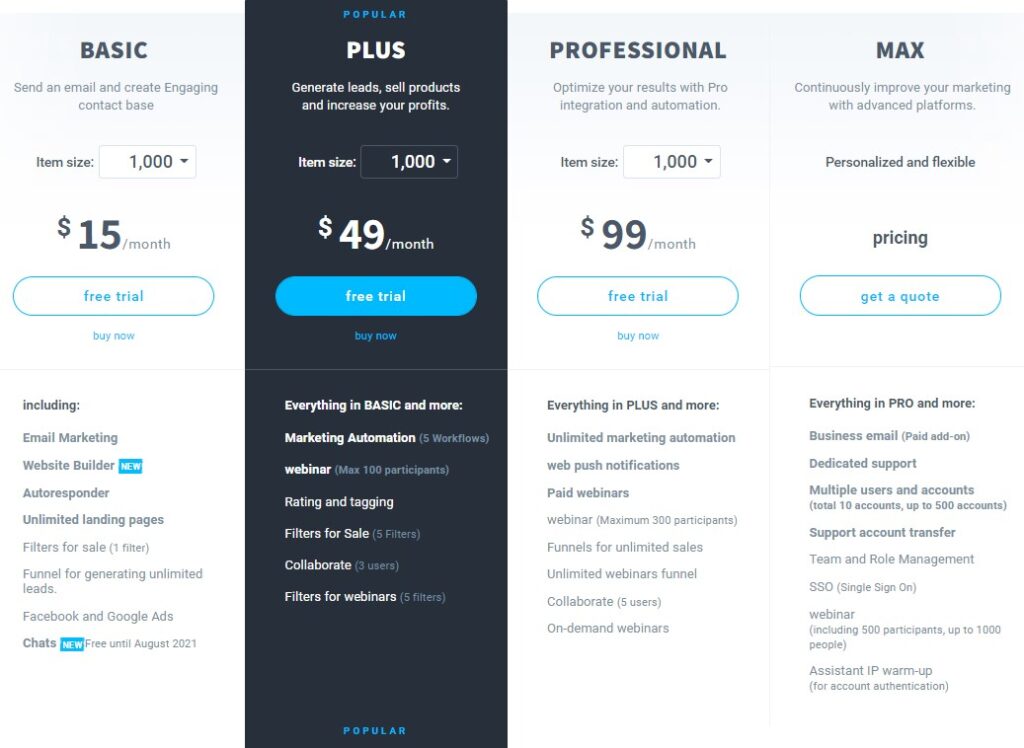 GetResponse templates are also highly responsive so your newsletters and emails always look good on different devices.
Another interesting feature is their conversion funnel, a lead generation tool that lets you create sales funnels and landing pages for different areas of your business. This is a great feature if you want to promote webinars or specific events on your ecommerce site.
There are areas where this platform needs improvement. For example, GetResponse deliverability does not score very well. This is probably one of the reasons why some marketers hesitate to use this platform.
They don't have a free plan but do have a free trial option. Also, you need a PLUS plan (or higher) to access more advanced features to set up automation workflow which makes them expensive when compared to their competitors.
Pabbly
Starts at $29
Pros:
Own in-built delivery engine with access to 50+ external SMTP servers
Can handle bounce and spam complaints
Cons:
No emails can be sent in the free trial plan which defeats the purpose of "free".
$29 starting price is expensive
Approval to use SMTP service
If you are a business owner that likes to send bulk email marketing campaigns to customers, Pabbly is by far one of the best email marketing services. This platform will send bulk emails from a single account without blocking.
It features a built-in delivery engine and an unlimited number of professional SMTP servers. Best of all, it does not charge additional taxes or fees for this service.

While Pabbly assures a 99% deliverability rate, it is not cheap. Costing $29 for the Rookie Plan, you can access features like integrations with 50+ external SMTP servers, subscription billing tools to manage customer subscriptions, recurring payments, billing, and failed payments to name a few.
The Pabbly Form Builder also lets you create email forms for emails or websites quickly using a drag and drop editor.
There are several drawbacks to using Pabbly. Firstly, there is no mobile app which is very inconvenient in my opinion. Also, the Built-In SMTP Service is not user-friendly.
First, you need approval to use this feature. So when your request is denied, you need to spend money on a third-party integration and use it instead. And if approved you can only send an initial 500 emails from their built-in SMTP server.
The number increases over time but the starting number is paltry and it isn't something many email marketers can afford.
MailChimp
Free
Pros:
Generous freemium plan
Great reporting with Google Analytics integration
Great template editor
Access to extra features
Cons:
Can get expensive as subscriber and email list goes up
Customer support only available with paid plans
Does not support affiliate marketing
MailChimp is probably the first thing that comes to mind when you say "email marketing tool". One of the best features of this platform is that they are free to use for up to 2,000 subscribers.
For this service, you get an email builder, a marketing CRM, forms and landing pages, a creative assistant, and a website builder with a MailChimp domain. Not bad for those with limited startup budgets, if you ask me.
If you want more functionality, the next plan is Essentials at $9 and you get free plan's features plus access to all email templates, custom branding, A/B testing, and 24/7 email and chat support.
Aside from a generous freemium plan, MailChimp shines in its reporting. You have access to everything you need to know such as clients, geo-tracking, social media, and Google Analytics integration.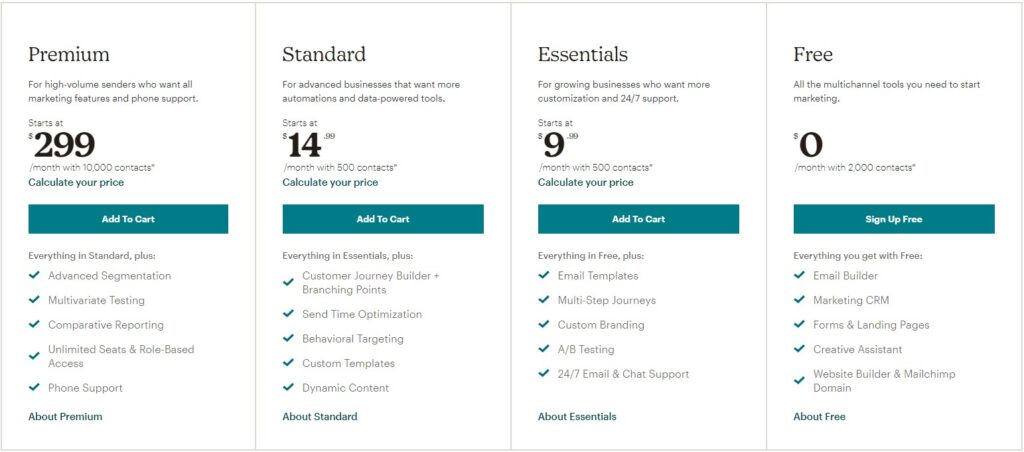 Their template editor sports a clean interface but is easy to use and powerful. New features like appointment scheduling software and online store builder were also recently added and adds more bang for the buck for this platform.
While freemium lets you do a lot of stuff, MailChimp becomes more expensive as your subscriber list climbs or when you need to send more emails. They also have a strict policy prohibiting affiliate marketing.
They also limit the numbers of lists you can create which is bad news if you're not organized in how you manage contacts.
Wrap-Up
In this review, we featured many email marketing tools that offered free services. However, free comes with many different limitations that can hamper your email campaign.
This is why it is important to evaluate your needs so that you can decide on the best email marketing software to use for your blog or business.