"This review is a list of the 10 best landing page builders of 2021. We have done the research so you don't have to".
Landing pages are crucial marketing tools for generating leads and increasing email signups. Consider them as an online flyer for your business, with the added benefit of being able to offer your product or service straight to the client or obtaining their email address.
To create efficient landing pages, you'll need a landing page builder that's simple to use and contains basic functions like pre-made templates, email marketing integration, and A/B testing, while also being affordable for small company owners and experienced managers.
A landing page is still one of the most efficient methods to quickly collect visitor information and direct them toward purchasing your products or services. You're going to be on your way to success with a well-written headline, a compelling offer, and a call to action.
An effective landing page that collects relevant leads for your organization may also help you fuel your PPC campaign.
What must the best landing page builder have?
A good landing page does one thing with success: it draws visitors' attention to whatever you're selling, with a single call to action (CTA) that encourages them to sign up for additional information or buy your product right away.
Landing pages allow you to collect leads and provide targeted messaging to a specified audience as part of your marketing campaigns.
You may hand-code a web page or use a common CMS like WordPress to create a single page for your product. However, something simpler will suit you better.
If you are going to build a landing page to launch a new product or service, you may need:
An app that allows you to create a one-page website that you can easily edit without knowing how to code.
Templates and other tools to assist you in quickly creating a website with a fantastic look.
A mechanism to combine different CTAs, whether you're attempting to gather email addresses, get customers to contact you, or offer your products directly.
Tracking analytics to see how many visitors come to your page and how they got there.
An option to use a custom domain for your site.
There are hundreds of tools available today to help you simply create a well-designed and high-converting landing page, and I've selected a list of 10 of the greatest landing page builders for you. Each software has its own set of features, and we'll go through them and check the costs of each one.
Let's check them out:
The prices listed below are likely to change frequently. We will update the prices as soon as we hear of any changes. However, there should only be slight differences in pricing.
Leadpages
Leadpages make it simple to create attractive opt-in campaigns that gather leads, convert customers, and link with all of your favorite digital marketing platforms, like Facebook ads and e-commerce.
The platform includes powerful templates and features to help you maximize your leads and sales. There are 160+ free landing page templates available, which can be sorted by conversion rates and by industry (blog, eCommerce, fitness, etc).
You can modify your landing pages using Leadpages' simple UI and drag-and-drop builder without any technical knowledge.
Aside from advanced capabilities like A/B testing and built-in payments, you can also build lead capture pop-ups that gather leads from anywhere on your website.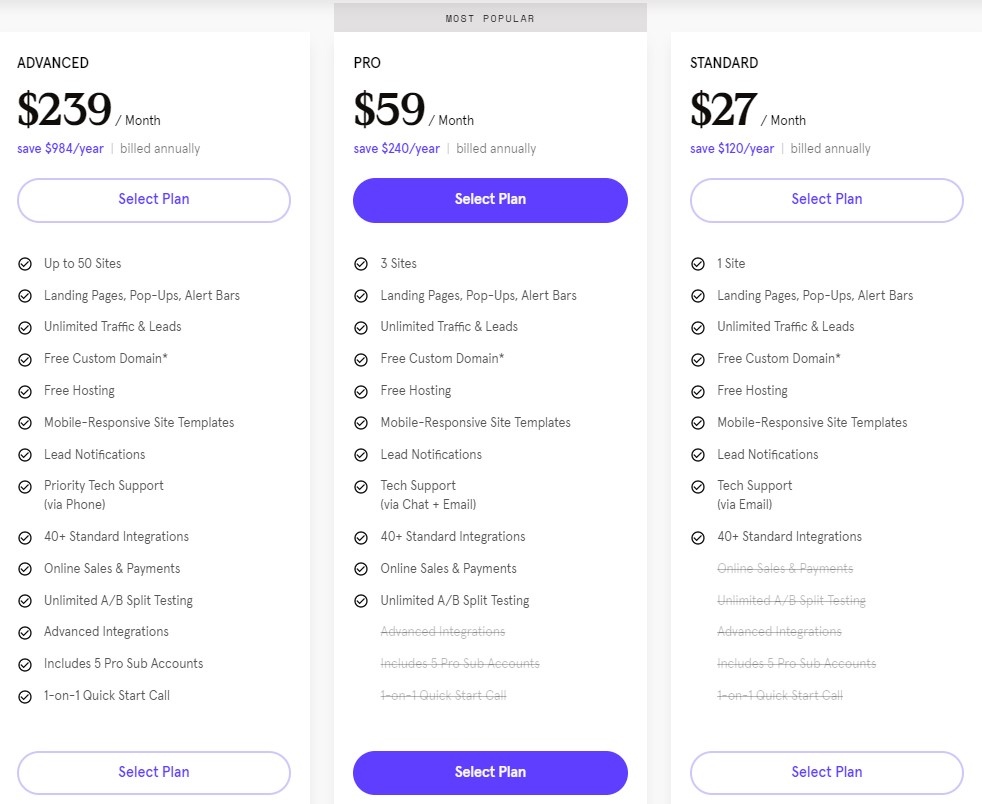 Unlike other platforms, Leadpages offers a weekly "Q&A Coaching Call" with all of its plans to assist everyone makes the most of their marketing campaigns.
Plus, because of its connectivity with over 40 platforms, you can utilize Leadpages with almost any tool you already have.
This platform is ideal for Marketers since they can use Leadpages' Facebook Ad Builder tool to instantly create advertisements that match the content of their landing pages.
There will be no disconnect between the campaign and the landing page to direct traffic in this way.
Leadpages also offers built-in conversion guidance, unlimited lead collection & traffic, unlimited page publishing, unparalleled page load speed, mobile-responsive templates, and much more.
They offer a 14-Day Trial, and premium plans start at just $27 monthly. In my opinion, Leadpages is the greatest deal on this list, because of the functionality provided at such a low price.
Ucraft
Ucraft is an easy-to-use website builder that helps you transform your ideas into an online reality. Ucraft is perfect for anybody who wants to create a beautiful website for themselves or to promote their ideas, businesses, or events.
It has a unique "drag and drop" function that makes constructing internet sites simple and enjoyable. Users can start from scratch or choose from a number of pre-made themes. The second option is ideal for beginners, as starting from scratch might be a difficult task.
Ucraft has more than 60 templates to select from. This isn't a large field when compared to other website builders with hundreds of possibilities.
Nonetheless, some individuals prefer having fewer options since it prevents them from becoming overwhelmed by too many options.
The primary targets of Ucraft's development are small businesses, online sellers, and individual service providers.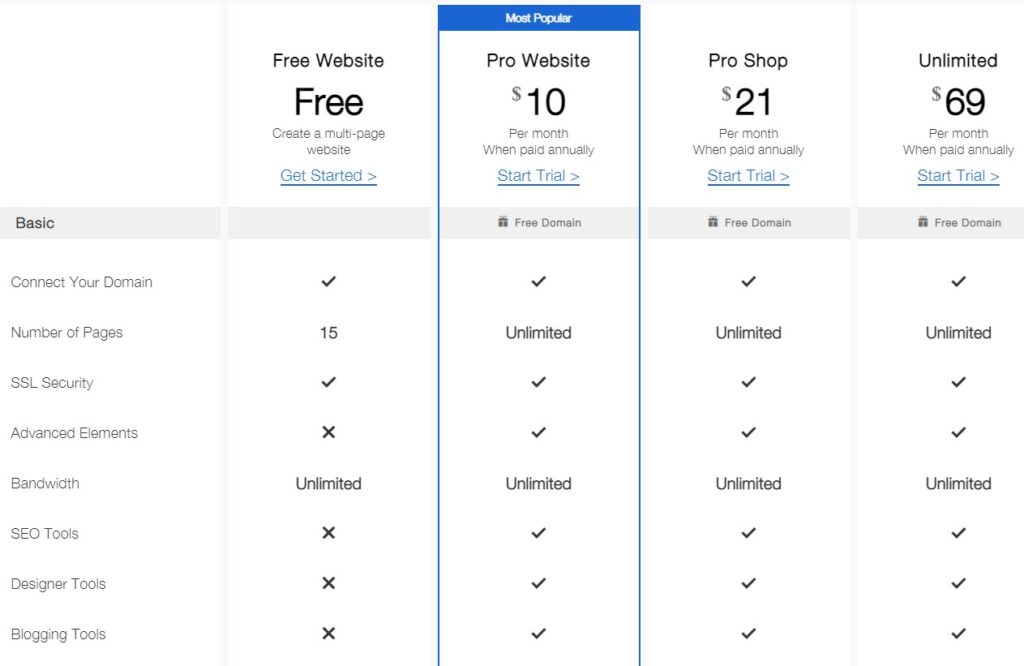 It provides a quick and simple method to introduce yourself and your services to an online audience and highlight some key characteristics that set your company apart from the competition.
It is also great for newcomers since you're not going to need any technical experience or abilities to create a functioning and attractive website. It's also easy to include a blog, e-commerce tools, and other features.
Ucraft also offers the possibility to connect your domain directly, mobile-responsive pages, CTA buttons to generate more leads, web analytics tools, and much more.
There's a Free Plan available with extremely basic features, and a 14-Day Trial. Premium Plans start at just $10 monthly and the Unlimited Plan costs only $69 monthly and provides everything that the platform can offer.
Unbounce
Unbounce was the first landing page platform and is one of the most well-known landing page builders on the market. They may almost be said to have created the category.
You can create, develop, and optimize custom landing pages for every campaign with Unbounce's drag-and-drop builder.
There are more than 100 templates to select from, and they take care of a lot of the design work for you.
In addition, restaurants, dentists, coaches, tour guides, and other small businesses can use industry-specific templates.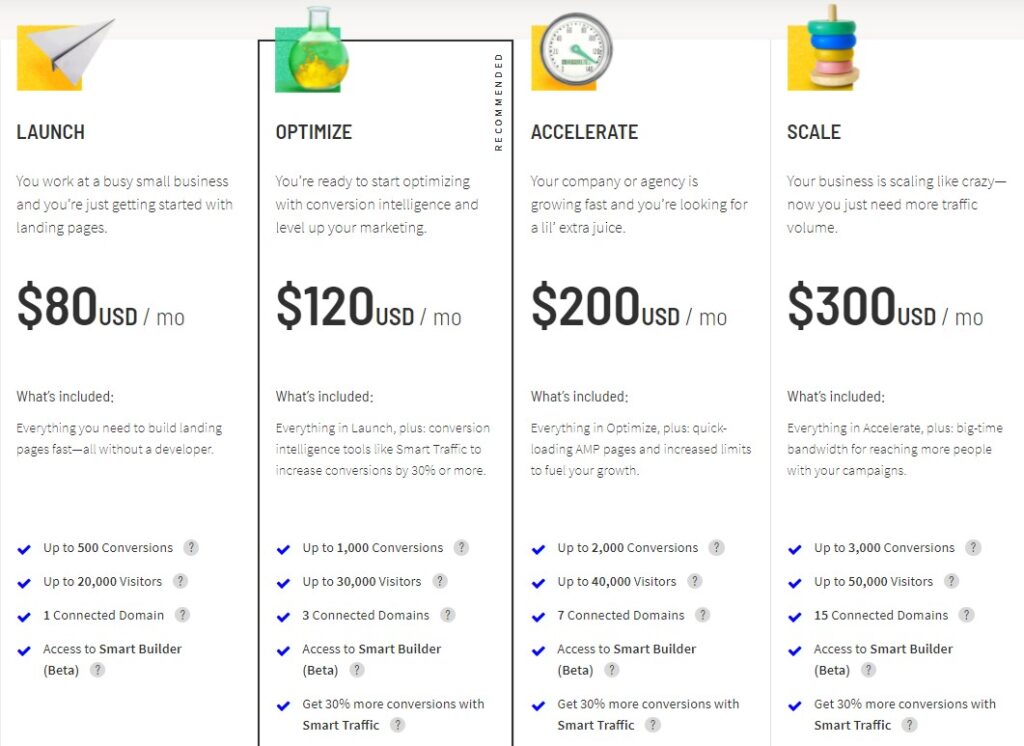 The editor is one of the most powerful tools available. Unlike many other apps, you are not obligated to use aligned boxes to display your information. You can also drag and drop items anywhere you like.
However, Unbounce's true strength lies in its A/B testing and targeting features. For example, from the Variant option on the top toolbar, you may create different variations of your page.
Unbounce will then compare the two to determine which one generates the most conversions. There's also the opportunity to dynamically replace content on your website with whatever the user looked for.
For example, depending on what they were looking for, you could change your title to "Human Resource Management Apps" or "HR Management Tools."
Subscribers may also alter pop-ups, sticky bars, and other conversion-focused components with this editor.
Unbounce is great for agencies, digital shops, and SaaS developers that want to advertise their businesses and increase conversion rates.
The platform also offers an AI to automatically send each visitor to the page variant that's best for them, multiple marketing tools, lots of integrations possibilities, custom functionality through code, and much more.
There's a 14-Day Trial available, and Premium Plans start at $72 monthly.
Instapage
Instapage is very simple to use, and you can create a landing page practically instantly, as the name implies. As a result, it becomes beneficial to companies at all stages of development, from solopreneurs to agencies to large corporations.
The platform is incredibly powerful and has a simple "drag and drop" landing page builder that creates pixel-perfect pages. It consists of all the top features that may need to turn traffic into conversions.
Also, there is no need to write any code to integrate your pages into your website. Instapage offers over 500 customizable layouts for a variety of goals.
Ranging from lead generation to webinar registrations and app downloads, allowing you to create impressive, on-brand, mobile-responsive landing pages.
Every landing page is made up of several blocks, such as a header, a picture with some descriptive text, a FAQ section, or even simply two buttons side by side.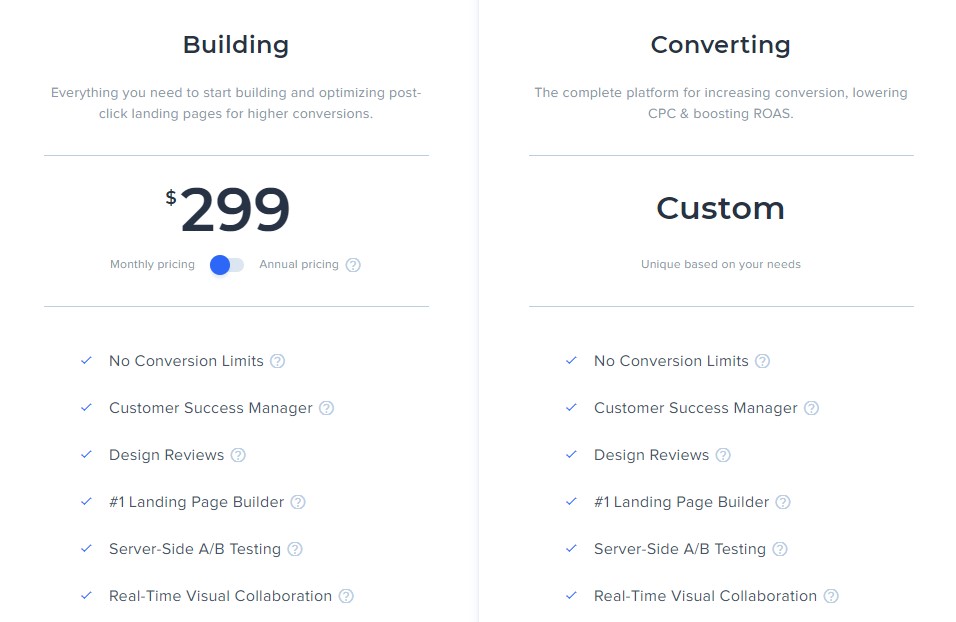 Instapage makes it easy to create pages quickly by merging multiple blocks. But the great part is that you can store your own blocks to reuse later.
The platform also assists you if you're creating a large number of landing pages. Because of its helpful collaboration options, Instapage is an excellent app for businesses that need to work as a team on a daily basis.
Everyone may make real-time edits to the page, just like in Google Docs, or post comments to any section of the page to indicate topics they think should be changed.
Instapage also has heatmaps (to observe how visitors interact with your site), dynamic text replacements, and A/B testing—all of which are useful for fine-tuning as many pages as you need.
They offer a 14-Day Trial, and Premium Plans are pretty expensive, starting at $299 monthly, and the most advanced plan can cost more than $1999 each month.
Wishpond
Wishpond is an excellent option whether you're a beginner or have a lot of expertise designing landing pages. Its user interface is simple to learn and use. With its drag-and-drop function, you can construct a landing page in minutes.
All you have to do is choose one of the templates and fill in the information you want to collect through a landing page form.
If you get lost, they have Live Chat help accessible, as well as a vast list of resources such as webinars, articles, and e-books.
Wishpond's landing page builder allows you to create and deploy a variety of landing pages fast and efficiently. Their landing pages are mobile-friendly, load quickly, and let you add custom form fields to gather essential information from your visitors.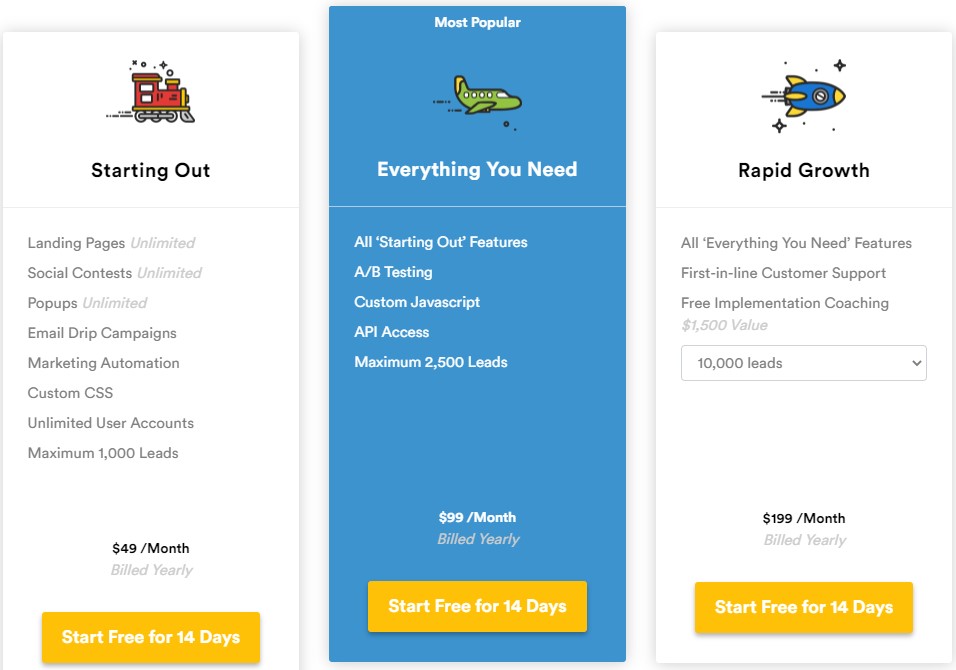 Their customization tools allow you to go into the technical side of the design and tweak it to your taste for more advanced users.
You can also categorize email lists to ensure that each subscriber receives relevant information and turn on alerts to be notified when a visitor converts to a lead.
The platform also offers other great features, such as a quick tool to group objects for fast changes, a mobile optimization tool, real-time analytics, third-party conversion tracking, powerful A/B testing, multiple integrations, and much more, making it ideal for all kinds of users.
Wishpond offers a 14-Day Trial, but in order to acquire it, you must first talk to one of their specialists to learn about their flexible pricing options and finally start your free trial account.
However, according to some information I've managed to gather online, their Premium Plans start at $99 monthly.
Landingi
Another great landing page builder is Landingi, which can help you quickly publish a beautiful webpage. All plans are said to provide "unlimited landing pages, unlimited custom domains, unlimited traffic, unlimited leads, and unlimited users."
Landingi's software is used by over 4000 companies, including Paypal, Sony Music, and Callpage, to power their landing pages.
Users can easily create a landing page using their drag and drop editor. Also, there are over 300 high-converting templates to use.
They also provide built-in connections to automate your marketing stack and take your marketing to the next level.
Landingi has everything you'd expect in terms of functionality, plus a free image library to stock your landing pages with high-quality images and a "one-click publishing" tool that helps you get your pages up and running quickly.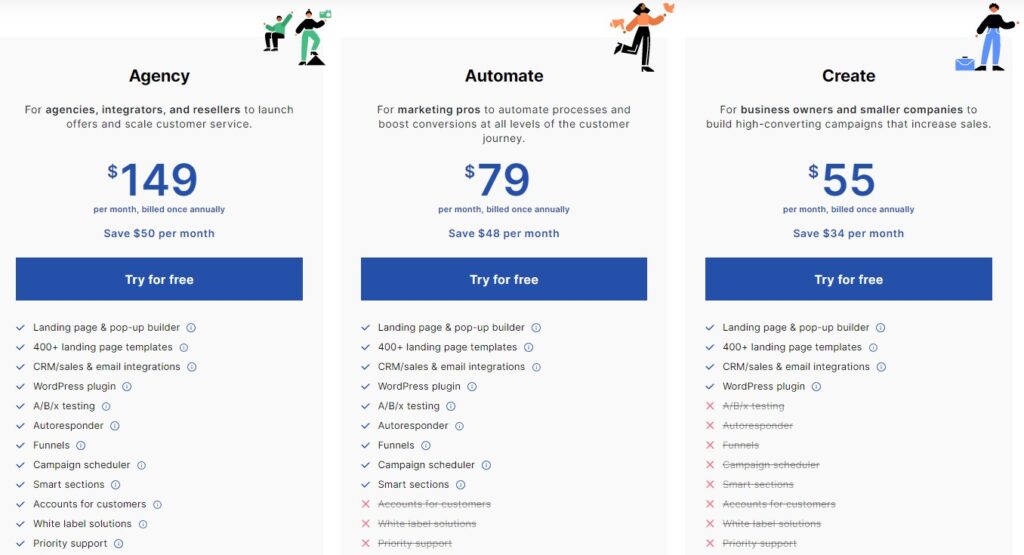 Lead data is also collected by the platform. Although the UI isn't as comprehensive as a standalone CRM solution, it's adequate for a built-in feature and can assist you in managing the form submissions that your landing page generates.
It also has in-platform analytics, which is a helpful tool. This tool doesn't provide the same amount of detail as Google Analytics, but it's conveniently situated on the tool's dashboard and may provide you a summary of your page's findings at a glance.
They also offer the possibility to create marketing funnels, A/Bx Tests, groups of landing pages, pop-ups, customized code, and much more.
The platform was created to help users to develop multi-purpose landing pages and run campaigns on their own. It allows users to collect client information, create mailing lists, generate leads, and drive visitors to their main website, products, or services.
When implemented, Landingi may be helpful for various purposes, including small and medium marketing agencies, small company owners, online merchants with digital stores, marketing specialists, and large corporations.
Landingi offers a 14-Day Trial, and Premium Plans start at just $55 monthly.
GetResponse
Despite the fact that GetResponse specializes in email marketing and automation, the platform has earned a reputation as an all-in-one marketing solution because of its landing page builder, webinar hosting, and easy CRM integration.
GetResponse is a modern marketing platform with over 350,000 clients in 18 countries. The landing page builder on the platform contains over 200 optimized, configurable template designs, a user-friendly drag-and-drop editor, and interfaces with popular CRM and analytics tracking systems like Salesforce and Google Analytics.
GetResponse helps you to create high-converting, mobile responsive landing pages. The platform gives access to hundreds of stock pictures via iStock, and all layouts are responsive and highly customizable.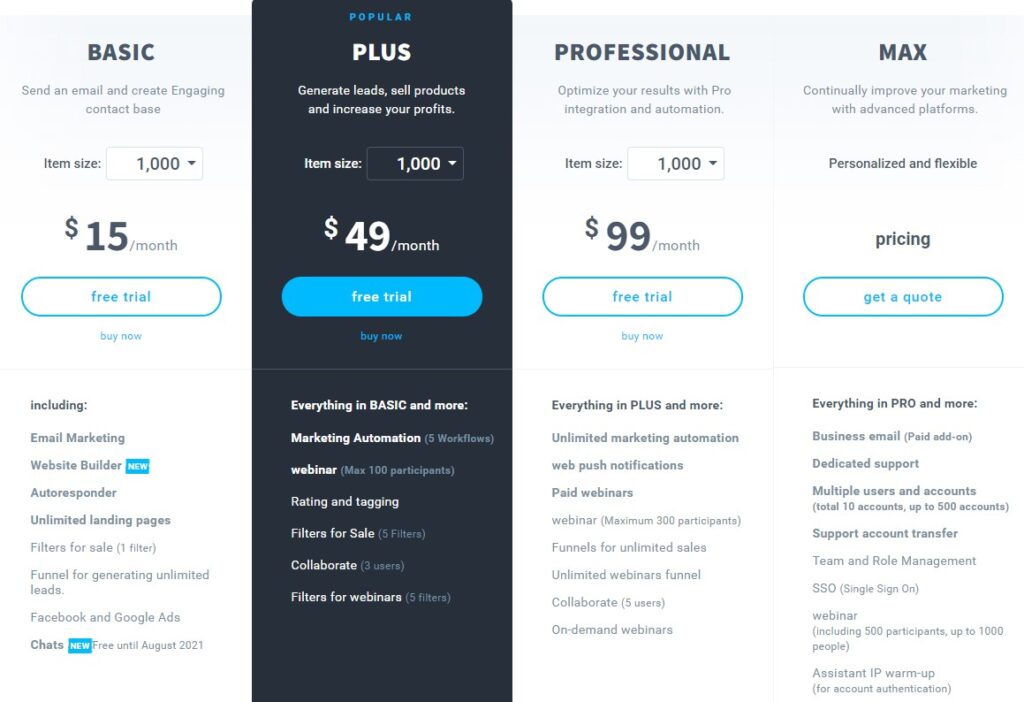 Another helpful feature of GetResponse's is the ability to start with a blank canvas and personalize it with your HTML expertise, which is also available for pre-populated templates.
Inside the platform editor, users can access many elements, such as CTA, Forms/Lead Capture tools, colors, fonts, payment options, and more.
GetResponse also offers other great features, such as a Mobile Editor, Tracking & Optimization Tools, Analytics, Free Domains provided by the platform, SEO optimized tools, A/B Tests, lots of integration, email automation, conversion funnels, and even paid ads.
It's an excellent choice for marketers and business owners that are just getting started and want more than just a landing page software.
They offer a 30-Day Trial, and Premium Plans can start at just $10.50 monthly with a 24-month billing period.
Hubspot
In the world of B2B SaaS, HubSpot is about as respected as it gets. And as part of their Marketing Hub bundle, their landing Page builder is offered alongside many other tools (forms, email, CTAs, live chat, and blogging). It's an all-in-one solution that allows you to publish well-designed pages quickly.
One unique feature of HubSpot's landing page builder is that it can be integrated with their CRM and used in conjunction with the rest of HubSpot's capabilities (including personalization).
So, if you've considered utilizing HubSpot as a CRM or email marketing solution, its landing page builder might be the cherry on top.
The platform's landing page builder is filled with features that allow users to create stunning landing pages that will convert visitors into leads.
You can tailor your landing page content for each visitor with HubSpot Landing Pages. For example, you may show different materials depending on a visitor's location, source, device, buying stage, and other factors.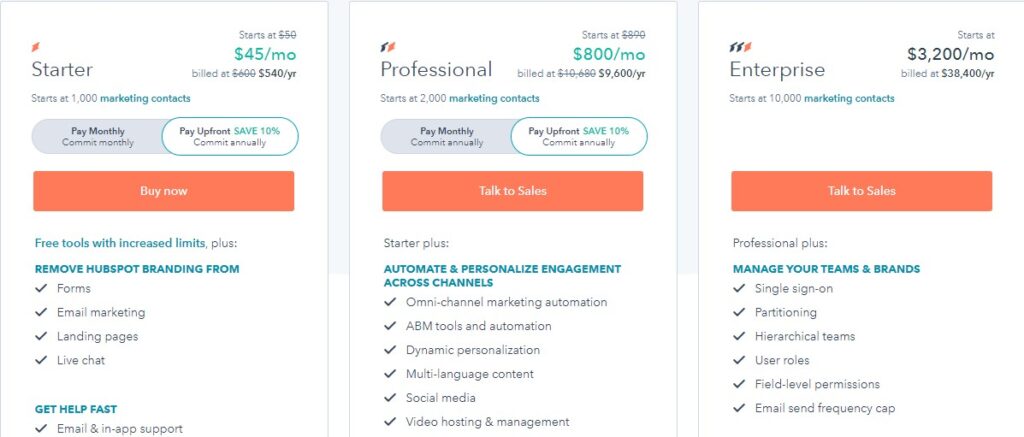 In addition, it includes HubSpot's powerful analytics and testing capabilities, allowing you to optimize your page for maximum lead capture.
As its landing page builder is an easy-to-use tool, there's no designers or IT help required. Also, the platform offers other great tools, such as CTAs, forms, personalized content, powerful analytics, A/B testing, salesforce integration, SEO tools, and much more.
HubSpot is an excellent option for users seeking an all-in-one solution. It contains 20 landing pages, email marketing, and CRM software, making it highly interesting.
According to HubSpot, their Landing Pages Builder is available even on the Free Plan. However, Premium Plans start at just $45 – $50 monthly and also include some great marketing features to help you.
Clickfunnels
Clickfunnels is not just a landing page software, but it's a full website + marketing funnel all-in-one. The sophisticated platform lets users create webinars, landing sites, sales pages, and payment sites, among other things.
You may sell any product online using Clickfunnels. You just select your sales funnel, design, and a few custom items like your logo.
Then, with a few drag-and-drop tools, you can customize the page and have your whole funnel ready to go.
ClickFunnels is an extremely popular platform because it helps anybody with a company start concepts quickly and simply creates landing pages inside a sales funnel with a high conversion rate.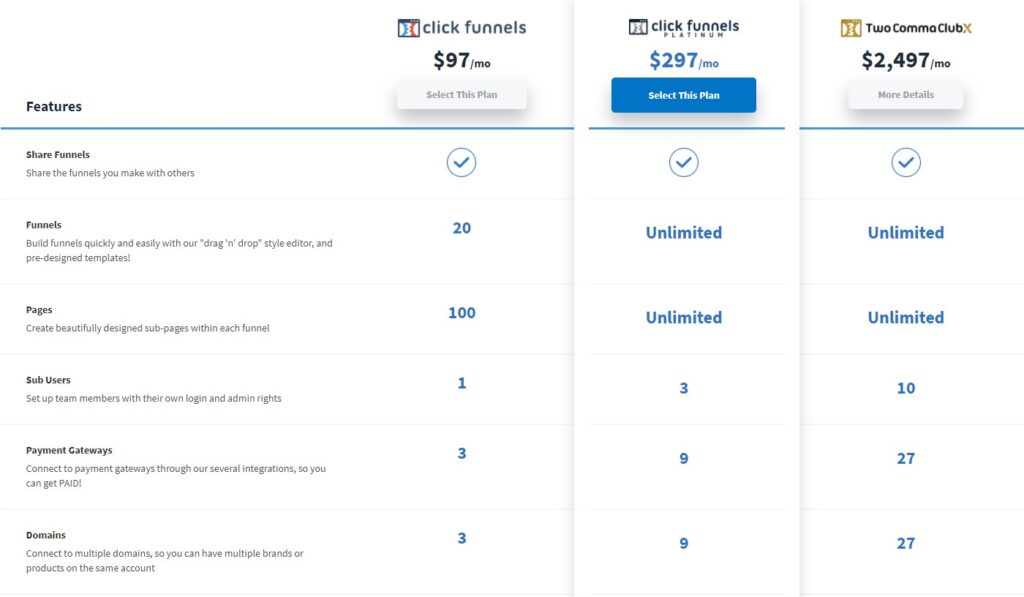 The platform is a good choice for all kinds of users since it is meant to let entrepreneurs and solopreneurs develop their own pages without any programming or website design skills, which makes it particularly useful.
ClickFunnels does all the job for you, so all you will have to do now is point and click until your page looks exactly the way you want, and they can help anyone who has a product, service, or idea that they want to sell to actually sell it.
They also offer some great features, such as A/B Testing, CRM and third-party integration, SEO tools, visitor tracking, web forms, analytics, and much more.
The platform offers a 14-Day Trial Plan, and Premium Plans start at $97 monthly, including the Landing Page editor and some great marketing tools.
Lander
Lander is another landing page builder that allows users to create high-converting landing pages quickly. Lander is also one of the most affordable landing page builders, with over 1.5 million clients and 3000 companies trusting it.
The Lander editor is powerful and comes with a variety of useful features and tools to help you make money from your landing pages.
With the help of the software's pre-designed landing page templates, you may develop a landing page for any marketing purpose.
For example, these templates may be used to sell items and services online, conduct webinars and events, make Coming Soon websites for product announcements, and create portfolios, among other things.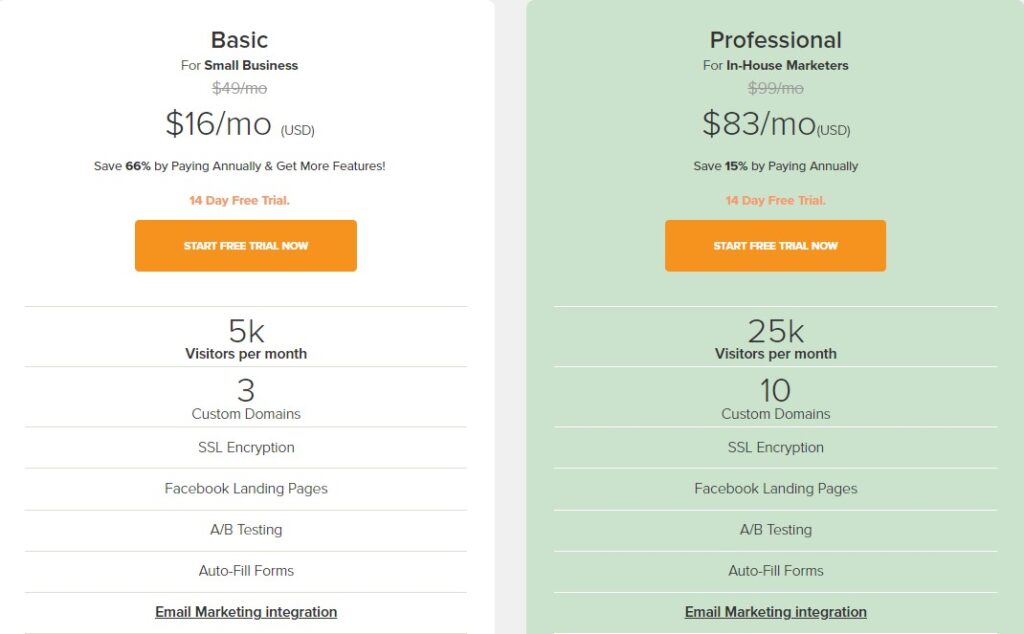 Lander's A/B testing tool also allows users to test alternative landing page variants. Also, DTR, or Dynamic Text Replacement, may be used to change the text of landing pages.
This means you may automatically match specific text components in your landing pages to the keywords in your PPC ads.
Lander's pages are also simply linked with PayPal, social media, Mailchimp, Salesforce, and all of the other premium services you'd expect.
Their connection with Google Analytics allows customers to receive insight into the actions on their landing pages and campaigns.
The platform offers a 14-Day Trial, and Premium Plans start at just $16 monthly, including almost everything that the company can offer.
Executive Summary
To summarise this list of the 10 best landing page builders. The best thing to state is that each landing page builder is quite similar in terms of functionality and features.
Some have more templates whereas some are more affordable. It really depends on what your wants and needs are. We chose Leadpages as the best on the list because it has the best balance of features and price.
If you're interested check out more of our business software reviews while you're here.