In this guide, I review the best video editing software on the market right. I made a list of the top 10 so you don't have to waste your time searching the web.
Video is no longer just for producers and professionals. It's become a part of our everyday lives, as well as the stuff we all make with our phones and cameras all the time.
However, video editing requires a new set of abilities than conventional photography, but it is a vital component of the process.
Videos are quickly becoming the most popular form of entertainment as well as a channel for delivering material to people.
The reason for this is that most people appreciate visual graphics since they can quickly browse through the video and acquire the information. Furthermore, it is simple for the producers to communicate their message in front of the audience.
However, due to increased competition, the majority of individuals are shifting to video production. If someone wants to provide something distinctive and eye-catching, they will need pro-level video editing tools and skills to aid them along the way.
An engaging video may significantly boost your brand's growth in a world driven by visual content, but outstanding video footage can only be created with the assistance of editing software.
Which Software Should I use?
The greatest video editing software must provide you with all of the tools you'll need to create fantastic content in order to amaze your audience.
However, since not all video editing software is designed for the same audience, you'll need to analyze your requirements carefully.
Also, the software does not have to be extremely expensive. You will see that it is simple to get affordable software that can have complex packages and allow even inexperienced video editors to add special effects, apply amazing filters, and clip together complex scenes.
These video editors are also more powerful, easier to use, and widely available than imagined possible only a few years ago.
I've selected the ten best video editing software available today for all segments, and provided you with the necessary information to assist in choosing the best solution for your business.
Many of the top video editing software applications on the list cost less than $100, and some are designed for beginners, while others are better suited for expert users.
Let's get started! Here's my list for the 10 Best Video Editing Software:
Adobe Premiere Pro CC
Adobe Premiere Pro is the best video editing software available. It is cross-platform and can be used on both Mac and Windows computers.
It can handle multi-angle photographs and is compatible with the most recent 4K, 8K, and VR video formats. It also has advanced cutting and editing features to give you maximum control.
Color grading, color correction, and compositing technologies are all available. Also, there are other chroma key options for erasing backgrounds from green screen recordings.
You'll also come across automated tools that make use of Adobe Sensei technology to assist in speeding up the editing process.
In recent years, the addition of Lumetri Color and more intuitive interaction has made rapid grading and slicing up of video a more straightforward operation.
It's also packed with valuable tools with several third-party alternatives that can enhance some pre-installed effects and transitions, and you can save a lot of time working with reference audio by having Premiere Pro automatically align two audio tracks.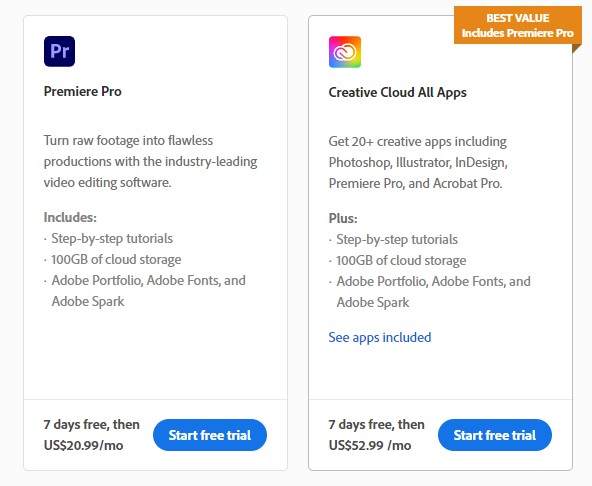 Aside from video editing software, there are also audio editing sections. The sound panel features reverb, compression, amplification, stereo balance, and other effects and functions.
Premiere Pro is a great choice if you want an affordable and beginner-friendly platform that includes advanced editing tools.
In fact, if you are already an Adobe customer and use other applications such as Photoshop, After Effects, or Adobe Stock, Premiere Pro makes perfect sense because it integrates effortlessly with the other products.
Adobe's continuous improvements have guaranteed that Premiere Pro matches the expectations of video editors while simplifying the process for them. This editing software is excellent due to its simplified design, powerful tools, regular updates, and team collaboration features.
Adobe offers a 7-Day Trial, and the software costs only $20.99 monthly.
EaseUS Video Editor
EaseUS video editor is a robust video editing software that is suitable for both experts and beginners.
It distinguishes itself from other free video editing software due to its user-friendly interface and built-in effects and filters.
It has various capabilities like trimming, cutting, cropping, merging, splitting, mixing video clips, adding visual effects, and much more.
It features over 50 visual and transition effects that will add a professional touch to your clip. If you want to spice up your films with amazing effects.
EaseUS provides everything you need. It can improve the look of your videos using a wide range of video filters and overlay effects.
You may produce music videos as a slideshow creator, or edit and crop a video as a magnificent Hollywood blockbuster with magic effects like a sketch, zoom out, and vintage film.
In addition, you may import any media files from a PC disk or videos taken with camcorders, DV cameras, vidicons, GoPro's, mobile phones, and other devices.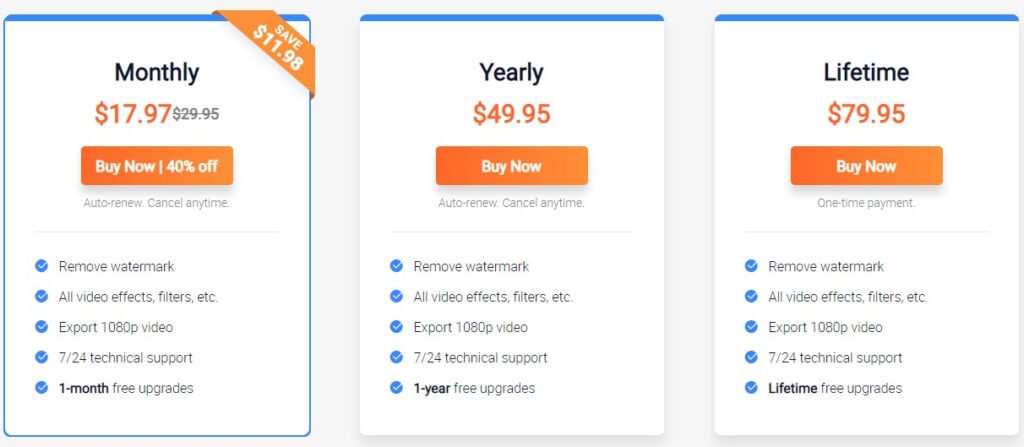 This video editing tool allows you to export the produced video to any format so that it may be played on your iPhone, Samsung, or any other device. Alternatively, you may burn films on DVD or quickly publish your clip to YouTube, Facebook, Twitter, and other sites.
EaseUS offers a Free Trial, and their monthly plan costs only $17.97. Also, there's a lifetime package that costs $79.95 and is a one-time payment.
This video editing tool is simple to use, affordable, and offers a variety of choices, resulting in a shorter learning curve. However, you cannot ignore the incredible number of components, transitions, effects, music, and other tools provided with EaseUS Video Editor.
Final Cut Pro X
Exclusively for Mac, Apple's Final Cut Pro X is a great video editing tool that brilliantly combines professional video functionality with a user-friendly learning curve.
The interface employs a three-pane view with a trackless, Magnetic Timeline, making it ideal for dual monitor use. Clips in the library may be imported and arranged as Roles, which may be assets like video, music, titles, voiceovers, effects, and more.
You may use their 100+ effects, audio effects, title animation templates, and transitions after your video creation is finished. These transitions are simple to execute using keyboard shortcuts, which can save time when using bespoke keyboard combinations.
Multicam editing, limitless video tracks, chroma-keying, format compatibility with a variety of exporting choices, including 4k and 360 films, and super-fast performance, even on older MacBooks, are all wonderful features.
Despite being so powerful, this tool is straightforward to use. It has additional tools to help you edit films faster, such as Smart Conform cropping, ensuring that no critical scenes are cut.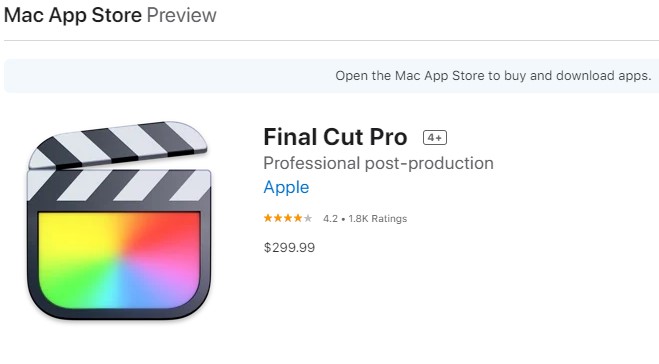 Final Cut Pro is a more feature-rich but technically challenging video editing tool, so it's best suited for marketers with some video editing experience who want TV or cinema-quality videos.
However, even if you're new to video editing, it may be good to invest a few hours each week in mastering Final Cut Pro.
Apple's Final Cut Pro X has a 90-Day Free Trial, and the platform costs $299.99 in a one-time payment.
Final Cut Pro X is robust and has a versatile professional video editing solution for users that value power, sophisticated features, ease of use, and speed.
Corel Videostudio Pro
Corel VideoStudio Pro is a video editing software that allows you to create storyboards and timelines. The software converts photos into movies and includes creative effects, project templates, title settings, transitions, 1500+ filters, and other features.
The MultiCam Capture Lite function allows you to record your screen and webcam and generate clips simultaneously.
This video editing program also includes the necessary editing tools for cropping, trimming, and splitting video – all immediately on the timeline. You may also alter the aspect ratio and rotate or edit the video to your liking.
You may also use the lens correction function to remove fisheye distortion and color-correct clips to modify the temperature. The color correction option also helps you bring out the colors in your films by adjusting auto-tune, saturation, and other settings.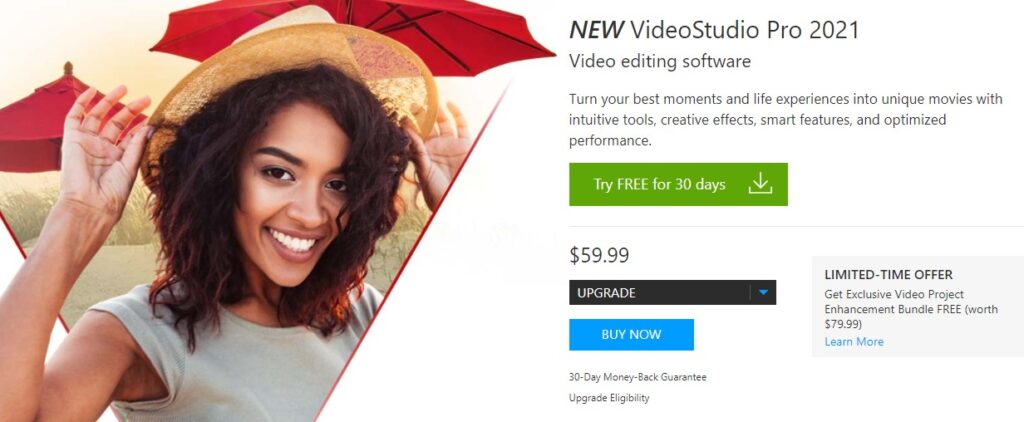 You can also combine subtitles to your videos, record voiceovers, fade and layer sound with audio ducking, and many other things.
Additionally, the program is tailored for Intel and Nvidia CPUs and graphics cards. This speeds up rendering in all of the most popular file formats.
The platform also offers Drag and Drop video editing, Pan and Zoom, batch processing, Stop motion animation, and much more.
Corel Videostudio Pro offers a 30-Day Free Trial, and the program costs only $54.99 (Promotional Price) in a one-time payment.
VideoStudio Pro is a powerful but easy-to-learn app ideal for starters that want to make simple videos quickly without fussing around with complex controls. Also, the platform has very good value for a relatively low price.
The platform has all of the features of the other top-tier products on this list, such as 360-degree VR and 4k support.
Movavi Video Editor
Movavi Video Editor is another robust video editing and processing solution that simplifies moviemaking with its user-friendly interface and array of filters and effects.
It features a built-in stabilization technology that eliminates video shakiness, which is ideal for creating a traveling video.
The platform allows you to alter a range of aspects, including the length, adding a pan and zoom effect, combining music, and inputting a voice recording.
The edited clips may be adjusted to full HD or 4K resolutions and have a variety of editing options, ranging from clip cutting to chroma keying.
When used in combination with the Movavi Suite, the editing platform gains a significant functional boost.
In addition to putting together videos, the Movavi Screen Recorder allows you to record video content on your computer screen, which is helpful if you want to collect movie snippets or footage from video streaming services.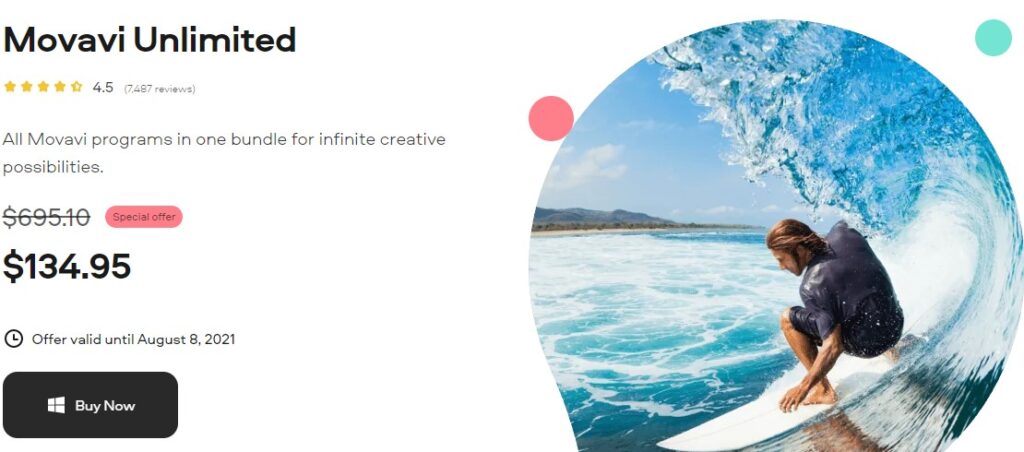 The package also includes a video converter and has presets for over 200 mobile devices, allowing users to convert films without sacrificing quality for over 180 media types.
Movavi has a Free Trial available and sells different packages of their product. The complete Bundle (including Video Editing, Screen Recording, and Photo Editing) costs $139.95 (Special offer) in a one-time payment, and the proper Video Editor Suite for Business costs $199.95 also as a one-time payment.
Movavi's is an excellent choice for brands looking to improve their marketing videos' quality and appearance. Still, it can also be used by any kind of user since they have plenty of packages available to suit every single segment.
The platform is one of the greatest software programs available for adding a touch of charm to your clips and modify them to keep them attractive for years to come.
Adobe Premiere Elements
Adobe Premiere Elements is one of the greatest video editing software for beginners in terms of functionality.
Premiere Elements has various useful features such as hundreds of transition effects, improved face detection, haze removal, focus correction, and much more.
Adobe Premiere Elements is compatible with 360-degree video and other cutting-edge features such as multi-cam editing. All of this is understandable given the scope of its powers.
You may make your film in three ways: Quick, Guided, and Expert.
You may choose your selected media for your clip with quick mode, and the computer will organize it on the timeline for you. In addition, it automates your video features, such as automatic motion tracking and video stabilization (excellent for GoPro cameras) and innovative toning.
As the name implies, the guided mode is more assisted. The program teaches you about its features and functions as you use it, and you learn about each component of the interface and how it works as you go.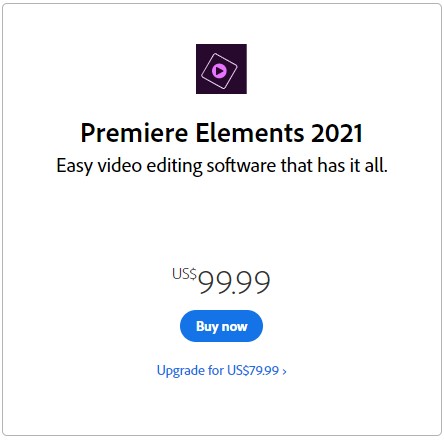 The Expert mode is designed for more experienced users, and you have complete control over everything.
The platform also offers an intelligent editing mode, lots of automation, precise selections, high-quality playback of many effects, smart trimming, a dynamic time-lapse system, and much more.
The platform is basically a simplified version of Premiere Pro. While this makes it less expensive and easier to master, it's still a powerful tool with high-end capabilities like facial identification, audio effects, and included soundtracks.
Adobe Premiere Elements' step-by-step instructions allow any kind of user to create professional-quality films. This helps users who are new to video editing quickly learn the basics and build confidence in creating videos without the use of manuals.
Adobe offers a 30-Day Trial, and Premiere Elements costs $99.99 in a one-time payment.
Pinnacle Studio
Pinnacle Studio is a great editing platform that allows users to perform advanced video editing and screen recording. It has hundreds of creative effects, video masking, overlays, color grading, 360º video editing, and other features.
One particular advantage of the program is that it supports outdated video formats such as VHS, Hi8, V8, and other cameras. All of these obsolete formats can also be converted into digital files.
You may also connect several devices to capture synchronized video and audio. In addition, this tool allows you to create various videos such as unboxing videos, tutorial videos, and more.
Color grading, color correction, and LUTs & filters are some of the more complex functions. Color grading allows you to change colors, highlights, mid-tones, and shadows, whereas color correction will enable you to adjust white balance and rectify underexposed images.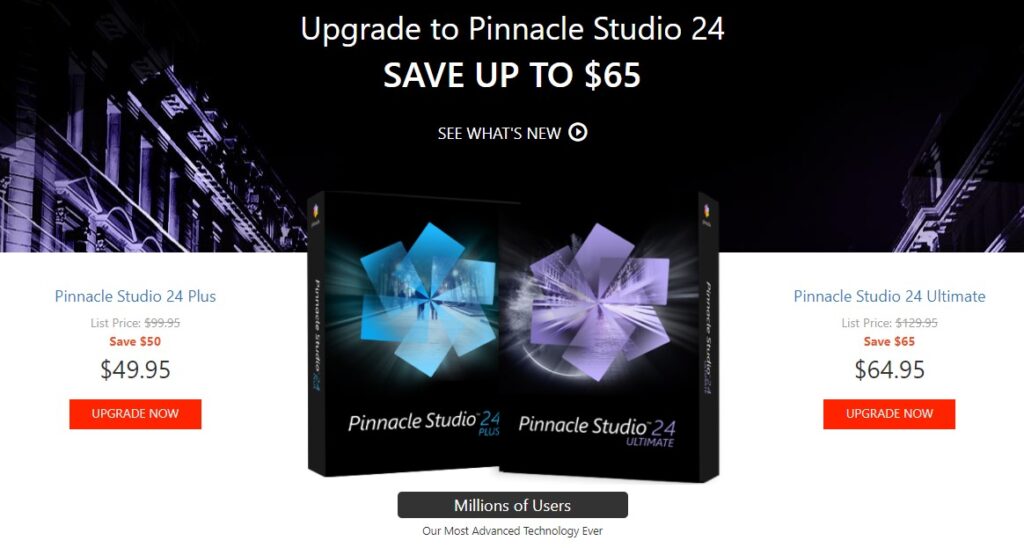 You may also add audio, record your narration and voiceovers, and mute or remove audio with a few clicks.
The platform also supports 4K video editing and offers other great features such as motion tracking with mosaic blur, the possibility to clone objects and combine clips, remove distractions, use time remapping to create fast or slow-motion effects, chroma-key function, and much more.
Suitable for both beginner and advanced users, Pinnacle Studio 21 is a versatile, user-friendly, yet extremely powerful tool that allows you to express your ideas.
It also has an easy-to-use user interface that streamlines all editing tasks, combining basic editing, organizing, and exporting tools.
The platform offers a 30-Day Trial, and their initial package costs $54.95 (promotional price) in a one-time payment.
ClipChamp
Clipchamp is a free video editor that also functions as a webcam recorder, converter, and compressor. Trimming, speed control, audio track, color adjustment, rotating, cropping, text addition, and other capabilities are also available.
In addition, the program allows you to produce YouTube videos, Instagram video advertising, video memes, Facebook cover videos, slideshows, and other content.
The video editor includes customizable templates, and you may also select from hundreds of stock films and photographs to use in your video, with over 800,000 assets in their image and video collection.
Aside from the standard video editor, Clipchamp includes plenty of other utilities. For example, it provides video compressor and converter tools that may be used straight from a web browser.
Use them to compress videos and convert them to various video formats. Trim & cut, rotate, slice & combine, crop, flip & mirror, and more operations are also available. It also allows you to create video memes and record webcam and screen.

A bonus feature is the drag-and-drop user interface for editing movies. It simplifies the process of adding audio, images, and videos to the timeline in your web browsers.
In addition, you may use the filter and transaction libraries to apply filters and transitions, balance colors, add backdrops, and modify opacity. Also, you can use its free online video resizer program to adjust the aspect ratios of your videos.
Clipchamp is a great platform for beginners since it is intuitive and simple to use. They can help you create clips for yourself, teams, and organizations such as digital agencies, production firms, marketers, SMBs, and enterprises.
There's a Free Plan available for personal use, and Premium Plans start at $6 monthly.
Wondershare Filmora is another fantastic video editing solution for Windows and Mac that includes drag-and-drop effects, templates, audio, filters, soundtracks, and more.
The platform offers features like split-screen, motion tracking, and green screen. The Keyframing function allows you to construct customized animations between clips, while Motion tracking assists you with intuitive object tracking.
Then there's the color matching tool, which lets you take the color settings of one clip and apply them to other clips in a video. To save time, you may also give hotkeys shortcut commands for different tools in the video editor.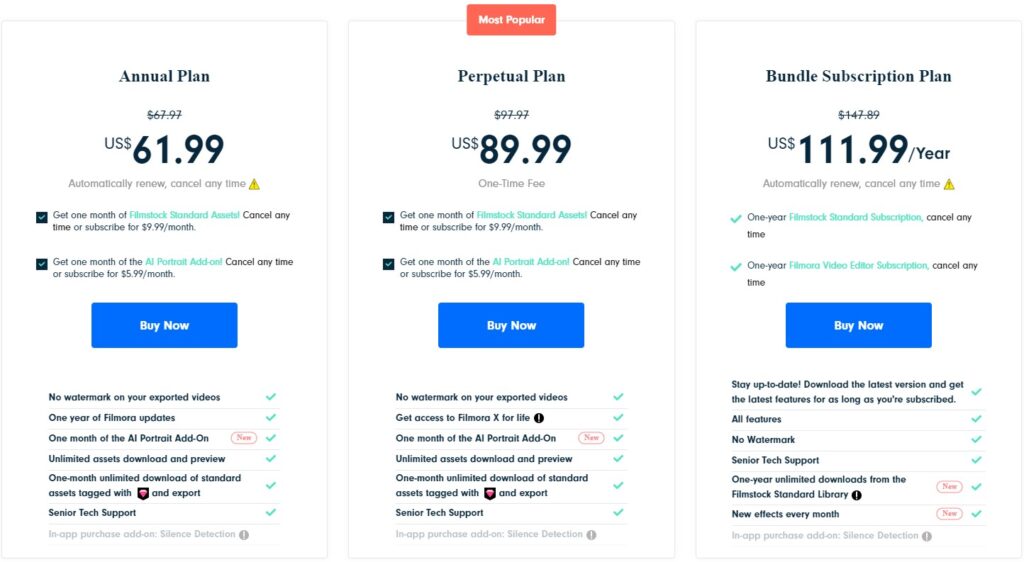 You also receive the green screen tool, which allows you to modify or eliminate the backdrop of your movie. There's even an Audio Ducking' tool to minimize background music loudness and fade one audio track into another.
The drag and drop tool allows you to add different transitions, filters, motion components, clips, audio, titles, and so on.
Wondershare Filmora offers other great features, such as color grading, the possibility to upload videos to YouTube directly from Filmore, hardware acceleration for Mac for increased editing experience, blending mode for special effects, keyframing, color grading, and much more.
The platform is a creative video editing platform that helps users to create attractive and engaging content without the need for professional video editing skills, so it's perfect for those just getting started with video editing.
The program, which has an easy-to-use interface, is packed with capabilities that will appeal to video editors of all skill levels and organizations of all sizes.
There's a Free Trial available, and their product for individuals costs $99.99 in a one-time payment or $61.99 annually.
MiniTool Moviemaker
MiniTool MovieMaker is a robust and free movie editor that allows you to produce and edit high-quality videos quickly. Its straightforward drag-and-drop interface makes it simple to load files and add titles, transitions, and effects.
It's ideal for beginners or those searching for quick and easy solutions. It allows you to swiftly integrate video clips, images, and audio before storing the finished product as a video file.
If you want to make a cookie-cutter, Facebook-style video that incorporates recordings from a particular occasion, you can use the platform templates for that.
They're cheesy, but that's nearly the idea! You may use them to make video invitations, memory videos, photo albums, and slideshows.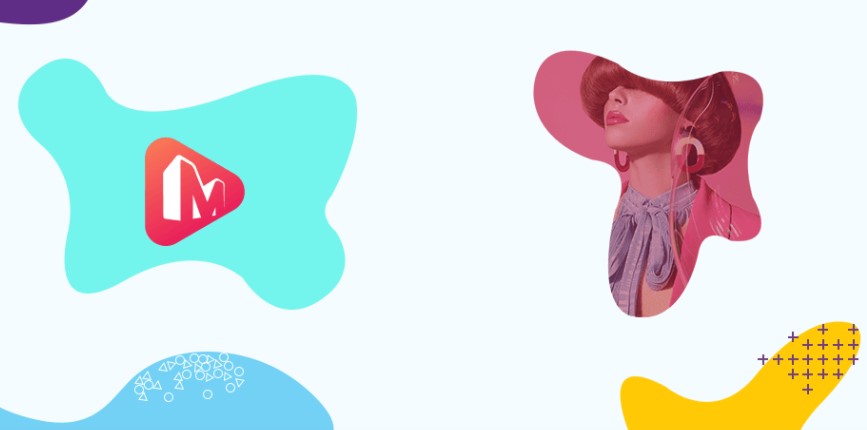 Of course, there's also the option of going a bit more hands-on and working with components in somewhat more complex manner editing videos, adding effects and transitions, and so on.
Completed creations may be stored in a number of video formats or, if preferred, customized to fit certain devices, such as iPhones.
Another interesting feature is their Hollywood-style movie trailer maker. You utilize it by selecting a pre-made design, importing your clips, and then saving or sharing the film with your family and friends.
There are also some other great features, such as a video trimmer, an auto-save feature, creative filters and professional LUT's, animated titles and subtitles, lots of transition effects, pan and zoom effects, and more.
MiniTool MovieMaker is completely Free, and is an easy-to-use and feature-rich video editor with a modern and intuitive interface, making it an ideal tool for beginners. If you are a professional, you will most likely find it lacking in features.
Executive Summary
As you can see from our rundown of the best video editing software on the market. There are plenty to choose from.
The best thing to do is evaluate your needs and purchasing preference. It's always a good idea to think about the price versus how much you will use the software.
If you are just getting into video editing and want to learn the ropes. It is best to use a free tool such as Minitool MovieMaker. However, if you are one of those people who go all-in from the start our top pick is Adobe Premiere.
Check out more of our software reviews while you are here.