"This review breaks down the 10 best website builders in 2021."
Just recently I was thinking about how easy it is to build your own website compared to years ago when only programmers knew how to build one. Thanks to website builders you can be online in just a few clicks. 
Today, anybody can build a website. Businesses use websites not only to sell their products and services but also to establish their credibility. Bloggers use websites to connect with their audience and share their views about the world.
While website builders make building websites easier there are many different kinds of builders and choosing the best one for your needs can be confusing.
Fortunately, I have some experience with website builders so you can read my review below to see which ones are a good fit for you.
1. WordPress
Free
Pros:
Free to use (just need to pay for hosting)
Flexibility
Big community for support
Highly customizable
Cons:
No drag and drop option
You're in charge of back-up, security and updates
Almost everybody has heard about WordPress. It is one of the most popular website builders available today. They have been around for quite some time and were originally used by bloggers to publish content.
One of the reasons why WordPress is so popular is because it is 100% free, unlike Wix, Weebly, and Squarespace. What free means is that you can download and use the software for free. You will still need to buy hosting in order to make your site live.
If you wish to setup a website using WordPress. You should definitely check out my detailed step-by-step guide on how to setup your own website using WordPress.
One of the reasons why I like WordPress is flexibility. You can do lots of stuff with them. For example, you can use it to create a blog, make a business website, or as an online store.
No matter what kind of website you want to build, there is a big chance that there is an existing plugin that will make your life easier.
Another feature I like about WordPress is that it is very easy to customize. You have access to themes, many of which are free. This will allow you to personalize your website and make it your own.
However, there is a downside to using WordPress too. First of all, as a newbie content creator, I found it hard to create my own website due to my limited coding skills.
While you don't need to be a programmer to use the platform. Basic knowledge of HTML and CSS will make your life easier since they don't have a drag and drop website builder.
Some people like that they are totally in charge of their website, WordPress is a bit extreme because it means you are also in charge of back-ups, security, and making updates. Most beginners will find it hard to use WordPress.
2. Wix
Starts at $12.50 (ad-free)
Pros:
Drag and drop website builder
Provides hosting and domain name registration
Robust App Market
Hundreds of pre-built templates.
Cons:
Templates can't be changed easily
Slow loading speed especially on mobile devices
$12.50 ad free starting price
Wix has been gaining popularity during the last few years. It has gained traction among small business owners who want an online presence. In my opinion, Wix is a good option for small restaurant owners, online stores, and photographers.
One of the reasons why I recommend Wix for these people is their drag and drop website creator that makes things easier for people with zero coding knowledge.
Another reason why I like Wix is that they also provide hosting and domain name which makes the website creation process faster and seamless.
Website owners like online stores and photographers generally need more features for their sites and Wix's App Market has many different apps that can add functionality.
Perhaps my most favorite feature of this platform is their templates. They have hundreds of pre-built templates for different industries. Best of all, they are one of the few platforms that let you animate text and other elements.
And unlike WordPress, Wix lets you set automatic backup points so that you can restore your website anytime.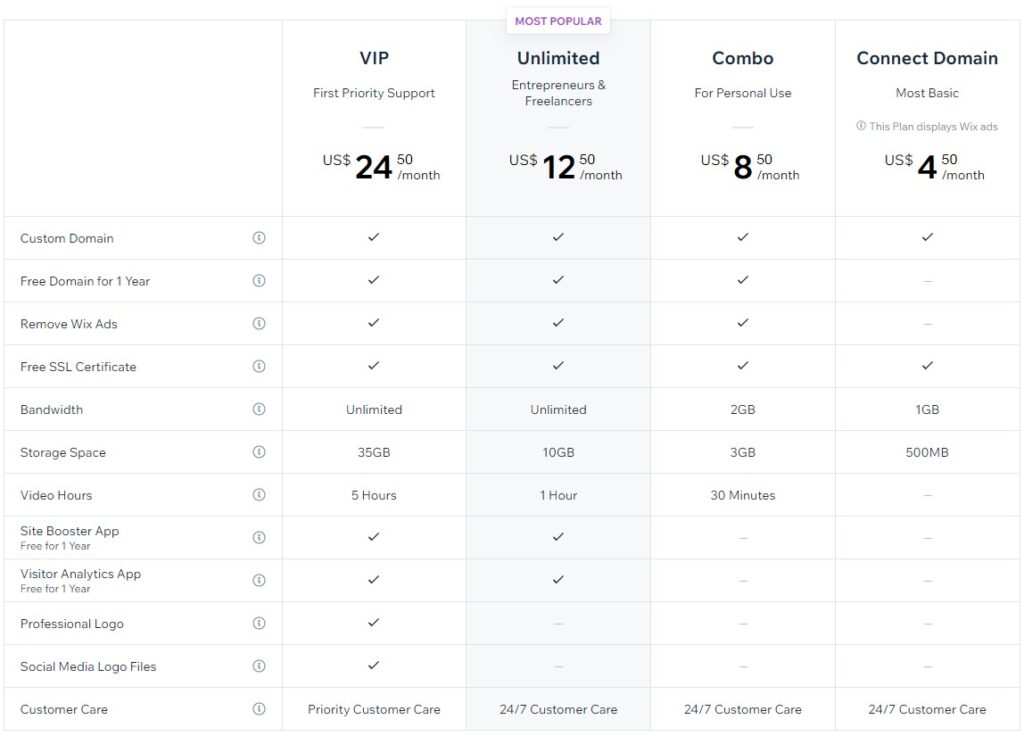 Wix is not the cheapest platform out there. Their add-free starting price is at $12.50 while Weebly is just at $12. Remember those pre-built templates?
You need to think about them seriously because you won't be able to change templates easily after you've chosen the initial one. You can change the design within the initial template but not the template itself.
In the age where mobile connectivity is at its height, Wix's loading speed is disappointing. Remember that most people use their smartphones to shop and if your site isn't loading fast enough, there is a good chance potential customers will switch to your competitors.
3. Weebly
Starts at $12 (ad-free)
Pros:
Drag and drop builder
Affordable ad-free starting price
Responsive themes
Robust app center
Cons:
Limited design flexibility
Does not support multiple languages
Blocks traffic from China, Russia, and Ukraine
The first thing I noticed when I used Weebly is the ease of use. You can think of it as switching on somebody else's TV and immediately knowing how to work the remote controls.
It has one of my favorite features: the drag and drop website builder which makes it easy for beginners to create a site and get their content out quickly.

Like many other website builders, Weebly has a free plan with the Weebly ad showing in the footer. However, their $12 professional plan is cheaper than Wix's and has additional features like video and audio players and phone support.
Weebly's themes are highly responsive especially on mobile devices that include a blog, photo gallery, and online store. Too bad there are only about 40 of them. Best of all, Weebly allows you to edit so the sky's the limit if you know a bit of code or programming.
They also have a robust app center where you can get additional features for your website. You have access to Weebly's apps as well as third-party ones.
They also made collaboration with your team easier because you can assign other editors to give them access. However, you can also restrict other areas to members only.
One of the things I did not like about Weebly is its limited design flexibility. Unlike Wix where you are free to move elements around, Weebly won't allow this. While this is alright if you prefer structure, some people want freedom.
The most annoying feature I find for Weebly is that you cannot create a website in multiple languages that are SEO-friendly. For some strange reason, they also block traffic that comes from Russia, China, and Ukraine which makes it a bad choice for international websites.
4. Squarespace
Starts at $12
Pros:
Affordable starting price
Sophisticated themes and templates
Excellent blogging features
Good customer support
Cons:
Can't create multi-language websites
Hard-to-use website editor
Slow loading speed
Squarespace is known as the website builder for blogs, portfolios, and online stores. Their pricing starts at $12 but that's only if you need a personal website and not an online store.
If you need a platform for the latter, it's going to cost you $26 for a basic online store so you can sell online without transaction fees but if you need advanced features for your store then you need to shell out $40.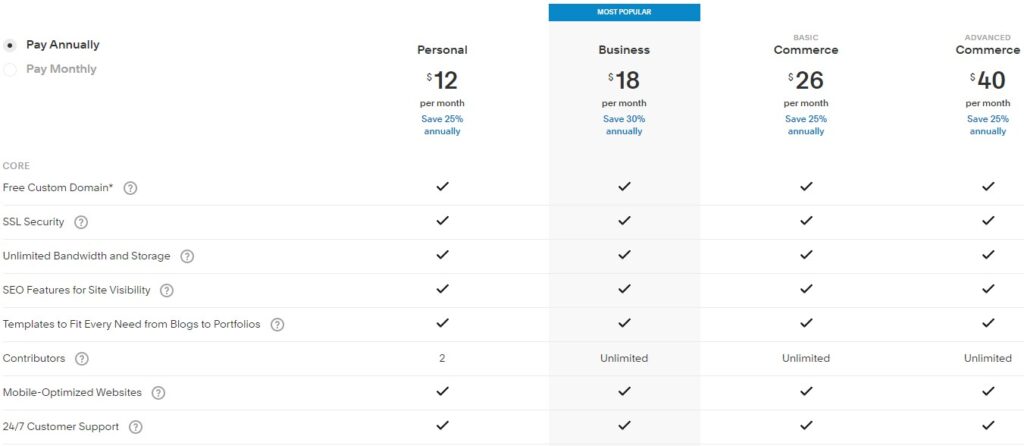 My most favorite feature of Squarespace is its templates and design. They have over 100 themes that are already optimized for mobile devices. The details are perfect too. Best of all, the templates are customizable.
Many websites rely on blogging not only to communicate with guests but also for SEO. If your blog is going to be an important feature for you, Squarespace is a great choice because it provides multi-author functionality, feature-rich commenting, the ability to schedule posts, and AMP support.
Oh, and you can even host your own podcast via Squarespace.
They also have excellent support thanks to their live chat where questions are answered almost immediately. I had a positive experience with their customer support and they were quick to reply to me with screenshots that made it easier for me to follow their steps.
Now for the things I don't like. First, creating a multi-language website is almost impossible with Squarespace.
It's also not recommended for large websites with a deep menu hierarchy. Using their website editor is also annoying since you need to click the save button with every edit because the auto-save feature is absent.
Most of all, slow loading speed on mobile devices is my number 1 pet peeve since it can greatly affect SEO ranking.
5. Shopify
Starts at $29
Pros:
Easy to use
Excellent themes and templates
Flexible
Scalable
Good support
Cons:
Expensive starting cost
Expensive transaction fees even with Shopify Payments
No multi-language support
Shopify is one of the best website builders for online stores. This is because the platform is geared towards supporting online businesses especially when it comes to opening additional selling channels like Amazon or eBay.
The best thing about Shopify is that it allows even beginners to sell their products online because using their website builder does not require coding knowledge.
You also don't need to install any software or buy hosting. At $29 per month, you can sell unlimited products online and have access to features like abandoned cart recovery and gift cards. However, they will charge you a transaction fee of 2% unless you use Shopify Payments.
I highly recommend Shopify especially if you're an online store. This is because it is user-friendly but powerful at the same time. Shopify is also very scalable so you can go from small to big very easily.

The quality and quantity of their designs are also mobile-friendly. You can choose among 170 available themes or you can build your own or buy one. The templates are already great but it doesn't stop there because they let you access the code for further customization.
You can also access free and paid add-ons through their app store and you also have the support of independent developers and experts to help you.
Shopify's URL structure is not SEO-friendly though. They use subdirectories instead of regular pages. A multi-language store is not a standard feature. You need to purchase an (expensive) plugin for this.
Most annoying is their transaction fee that does not go away unless you use Shopify Payments which is not available in all countries. They charge at least 2% on top of the processor fee (Stripe, Paypal, etc).
6. Zyro
Starts at $2.90
Pros:
Very affordable
Cool AI tools
Excellent ecommerce features
Cons:
Limited builder functionality
Limited number of templates
Zyro is a new kid on the block (launched 2020) so I don't have a lot of experience with it. As a new kid, it has to compete with established and trusted names like Shopify and Wix so it had to come with cool features in order to stand out.
At first glance, Zyro is a minimalistic website builder that is geared towards serving ecommerce stores and personal websites.
Since it's new it aims to attract customers by offering very affordable rates. Plans start at $2.90 for a personal website but that only comes with 3 GB bandwidth and 1 GB storage. If you're a business you will need their business plan at $3.90 while eCommerce stores will need to pay $9.90 to start selling online.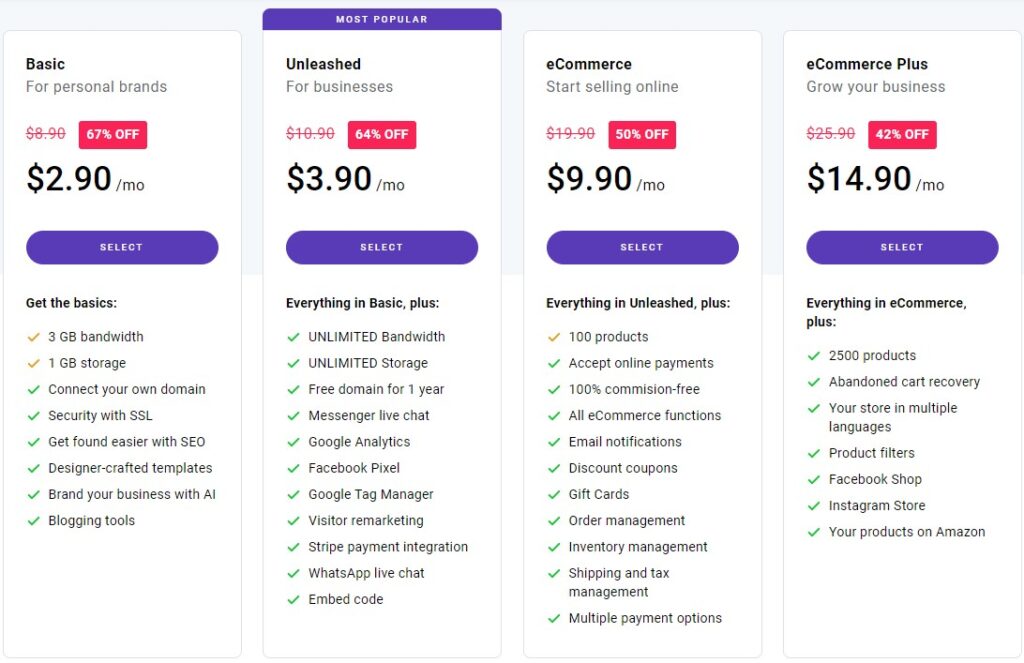 For this pricing, you will get lots of features such as AI Writer & Heatmap features, drag and drop functionality, great page loading speed, and decent customer support.
You don't need coding knowledge to use Zyro. They have AI-based tools that you can use to generate content. There is also a number of ready-made templates that you can use to start working on your website. Other AI tools I liked were their AI Heatmap, AI logo maker, and image resizer.
Perhaps my most favorite feature is their ecommerce functionality. Zyro has lots of different payment gateways, huge product selling options, email notifications, discount codes, order tracking, integration with other platforms, shipping and delivery management, automatic tax calculator, etc – and all of this is easy to use.
Zyro sounds perfect but it has some aspects that need improvement too. For example, it is jam-packed with features but simple functionality like space on their website editor is missing.
It can get harder to add elements because there is a limited amount of space where you can insert items from your menu. They also have a small variety of templates to pick from but fortunately, they keep adding templates.
7. Ucraft
Free
Pros:
Free plan
Best with sites that need images to standout
Free built-in security and analytics
Cons:
Not a pure drag and drop builder
Fewer features compared to competitors
Not ideal for complex websites
Ucraft is geared towards websites that need their images to stand out. It is a good platform for photographers, crafters, and artists.
However, it can also be used to sell products online. Like WordPress, Ucraft is free to use. You can register and use the platform for free to find out if it's a good fit for you. I liked that themes are split into categories because it makes finding the perfect one fast and easy.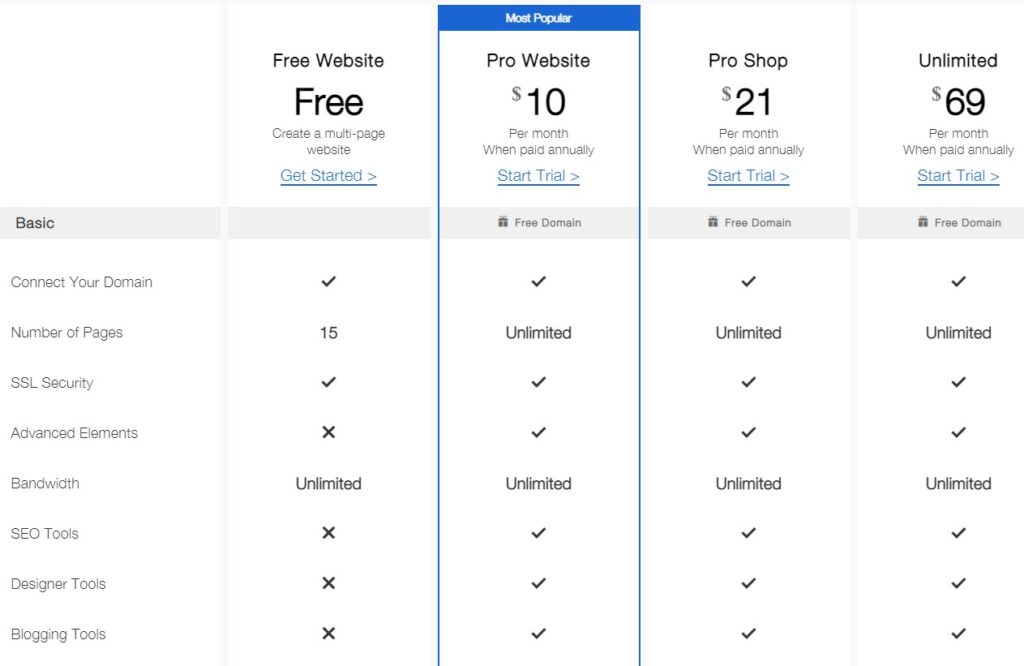 Security in the form of SSL certificates is built-in. They also allow you to integrate with Google Analytics for better decision-making.
However, Ucraft does lack some key features. Their editor is a bit tricky to use at first because it makes you stack one element on top of each other (not exactly drag and drop) and unlike in other website builders like Wix, you won't be able to move anything. Each element will have to stay in its sections.
There is also no members-only area which means you can't hide certain areas of your website from the public. Help and support are also a bit limited.
There is live chat support but it takes a few minutes to get a response. They have a limited number of templates but fortunately, all of them are highly responsive.
8. Webflow
Free
Pros:
Free plan (but for 2 projects only)
Intuitive website builder
Good support
Cons:
Some missing features
Confusing pricing
Not beginner friendly
Webflow is not very well known outside designers but they have been drawing comparisons against WordPress. They claim to have better security, creative freedom, and ease of use.
You can think of Webflow as a combination of a website builder and CMS. You can make changes directly within the website editor without the need to install plugins. In some ways, it is easier to use than WordPress and is more intuitive.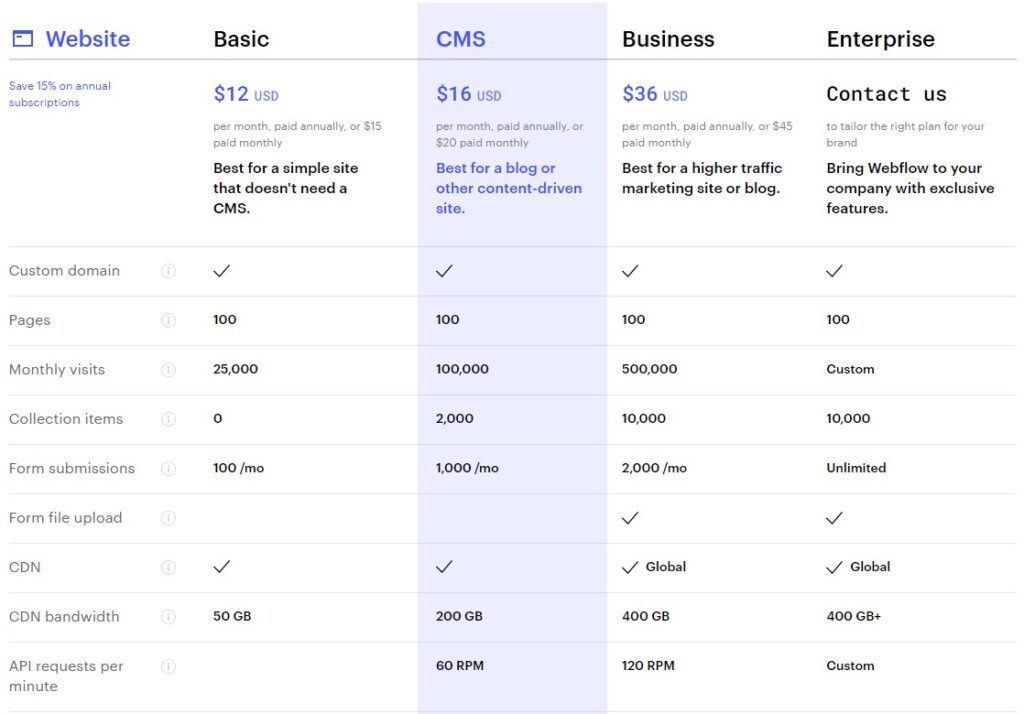 They also offer a lot of support materials through their Webflow University where you can access courses, videos, articles, and a user forum.
Using Webflow does have some tradeoffs. Firstly, it's not beginner-friendly. You need technical knowledge and time to master their website builder.
While you don't need coding knowledge, there is still a (steep) learning curve. Multilingual features are also absent. And most of all, their pricing is confusing. They have different plans with different features and knowing which is best can be hard for novices.
9. Hubspot
Starts at $300
Pros:
Excellent marketing and sales support
Geared towards small businesses
Good features like SEO analytics and drag and drop creator
Cons:
Very expensive
Need to learn HubL
Hubspot has been around for some time and is one of the most popular platforms out there. It is geared towards small businesses looking for marketing automation. They have a free plan but it only lasts 14 days. Their pricing is a bit complicated but a basic plan starts at $300.
Hubspot can confuse new users because they are marketed as a marketing, sales, and service software but you can build a website using their HubSpot CMS that comes with a variety of plugins and extensions, themed templates, and tools for SEO analysis.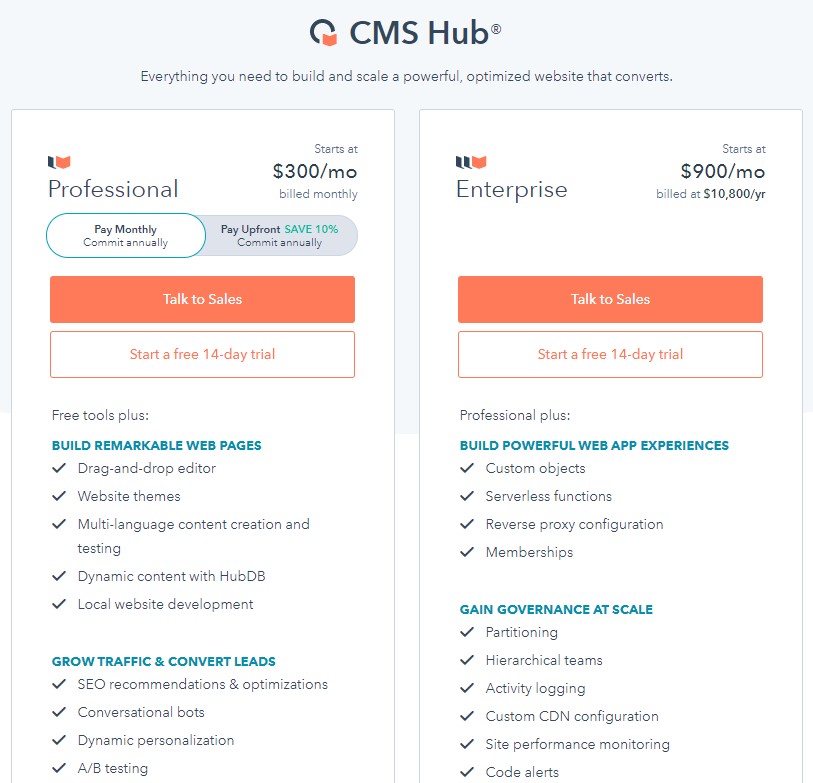 They use a drag and drop editor to make creation quick and painless.
My favorite feature is their SEO coaching. It helps you tweak pages, take care of ranking, and analyzing as you build pages. This is a great tool because it helps you align with Google trends which helps you rank higher.
The downside: Hubspot CMS is not easy to use. It uses a language called HubL which is easy to learn but can be annoying for experienced website builders who are looking for familiarity.
10. Duda
Starts at $14
Pros:
Multi-language feature
Website personalization according to location
Drag and drop editor
Backup and restore features
Cons:
Expensive startup
Limited app store
One of the reasons why online sellers prefer selling on the internet is the ability to reach people worldwide. This is why having a website in multiple languages is important.
Fortunately, there is a website builder that is geared towards multi-languages and also offers highly responsive themes.
Duda is not very well known but they have been around since 2008. Aside from multilingual websites, Duda enables you to send guests customized offers based on their browsing history or the city they live in.
This website personalization tool is powerful and you can even set it by the time of day of their location. Other amazing features include a drag and drop editor and backup and restore capabilities.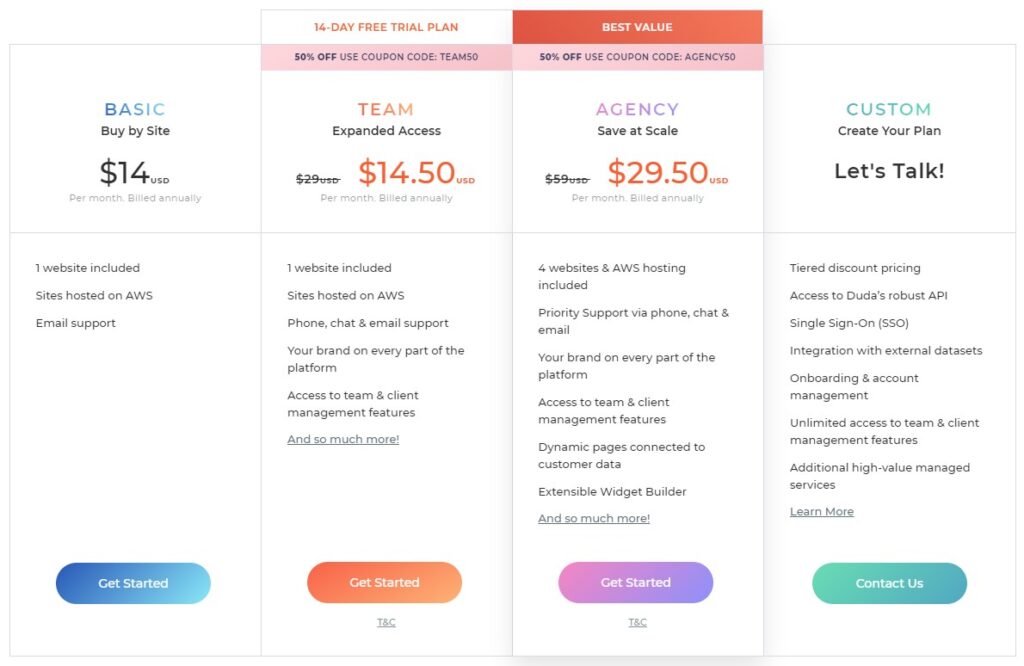 The $14 is the basic plan so it is a bit expensive compared to other website builders. It goes up to $22 to build an online store with more than 10 products. Their app store is also limited when compared to competitors like Wix, Shopify, and Weebly.
In my opinion, Duda shines best with creating multilingual websites. No other website makes it easy and SEO-friendly to serve international visitors.
Wrap Up
As you can see, all website builders come with pros and cons. The best way to find out which builder is best for you is to list your own requirements and match them with what companies have to offer. Also, try to see if builders offer free plans as it gets you to experience what using their services is like.