Our best ecommerce platform review goes in-depth into the best ones on the market including our top picks for small medium enterprises.
If you've ever looked into making your own online store before you've most likely discovered that there are many options to choose from.
I understand this because it's the first thing clients tell me when they come to me for help when choosing the best ecommerce platform.
They often say they didn't launch their store because they got overwhelmed by the number of platforms they could use and they simply couldn't choose one.
Well, the purpose of this guide is to narrow down the best ecommerce platforms so you can make a more informed decision. I've personally worked with all of these platforms with various clients in the past so I know what I'm talking about in terms of their features and value.
Below I've listed 6 of the best and most commonly used online store builders. These are the ones my clients use the most and find the easiest and user friendly.
What is an Ecommerce Platform?
An ecommerce platform is basically an application that allows you to manage your online store. You can monitor inventory, sales, marketing campaigns, and operations in the app which helps you make smarter decisions regarding the management of the business.
Platforms like Shopify and BigCommerce have powerful business tools that allow business people to centralize their operations in order to run their business more easily.
Your choice of ecommerce platform has a big impact on your business. This is why it is important to do research and to compare one app to the other. Here is our short review of the best ecommerce platforms of 2021.
Best Ecommerce Platforms
Wix
Starts at $17 per month
Pros:
Excellent templates
Very flexible
Lets you animate text and other elements
Robust app market
Cons:
$17 is the cheapest ad-free plan (compared to Weebly's $6)
Loading speed needs improvement
Templates can't be changed easily.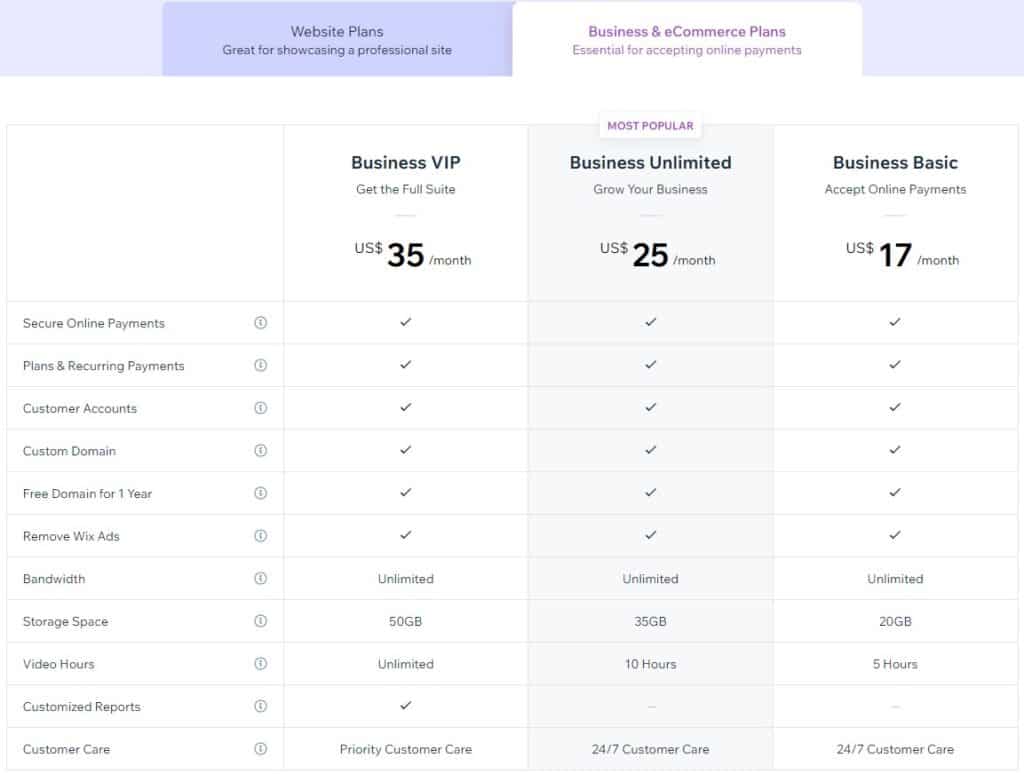 Wix is a good choice as an ecommerce platform for new online entrepreneurs. The drag and drop feature of their website builder can help you create a small ecommerce site very easily. There are also lots of free templates available.
My favorite feature of Wix is that you avail of their hosting and domain registration in 1 go. This makes it easier for newbies who are not very familiar with the process. Their app market is robust and makes it easier for users like you and me to add other functions like galleries and blogs.
I would recommend Wix for small businesses, restaurants, or artists like musicians and photographers that want to sell their talents online.
Shopify
Starts at $9 per month
Pros:
Easy to use
Scalable and user-friendly
The App store is full of free and paid add-ons
Big community of developers and users that are ready to help
Cons:
Multi-language is not a standard feature
High fees for payment platforms like PayPal and Stripe
Pages like blog or "about us" have a different URL structure that is not ideal for SEO

Shopify is one of the most popular ecommerce platforms in the world today. The best thing about this platform is that it allows beginners to create an online store without coding knowledge.
Shopify also has very good customer support and if you ever need help, they have a big community of developers and users that are ready to help you.
A basic Shopify plan costs $29 per month but they have a Lite plan that gives you access to an embeddable "buy" button and a POS app for $9 per month. This doesn't sound bad especially if you're still starting out because Shopify is scalable so you can go from small to big very easily.
Shopify sounds perfect but it's not. The most annoying thing I find is that the multi-language feature is not standard. There are apps available that can help you with this but they are usually limited or expensive.
Weebly
Starts at $6 per month
Pros:
Easy to use
Responsive themes
Additional apps in Apps Center
Easy team management
Cons:
Limited design flexibility
Can't create a multilingual website that is SEO friendly
$6 starting price gives your site a domain but Weebly ads show in the footer. The professional plan actually starts at $12

In my opinion, Weebly is the best ecommerce platform for newbies. This is because of their drag and drop website builder and 40+ mobile-friendly themes that you can choose from. You don't only get an online store, you also get a blog and a gallery too.
They have a free plan but you don't get your domain name and the $6 per month plan has ads on the footer. However, their $12 per month is ad-free and lets you choose your domain name.
Weebly is best to use for small to medium-sized stores. It's easy to use their export and import feature but business owners with lots of products will find Weebly lacking.
Other platforms like Wix lets you move around elements for better flexibility. That's not available for Weebly. You won't like this especially if you want to have lots of freedom in terms of structure.
International websites will also find Weebly very limiting. If you plan to cater to a worldwide market, the platform uses third-party apps to create multilingual websites but they're not SEO friendly. For some reason, they also block traffic from Russia, Ukraine, and China.
Squarespace
Starts at $18 per month
Pros:
100+ flexible templates
Blogging feature
Good support
Mobile app that lets you edit your website
Cons:
Website editor needs improvement
Only 1 sub-navigation
Low page speed which can affect mobile experience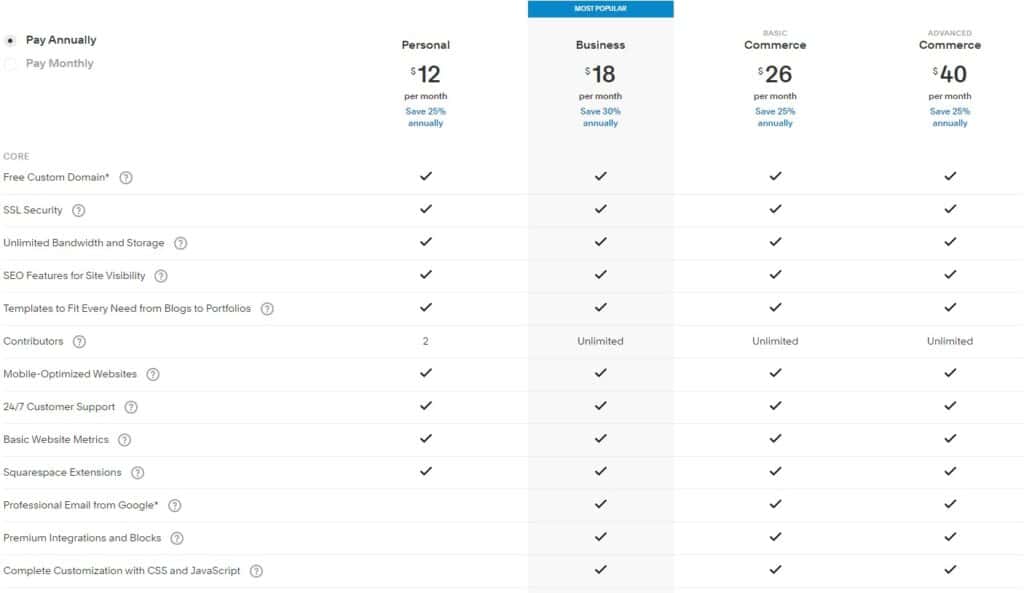 This is the best website builder for blogs, portfolio sites, and online stores. For their editor, they recently added features like pre-built page sections, Squarespace scheduling (for managing bookings and appointments), their own email marketing tools, and more versatile templates.
I highly recommend this platform for ecommerce stores because they have over 100+ flexible templates that fully adapt to mobile devices.
Their business plan starts at $18 per month and comes with features like pop-ups and announcement bars but Squarespace charges an online transaction fee of 3%. This can be expensive if you're just starting out. Luckily, at $23 you can run your online store without the transaction fee.
In my opinion, Squarespace's best advantage is its blogging feature. They have a feature-rich commenting feature, blog post scheduling, and multi-author functionality. You can even host your own podcast through the platform.
These functions make it easier for website owners to engage customers and enrich customer experience.
Square Online
Starts at $12 per month
Pros:
Discount pricing if paid annually.
All-in-1 payment system
Easy to link POS and online store
Advanced features for paying accounts
Cons:
Bad shipping strategy (no adjustable rates!)
Account stability issues
Customer service needs improvement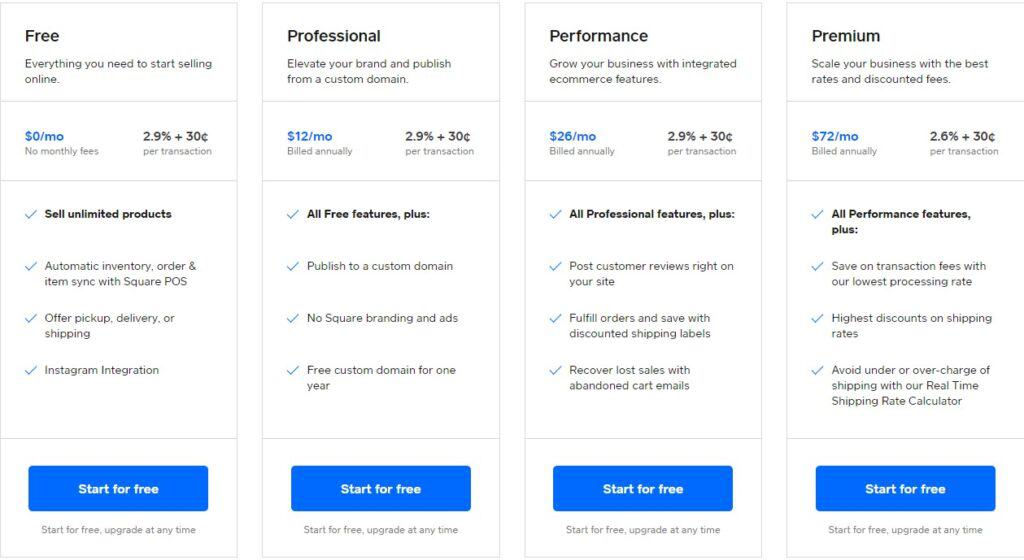 Square Online is a popular choice for business owners who want to go online because they can begin taking payments wherever they are. They were one of the first few platforms that first accepted online payments on the go and revolutionized the marketplace with their affordable monetizing solutions.
Square makes it easy for merchants to set up an online store. You don't need any background in web design to get started. They also have everything you need to launch your ecommerce store.
You get a free URL, unlimited hosting, inventory management, and responsive web design. They also offer a free account where you can start selling and only pay the processing fee (2.9% of each sale plus $0.30). You can always upgrade for more functionality with the cheapest plan available at $12 per month.
But Square Online has serious disadvantages too. The most annoying is their shipping strategy with no adjustable rates. They also have account stability issues that can impact your monitoring.
WooCommerce
Starts at $13.00 per month
Pros:
A ton of free and paid Woo themes
Customer and store administrator accounts
Advanced features for online stores
Cons:
Lack of support
The set-up process can be hard for inexperienced users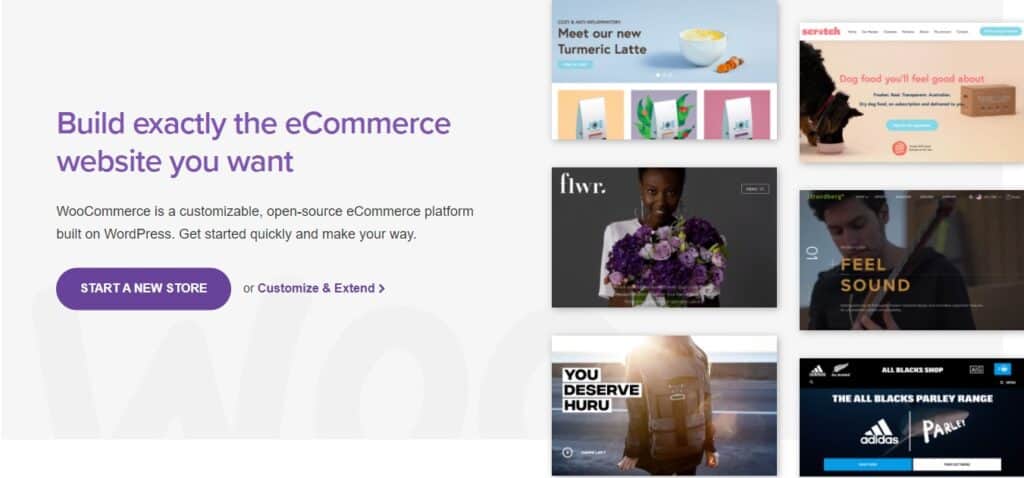 Woocommerce plugin can turn your WordPress site into an online store easily. Unlike Shopify and BigCommerce, WooCommerce is open source. This means that it does not include the domain, hosting, theme, support, and other important features that are available from competitors like Shopify.
Fortunately, Woocommerce provides very detailed video tutorials that can help you hurdle setup problems. There is also a huge community to help you.
WooCommerce has a big online store (and community) that provides a vast variety of plugins and extensions that can make your website more powerful.
There are also a lot of free and paid themes available that can let you customize your site depending on your skill. The platform has all the SEO you need but other plugins like Yoast are available too.
WooCommerce is very flexible and powerful but it's not very user-friendly for newbies. You have to be comfortable with WordPress in order to be successful with this platform.
Yes, support and tutorials are available but watching and reading through the material can take time which can be problematic in a competitive niche.
Yo!Kart
Starts at $999 – lifetime ownership
Pros:
Fully customizable and Scalable Solution
Highly Secure and GDPR Compliant
Readymade buyer mobile apps for iOS and Android Platform
In-built inventory management and all standard marketplace features
20+ Payment Gateways Pre-integrated
Cons:
Limited Themes
Paid customization
Paid updates

Yo!Kart is one of the leading ecommerce multi-vendor platforms. The solution delivers a readymade online marketplace with individual vendor storefronts. It is one of the few eCommerce solutions that provide a complete marketplace experience to clients.
Yo!Kart empowers clients with complete control over their marketplace operations. It has inventory management, automated shipping management, multilingual & multicurrency feature, Stripe Connect, and other standard marketplace features/integrations in built.
The base plan is priced at $999 – a one-time fee with lifetime ownership, no recurring fee, and no transaction fee of any kind. There are 4 unique pricing plans tailored to meet individual business needs. Plus, there are separate mobile apps for iOS and Android platforms, up to 12 months of free technical support for any bugs/errors, free digital marketing consultation, and more.
Yo!Kart is a highly customizable and scalable e-commerce solution that empowers businesses to add operational increments to meet their changing business requirements and grow rapidly. It is a trusted choice among entrepreneurs, SMEs, as well as large-scale enterprises. Yo!Kart is an excellent choice to start an online marketplace right away.
Best for Small to Medium Businesses
Wix
Wix is a good choice for small to medium businesses especially if you're new to ecommerce. We all want a website builder that is easy to use and does not require coding and Wix's drag and drop feature makes this easy for beginners.
But perhaps the best reason to use Wix is that you can get domain registration and hosting in 1 go. Starting and setting up is already confusing and intimidating and this feature of Wix makes the process simpler and faster.
Shopify
Shopify on the other hand is a great choice for ecommerce stores looking for scalability. You can start as a small online store in Shopify and then scale to a massive ecommerce behemoth with them.
Best of all, they are geared towards supporting store owners such as opening additional channels on platforms like Amazon or eBay. They also have very good customer support tools that can help you deal with important technical issues.
However, the absence of a multilingual feature can make your website limited in terms of functionality. There are apps and templates that can translate your site but the features are limited so you need to manually translate which can be problematic if you don't know the language.
Weebly
As I said before, Weebly is the best choice for small to medium ecommerce stores. Platforms routinely claim that their website builders are easy to use, but in Weebly's case, it's true.
Their themes are highly responsive which makes them adaptable to mobile devices. Plus, there are a lot to choose from. Weebly has its own apps as well as third-party apps that can make your website more powerful with just a few clicks. Most of all for your first year, you'll get a domain name for free.
Weebly is not without problems. For instance, English is the only available language and there is no feature that can create multilingual sites. Just like Shopify, apps are available as a work-around but they are expensive and limited in features.
However, if you're happy with an English-only website and is a small to medium shop, then Weebly will be a very good choice for you.
Executive Summary
The best ecommerce platform also makes it easy for customers to browse, check out and ship their purchases while making it simple for the business owner to monitor stocks, transactions, marketing campaigns, and maintain the website.
The ecommerce world is a competitive environment which is why first impressions are important. A good ecommerce platform can make or break this impression which is why choosing the best one suited for your business has a big impact on your traffic and sales.