"Here is our review of the best webinar software for 2021."
The COVID-19 pandemic has changed the lives of a lot of people.
Due to numerous lockdowns around the world, employees and students were asked to stay at home as governments restricted movement in a bid to contain the virus.
Many offices and schools turned to telecommuting and online classes in order to continue work and lessons.
Just like a seminar, a webinar can help businesses, schools and teachers get together and set up meetings so that you and your attendees can attend virtually and follow the presentation.
Having good webinar software can make life easier for everybody involved. Creating online meeting rooms, sending e-vites, and joining is simple and quick anybody can do it.
1. Livestorm
Free
Pros:
Easy to use and stable
Can upload pre-recorded videos
Branding available
Integrations available
Cons:
Free plan only comes with 20 minutes for events and only 10 participants
Have to pay add-on fees if you have more than 100 attendees in paid plan
Some technical incompatibility with mobile devices experienced
Livestorm is a good solution for businesses and schools that want to set up webinars quickly and easily. The software itself is web-based and is usually used to host live meetings, product demos, sales webinars, and online classes.
What I liked about Livestorm is that it is very easy to join a session. Attendees just have to click a link that you send them and they can join without having to download or install anything.
Their most important feature for me is the ability to brand registration pages. You can customize registration and even emails so that your brand is visible.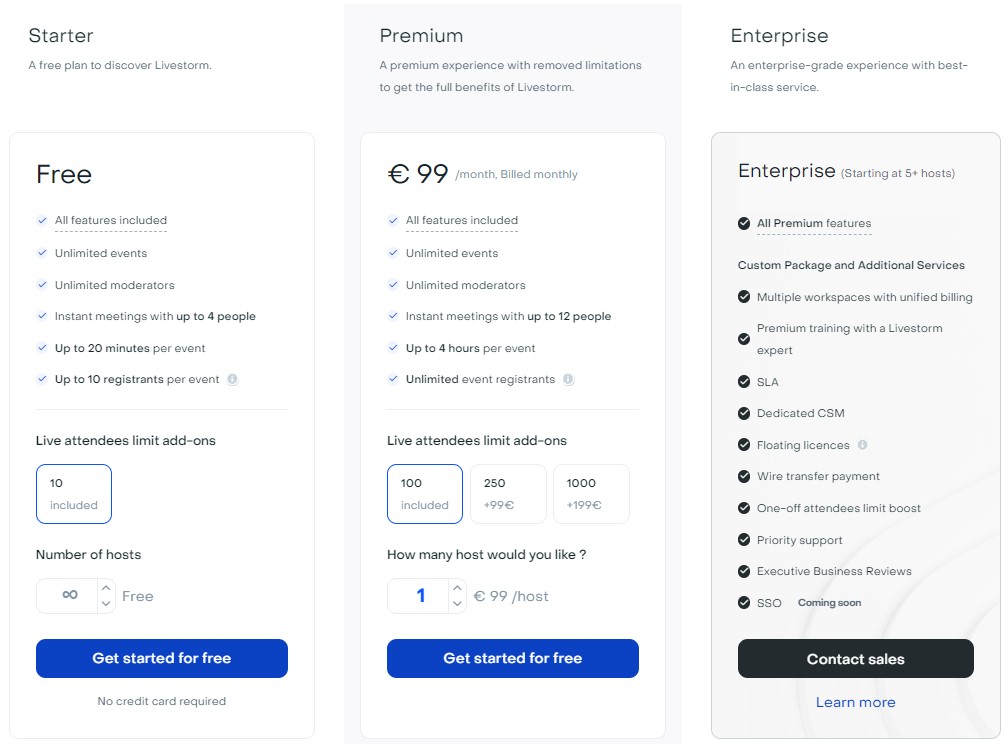 The app will even send reminder emails for your participants automatically and set reminders for you.
You can also invite attendees on the stage during the presentation so that you can increase engagement with the audience.
Livestorm Free lets you invite up to 10 participants and host an event for up to 20 minutes. While not very generous, the time will give you a good idea of how the platform works and is good enough for quick meetings in the office.
One of the reasons why I stopped using Livestorm was due to technical issues. I had a hard time joining from mobile devices when I tried hosting a couple of times.
I tried using an iPad to join my session and could not connect the first few times.
This can be problematic for mobile device users. Some companies with more than 100 attendees will also face higher fees to increase attendance.
2. WebinarJam
Starts at $1 (14-day free trial)
Pros:
Email & SMS system
Live reps available 24/7
Can send public and private messages to attendees during webinars
Auto record with recording available for sending to attendees
Cons:
10 second delay experienced by some attendees
2 hours max duration of webinars
WebinarJam is geared towards selling and education. This is a good choice for companies that are hosting webinar demos and for schools that are educating students through online lessons.
One of the reasons why I recommend using WebinarJam is because it has an auto-record feature that records the webinar and then you can send the link to participants so that they can rewatch the presentation at their leisure.
This feature is very helpful for students who want to review lessons or for attendees who want to rewatch the video as it can help them understand and internalize the whole experience.
Another reason why I like this platform is because of its email and SMS system.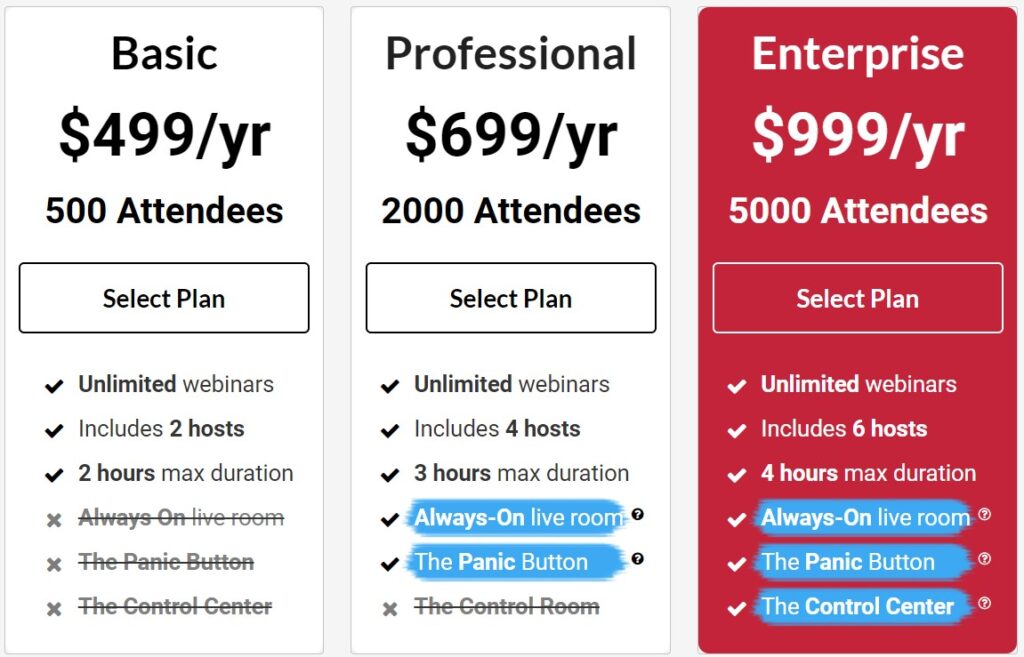 Most people are reminded or invited through email notification but Webinar Jam takes it one step further with their SMS notification option. Just schedule reminders and notifications via email and SMS to keep your attendees in the loop.
Presenters and hosts rarely experience problems with this platform. The problem is usually with attendees. In some cases, they complained that they experienced up to 10 seconds delay while viewing my presentation.
This can be problematic since they can miss out on discussions and comments by other attendees.
WebinarJam also limits the presentation and events to 2 hours max. This can be very short especially compared to other platforms like Livestorm that has a 4 hour max on events.
3. Demio
Free (14-day trial)
Pros:
Easy to use
Countdown to events
14-day free trial
Cons:
Cheapest paid plan has a max of only 50 attendees and 1 host
Customer support for the cheapest plan takes around 1 hour to respond
More suited towards laptops
Just like the other platforms we are reviewing, Demio is web-based so using the app and joining is very easy. This is a good platform for marketers and sales teams but not for online education.
My experience with Demio is a bit limited mainly because they were more suited towards laptop and desktop users. Attendees who were using their mobile phones had trouble connecting or experienced glitches during the webinar.
In my opinion, the company needs to improve its connectivity for mobile devices since many people find it more convenient to listen using their phones compared to their computers.
Another complaint that I had was their customer service. I used the 14-day trial and had a good experience and then bought the cheapest plan to try it out fully.
I experienced said technical difficulties and their customer support took almost 1 hour to respond and sadly could not remedy or recommend a solution to the connectivity issue.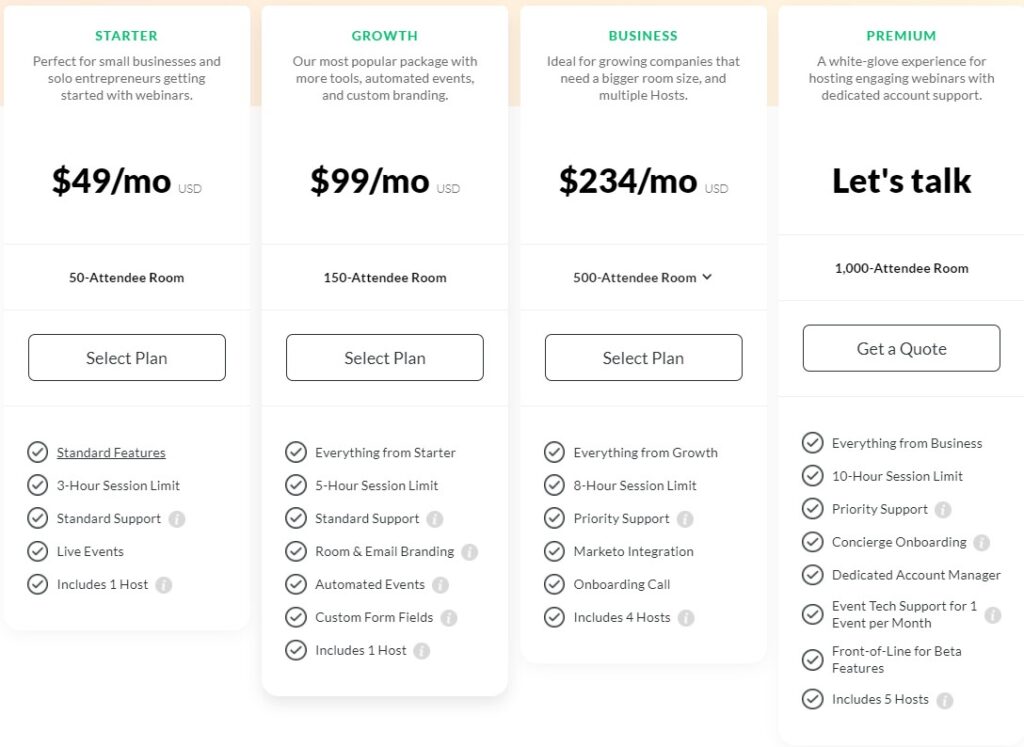 One of the reasons I don't recommend this for online classes is because you can only have 50 attendees to an event which is very limited if you're teaching to students.
However, they do have redeeming qualities. For example, the software is very easy to use. Newbies can easily follow the interface to set up events and emails for webinars.
There is also a countdown to events which I feel makes attendees and presenters more excited about the whole experience.
Best of all, they have a 14-day free trial so you can see for yourself if you would like to subscribe to a paid plan.
4. Webinar Ninja
14-day Free Trial
Pros:
Can upload pre-recorded webinars
Send automatic notifications, reminders, thank-yous, and follow-ups
Built-in landing pages
Robust analytics
Cons:
Not the best audio
Upload is glitchy and can take a long time
2 hour sessions for cheapest plan
Host a live webinar in HD with Webinar Ninja. This software makes it easy to respond to attendee questions, send them offers during the webinar or post polls during the session.
This platform is geared towards sellers and marketers and they have a robust library of knowledge to teach you how to use the platform and a basic troubleshooting guide to help you along the way.
The best feature of Webinar Ninja in my opinion is that you can easily share screens with your attendees.
This is very helpful especially if you want them to see graphs using PowerPoint. Another feature is that you can record your webinar so that it can be available for rewatching or review by attendees.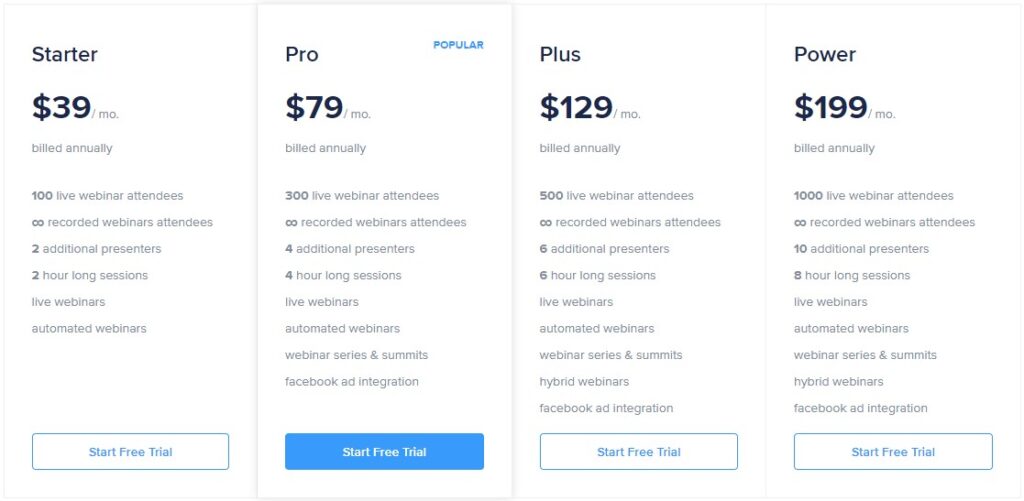 You can also set up your webinar to be multi-session. Participants only need to register once and they can come back once you have set up the next series of sessions. I find this single registration process simple and keeps attendees coming back.
If your presentation is heavy on the graphics then be prepared to wait for a long time before it can be uploaded. I think there is something wrong with the uploading on their end since a friend of mine also experienced the same problem.
Their audio also needs improvement. I rewatched one of my webinars and the audio sounds a bit cottony. I tried watching my friend's presentation and experienced the same sub-par audio.
5. BlueJeans
14-day Free Trial (10 attendees for 30 minutes)
Pros:
HD video with Dolby voice
Encrypted conference calls
Up to 20 breakout meetings
Custom branding
Cons:
Latency issues
No background blur option
$83 starting price
Unlike Webinar Ninja with awful sound, BlueJeans has Dolby sound quality so the audio is crystal clear. Videos are also available on HD for a better viewing experience.
What I liked about this platform is that you can allow participants to have their own breakout meetings for discussions, tasks, or collaboration.
I find that this feature is very helpful because it does not only improve the whole webinar experience, it is also an easy way to let participants socialize and collaborate together.
Because of this feature, I recommend BlueJeans to companies that are looking to improve teamwork among employees.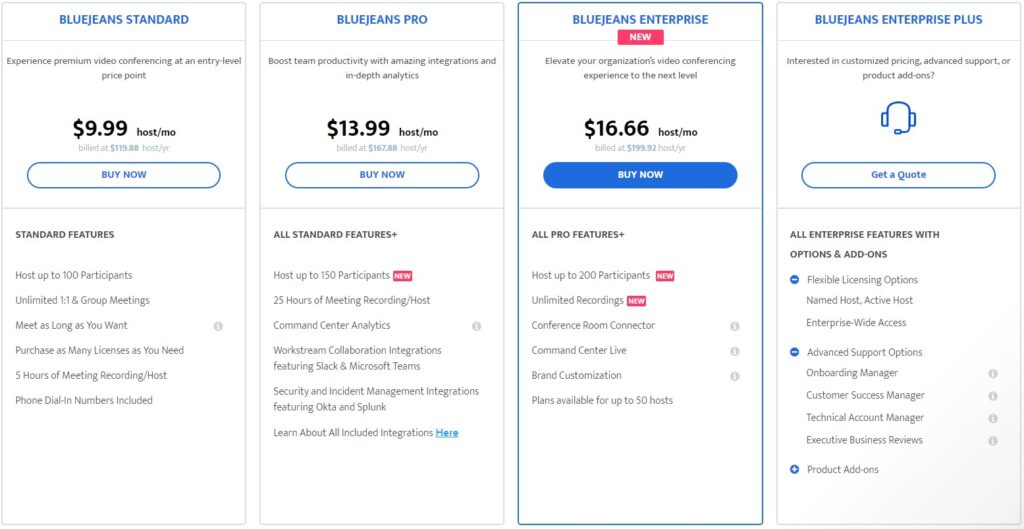 Encrypted conference calls are also another feature that I like. This adds security to participants which can be comforting especially if you're talking about very important details. Meeting highlights and transcription can also help improve productivity.
Just like any other webinar platform. BlueJeans is far from perfect. For instance, there is a noticeable delay between presenters and attendees. I am bothered by this since it can hinder discussions as well as the question and answer portion of the meeting.
Just like many users, I find that platforms with lag and latency issues and can make the whole event seem longer.
Most of all, BlueJeans is expensive compared to other paid starting plans at $83 per month. Furthermore, at this price, you only have a max of 100 attendees and events only have a duration of 2 hours max. Webinar Ninja is cheaper if you're alright with the substandard audio.
6. EasyWebinar
14-day Free Trial
Pros:
Youtube Live integration
Instant on-boarding call
EasyCast™ Facebook Live & YouTube Live Streaming Tool
Plug and play page builder
Cons:
Only supports PowerPoint for presentation
Better CRM functionality
If you're looking for a more affordable alternative to BlueJeans try EasyWebinar. They offer a 14-day free trial but their cheapest paid plan is only $78 with a max attendee of 100 participants. Best of all, you get 3 months free if you pay yearly. EasyWebinar has a lot of features that I personally like.
EasyWebinar is a very versatile tool. While it is best used for selling and marketing, you can use it for other projects such as webinars and demonstrations.
I personally like that it is easy to integrate with YouTube Live and Facebook Live with EasyCast so you can reach more audiences.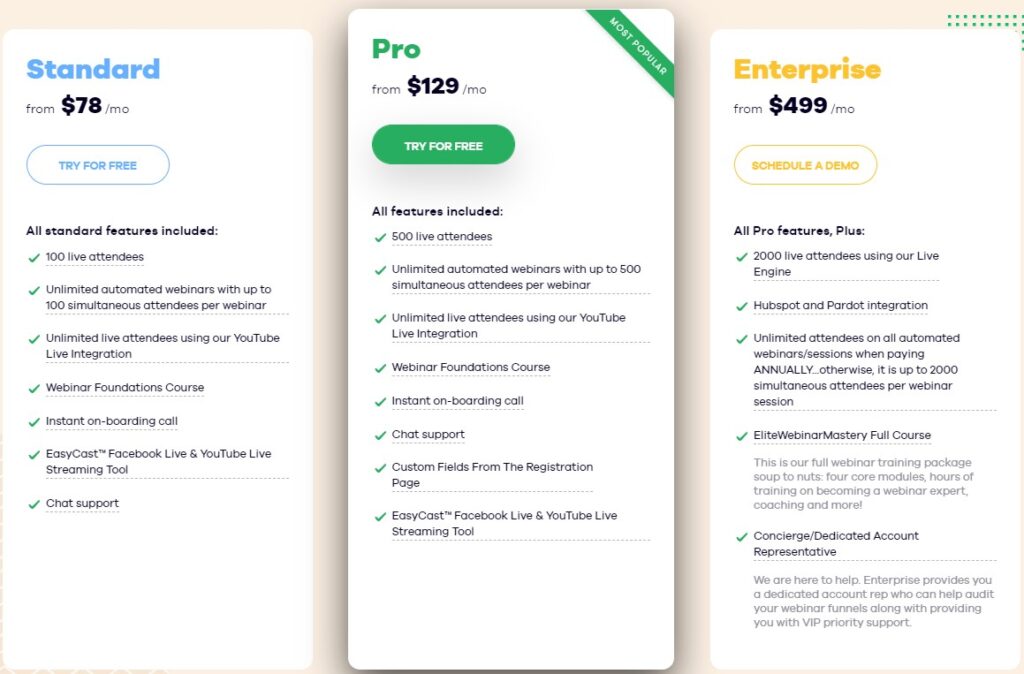 Their page builder is also easy to use so that you can create a landing page for your event very easily and make the whole registration process easy for participants.
What I did not like is that it is hard to use other apps like Google Slide for presentations. My whole presentation had to be converted into PowerPoint before I could share it with the attendees. I find this to be inconvenient because converting from 1 format to another can be time-consuming.
Another thing that I did not like was native email CRM was lacking in functionality. It would be nice to have MailChimp like analytics for participant emails so you can access data easily.
7. Zoom
Free
Pros:
Generous features for Free plan
Easy to use
Fast customer service
Cons:
Can't add description or meeting agenda to invite from the app
Some privacy and meeting concerns
Zoom rose to the forefront of webinar tools when the COVID-19 pandemic hit. Everybody suddenly had to have access to a free web-based webinar tool that is easy to use.
Zoom in my opinion is a good web conferencing choice not only for teams and employees but also for students and teachers. This is mainly because Zoom is free to use for life.
For their free plan, users can host an event for 40 minutes with up to 100 participants. This is very generous compared to other plans that only give you 20 to 30 minutes with only 10 invitees max.

One-on-one meetings on Zoom are also free and unlimited, making it a good choice for teachers or tutors, and students. Customer support and resolution are also good considering that the services I avail of are free.
Because of their popularity, Zoom needs to improve its services more. We all heard about this teacher whose lesson was hijacked by a hacker so obviously, Zoom has to work on their security and privacy. While this issue has been resolved, many people are hesitating to use the service.
Another issue I have is that you can't add a meeting description or agenda from the app. While not very convenient, I found myself forgiving Zoom because of their generous free plan.
8. Google Meet
Free
Pros:
Cross platform synchronization
Seamless integration with other Google products
Screen sharing and closed captions (English only)
Cons:
Google+ account needed
No message track
Can't set message status
Formerly Google Hangouts, Google Meet is a video conferencing app developed by Google. As of 2020, it is free to use for all users. All you need is a Google account and you can host a 1-hour online meeting with up to 100 people at no cost.
Due to the pandemic, Google Meet is popular not only with businesses but with teachers and students for online learning.
The 1-hour meeting is where Google Meet beats Zoom in my opinion. This amount of time is perfect for online learning. Pre-pandemic, a typical class usually lasts 45-50 minutes depending on where you are.
The time allotted by Google Meets plus the max size of 100 participants is what makes them popular with schools and universities.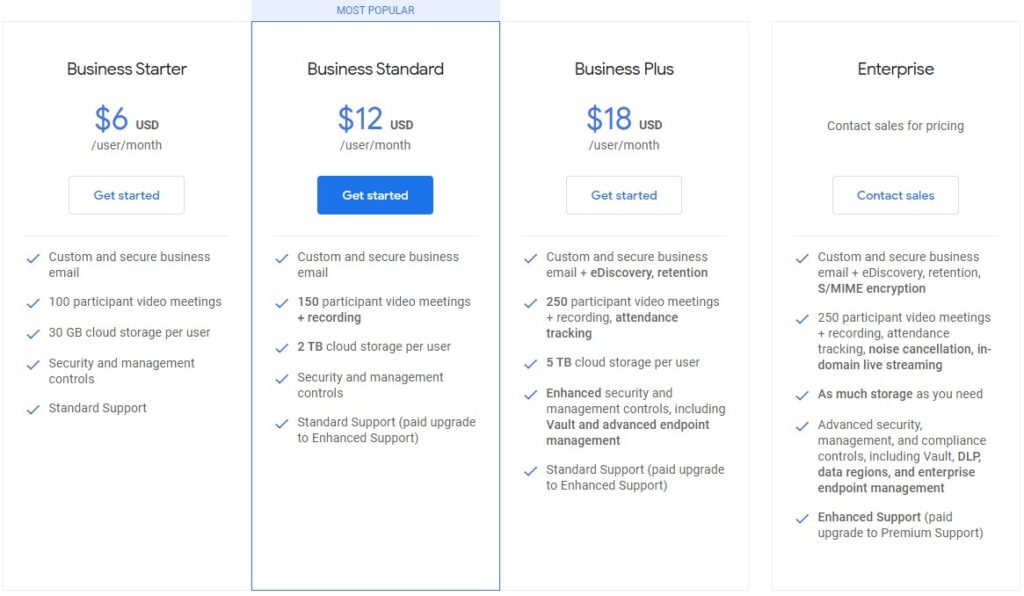 Another reason why I like Google Meet is that it is easy to sync with other products like Calendar. Cross-platform synchronization is seamless too. You don't need to use Android or Windows. It can be used using iOs with no problems.
Nowadays, you can easily see if attendees have read your messages thanks to message tracking. I find the lack of this feature to be irritating especially if you want to make sure that the participant has seen your message.
You also can't set a message status, just online or offline. A Google account is also needed to use Meet but since most of us have one, this is not really a big disadvantage.
9. Bigmarker
7-day Free Trial
Pros:
Customizable video player
Automate marketing, product demos and onboarding
Stream multiple video feeds, slides, videos, and screen shares to Facebook & YouTube Live
Integration with MailChimp, Hubspot and more
Cons:
Features can be overwhelming
Some connectivity issues
7-day trial only
BigMarker is not very well known but there are a lot of fans of this software mainly because it has a lot of cool features. This is a good tool for marketing and training for big and small companies.
BigMarker has a lot of features but perhaps my favorite is that you can stream videos not only on the platform but on YouTube and Facebook too with no special app or equipment needed. This allows you to broaden your reach.
Another feature I like is that marketing, product demos, and onboarding can be automated. You can embed videos on your website and they will activate customers, employees, and prospects for you automatically. There is no need to manually host repetitive content.
The video player is also customizable so that you can use it for branding.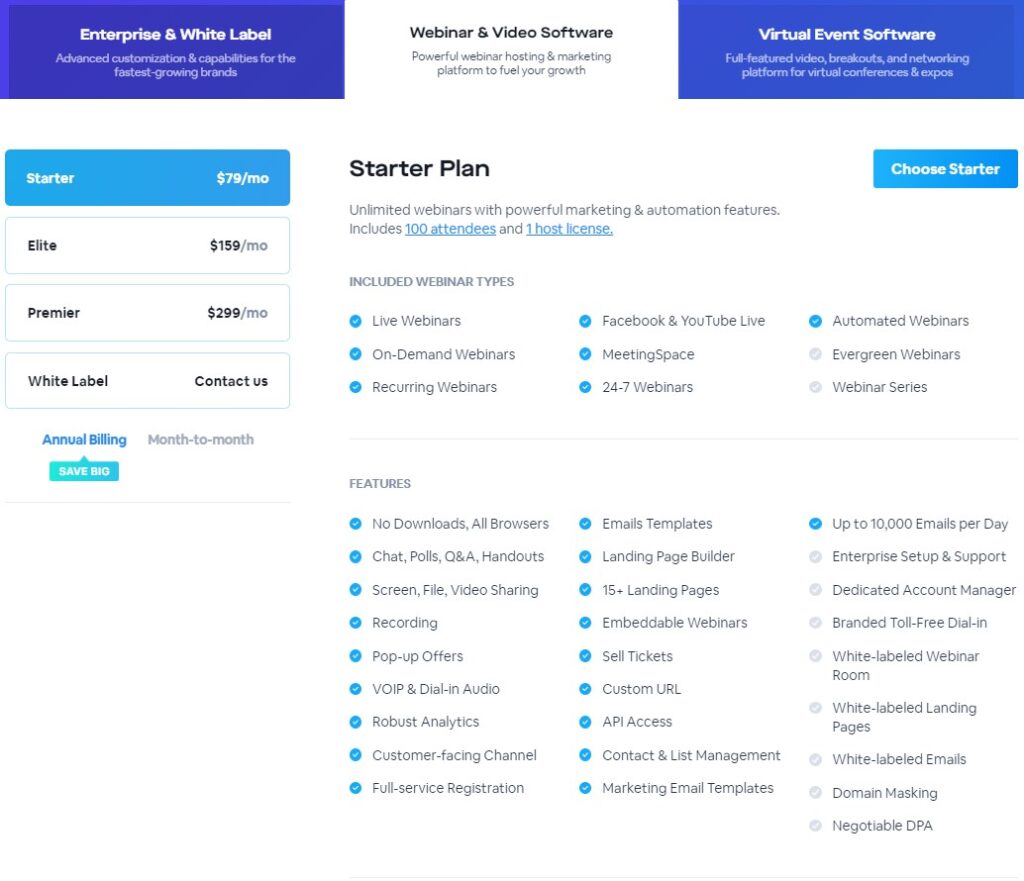 Data is very important if you're hosting a webinar. Fortunately, you can integrate with other tools like Hubspot, Mailchimp, ActiveCampaign to capture data and help you support your marketing goals.
As you can see, BigMarker is chock full of features, which is great but in some cases also overwhelming. There are simply too many tools and integration, it can make you feel intimidated.
While using the platform is relatively easy (once you get used to it), I wish they would streamline the whole process so that the whole system feels more user-friendly.
I also hate the 7-day trial, it's too short. I also experienced some connectivity issues during the trial but I'm not very sure if it's on their end or mine.
10. Webex
Free
Pros:
Noise removal and sound enhancement
2 services: Webex Meetings and Webex Teams
Real-time translation for meetings (German, Arabic, Japanese, etc)
Cons:
50 minutes meeting limit (for free plan)
Call-in feature only available in paid plans
Customer support not available in Free and Starter Plan
If you want a digital workspace outside Google, Webex is a good choice. Their video conferencing service supports audio and video meetings for remote teams and clients. You can also access important video conferencing features like screen sharing and meeting recording.
With Webex, you get 2 services: Webex Meetings and Webex Teams. With the latter, you and your team can collaborate together in a digital workspace where you can message each other, host group meetings, share files or bounce ideas off each other using the app's whiteboard tool.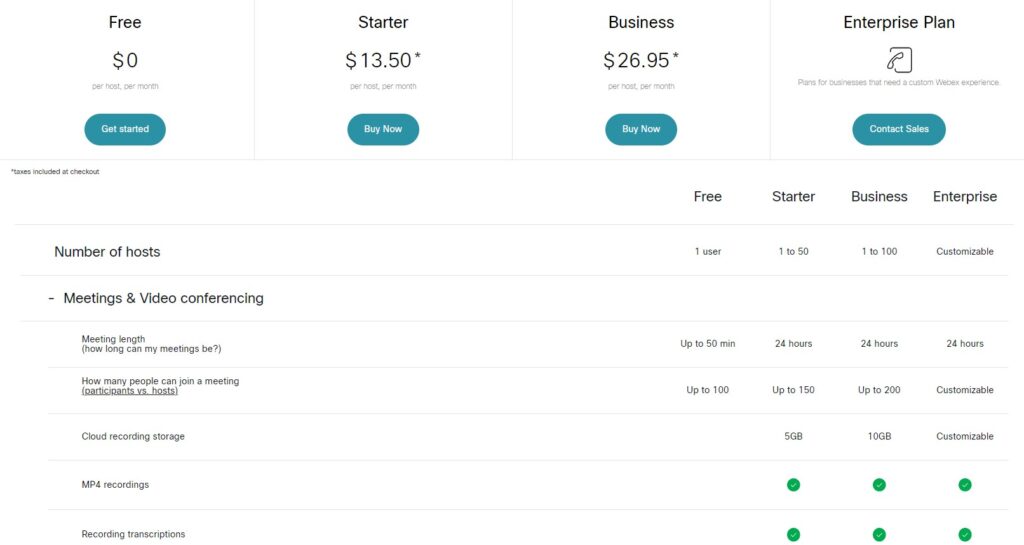 Webex also has a new feature: noise removal and sound enhancement. This is a great addition because we all enjoy crystal clear audio and it makes communication easier.
The platform also has real-time language translation for meetings. Languages available include Portugues, German, Arabic, Japanese, English, and others.
Perhaps the biggest reason why I'm not very enthusiastic about Webex is mainly because of the poor customer support available for Free and Starter Plan users. For other platforms like Zoom, customer service is exemplary even if you're only using the paid version.
With Webex, Free plan users can only have online customer service options while Starter users can only call customer support at certain business hours. Very inconvenient in my opinion.
Wrap-up
Looking for the best webinar option continues to be a search for many employees who are telecommuting and for students and teachers who are looking for the best value for money.
We hope that this review will give you an idea of the different features of various webinar software so that you can choose the best option for your needs.
If you're interested, check out more of our webinar software reviews.