"In this review, we look at the 10 best social media management tools of 2021."
How do you manage all of your social media marketing responsibilities?
It's easy to get overwhelmed when you consider all of the tasks that social media managers must accomplish daily, from content creation and publication to analytics and reporting.
Handling various media pages can be a complete nightmare. Overall, company owners will have to find the time and resources to log into several social networking pages and individually post from each platform.
For many small companies with just a few workers, this might not be an option. With this in mind, many companies switch to social media management systems, which allow them to build a robust social media plan that they can handle in one location.
Fortunately, there are plenty of fantastic social media management tools at your disposal. These tools will help you optimize your workflows, save time, and guarantee that your content is delivered to the right audience at the right time.
How do we choose the product to use, though?
With so many excellent social media management tools available, I figured it would be beneficial to highlight a few of the best social media management tools to assist you in deciding which one might be the best for your company.
Let's review them:
Hootsuite
Hootsuite is the first one that I want to analyze here. It is used by almost 15 million users and is one of the most used social media management platforms.
And there's an explanation for their popularity: it's an all-in-one platform that allows you to compose and schedule material, monitor social ROI, run social networking advertisements, and a lot more.
This platform is also considered one of the best for analytics since they have some of the most robust analytics dashboard and social network monitoring resources available, including customizable reports and team efficiency monitoring.
So, if you were searching for a professional analytics platform, that's the ideal one.
Let's now check the platform pros and cons:
Pros:
Has a limited free plan available that allows you to have 2 social accounts, 5 scheduled messages, and 1 user
Offers a Free 30-day Trial
Allows you to make marketing promotions through several social networks by using only one dashboard
Provides free lessons to assist you with getting started with social media campaigns.
Links with over 35 social networks allowing you to bulk-schedule social media posts.
Professional plans start at just $19 per month
Cons:
Some analytics reports have an additional cost
The free plan only includes limited tools
Plans can be costly if you need many social profiles or have to spend a considerable amount on ads each month
And if you are wondering how much it might cost for your business, I have the pricing tab for you to analyze: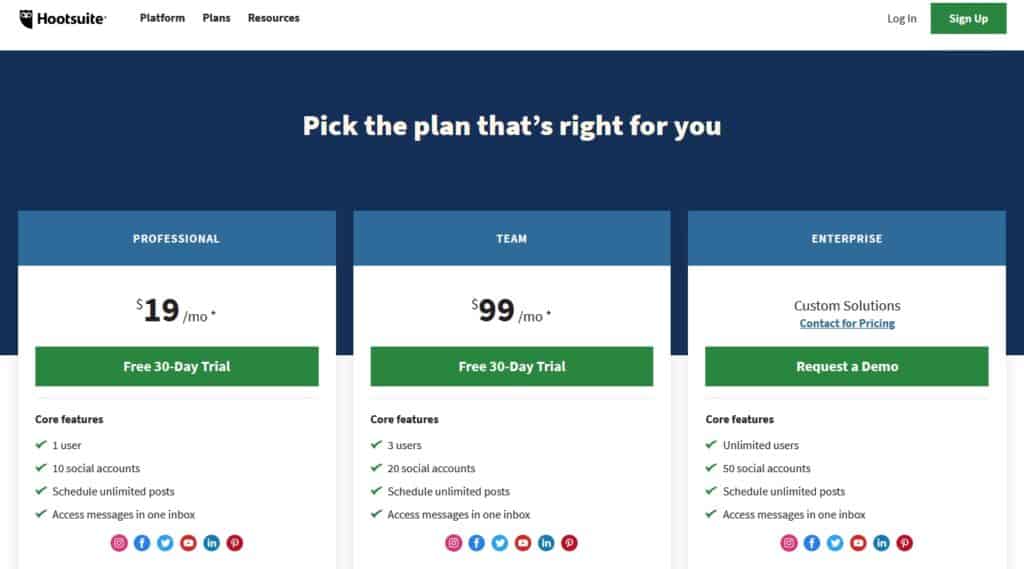 Buffer
The next one I want to analyze is Buffer. This is the most cost-effective solution, which is ideal for small companies with a small number of workers who want to handle their social media without investing in a costly management strategy.
With Buffer, you can tell your brand's story and increase your audience with reliable and effective publishing. This is done by using one analysis and engagement platform with a user-friendly interface that helps brands, companies, agencies, and individuals drive successful social media interactions.
The platform has different apps for publishing, engagement, analytics, and team collaboration. Their products are highly designed and perfectly refined to help social media managers and teams to work more efficiently and effectively.
Let's check their pros and cons:
Pros:
Excellent free plan available, which allows you to have 3 social channels, 10 scheduled posts per user
Professional plan starting at just $15 per month
Has a Free 14-day trial
Works for Instagram, Facebook, Twitter, LinkedIn, and Pinterest
Has an extremely clean and intuitive panel
Cons:
Doesn't work with a large number of networks as its competitors (doesn't work with YouTube for example)
The most expensive plan only includes six users
And here is the pricing tab: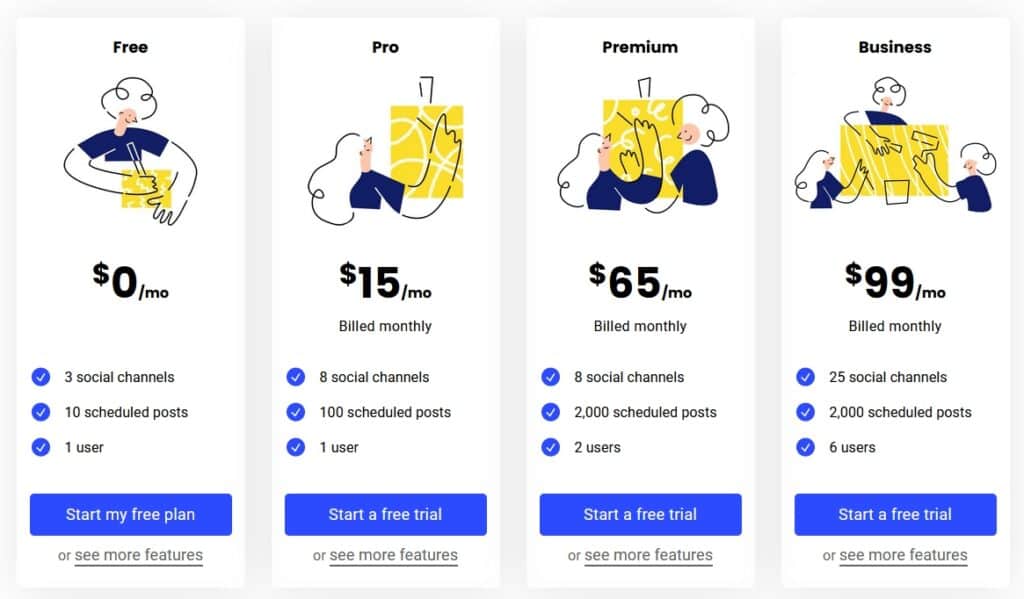 Crowdfire
Crowdfire is a low-cost social media marketing platform that allows you to manage all of your social media profiles from only one dashboard and automatically provide effective social content.
Advertised as "the only social media manager you'll ever need", this platform has a powerful organization method, offers detailed analytics reports and other specific metrics.
Also, it allows managers to handle their incoming messages and comments. Within only one inbox, you can reply to people on all of your social networks.
Since Crowdfire has an advanced posting and scheduling platform with a decent analytics dashboard, it is another excellent choice for individuals, startups and small companies searching for a complete marketing solution with an accessible value.
Let's check their Pros and Cons:
Pros:
Has an excellent free plan available, allowing managers to link 3 different accounts and schedule up to 10 posts per account.
Professional plans start at just $7.48 per month
Has a powerful organization with advanced posting and scheduling method
Precise analytics reports, including competitor analysis
Cons:
Limited support and compatibility, only offering email support on premium plans, that costs $37.48 monthly
Expensive high-powered plans
The most costly plan only includes three users, being necessary to check add-ons to add more profiles.
And here's the pricing tab: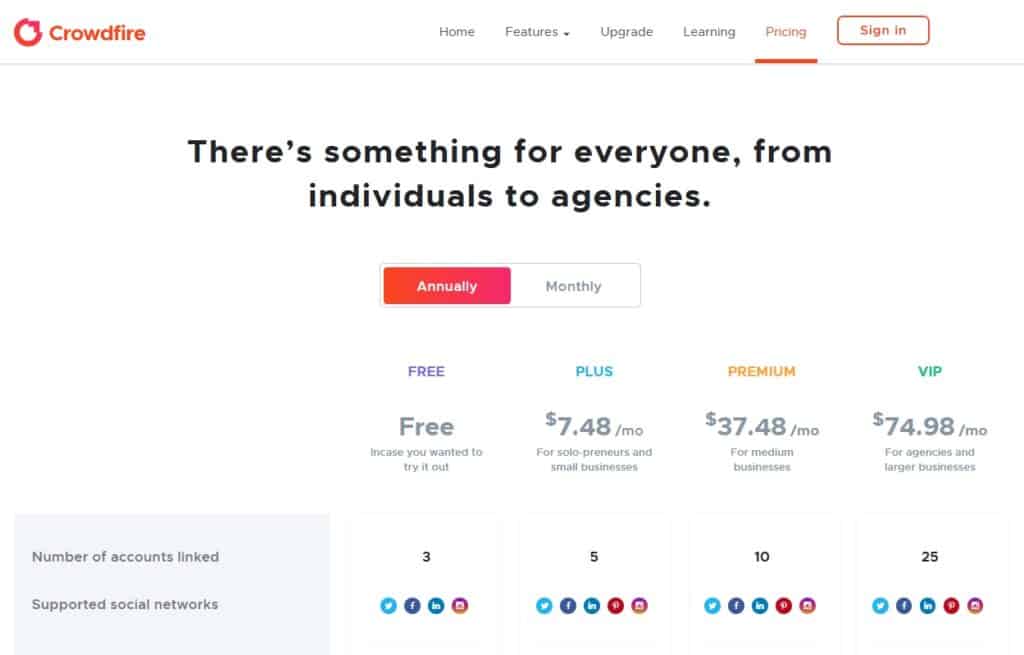 Sprout Social
Sprout Social, like Hootsuite, incorporates a lot of social media tools into one single platform, including social media scheduling, tracking, and reporting. Also, Sprout Social offers a proper customer relationship management (CRM) functionality that helps you satisfy your customers better and develop stronger relationships.
The platform is one of the most professional social media management apps available. Even the Standard plan has more features than most regular social managers would need, and the Advanced Plan will make an enormous difference if you have a sizable social team.
Also, they have a Single Stream Inbox for managing all your messages in one single place, including a professional scheduling system with tools that determine the best time to post, maximizing engagement.
It also provides an excellent suite of analytics and reporting tools. Besides that, the platform offers a mechanism that tracks your team performance so you can measure individual member's engagement.
This app supports all popular social media sites, like Twitter, Facebook, Instagram, Google+, LinkedIn, and Pinterest, making it another excellent option for all-in-one management.
Let's see their Pros and Cons:
Pros:
Excellent user dashboard that allows you to handle all your social networks in one place
Has Social Media Optimization tools
Excellent suite of Analytics and Reports to help you manage your user engagement and return on investment (ROI)
Professional Scheduling and Publishing tools
Values social engagement
Free 30-day trial
Cons:
Plans start at $99 per month, which is considered extremely high compared to its competitors
Limits the number of social networks that you can manage
The most advanced plan costs $249 monthly per user
Here's the pricing tab: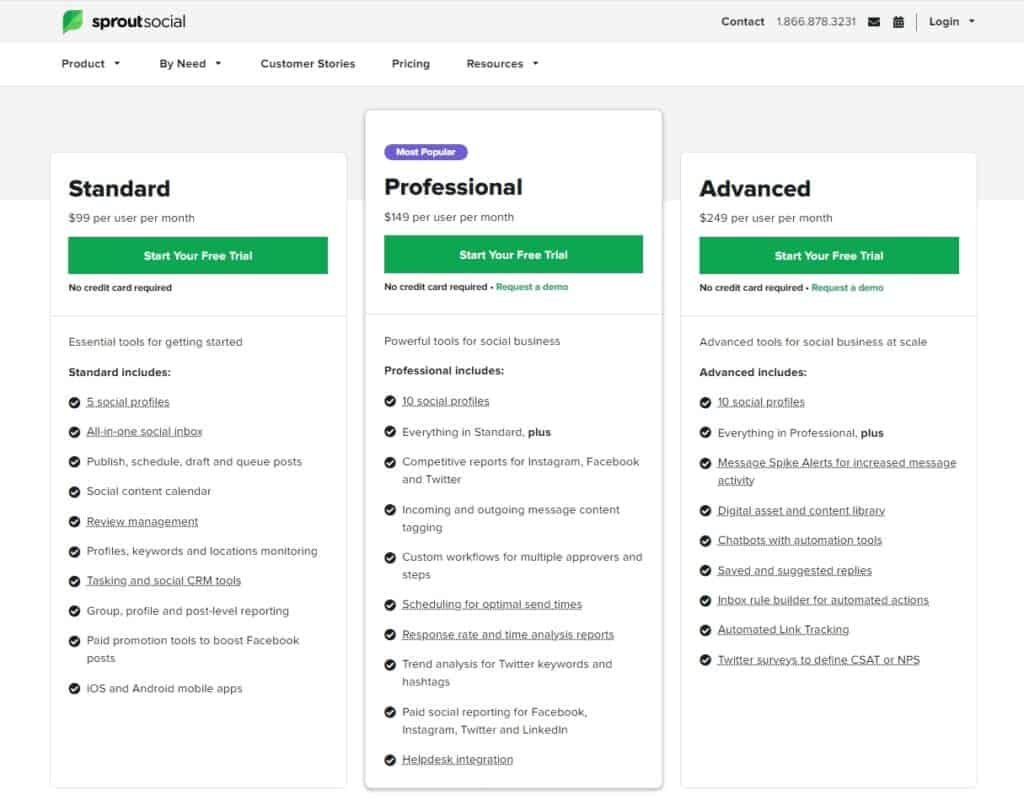 Agora Pulse
Agora Pulse is a complete social media management platform with a simple interface. It has a lot of power, but it also has a user-friendly interface.
One of the Agora Pulse differentials is its Inbox. Their advanced filter makes things extremely simple and straightforward. The Inbox shows your comments, ad comments, mentions, conversations, and reviews about each of your social networks.
The platform offers an excellent Social Listening section, which might be ideal for businesses who want to keep an ear out for references of their brand name or about their competitors. You can create new searches for words, phrases, hashtags, or usernames.
Agora Pulse offers different forms of publishing material. The default Publishing section brings you to a calendar displaying the current period and social messages you have planned, queued, released, submitted for approval, delegated, or failed.
The platform also has a tab to offer all relevant social accounts to publish content and contains a bulk-publish feature.
They also provide a differential feature that allows you to track your fans and followers, giving you the ability to label them the way you want and check their past activity with your brand.
Finally, they also provide a complete collection of reports and metrics about all of your social accounts and your team engagement with the reviews, deletes, and replies to the arrived messages.
Here's their Pros and Cons:
Pros:
Has a decent Free Plan available, which allows managers to have 3 social profiles, 1 user and 40 scheduled posts per month
Offers a 30-day free trial
Provides an advanced and excellent Social Listening method, allowing managers to track their brand name when people mention it socially (or keywords) and handle their searches excluding irrelevant results.
Has a professional publishing section
Has CRM Tools in the Free Plan.
Cons:
Highly limited Free Plan
Professional plan starts at $79 and only allows 2 users
Demands an extra investment for Shared Calendars, Power Reports and Facebook Competitor Reports
Check their pricing tab: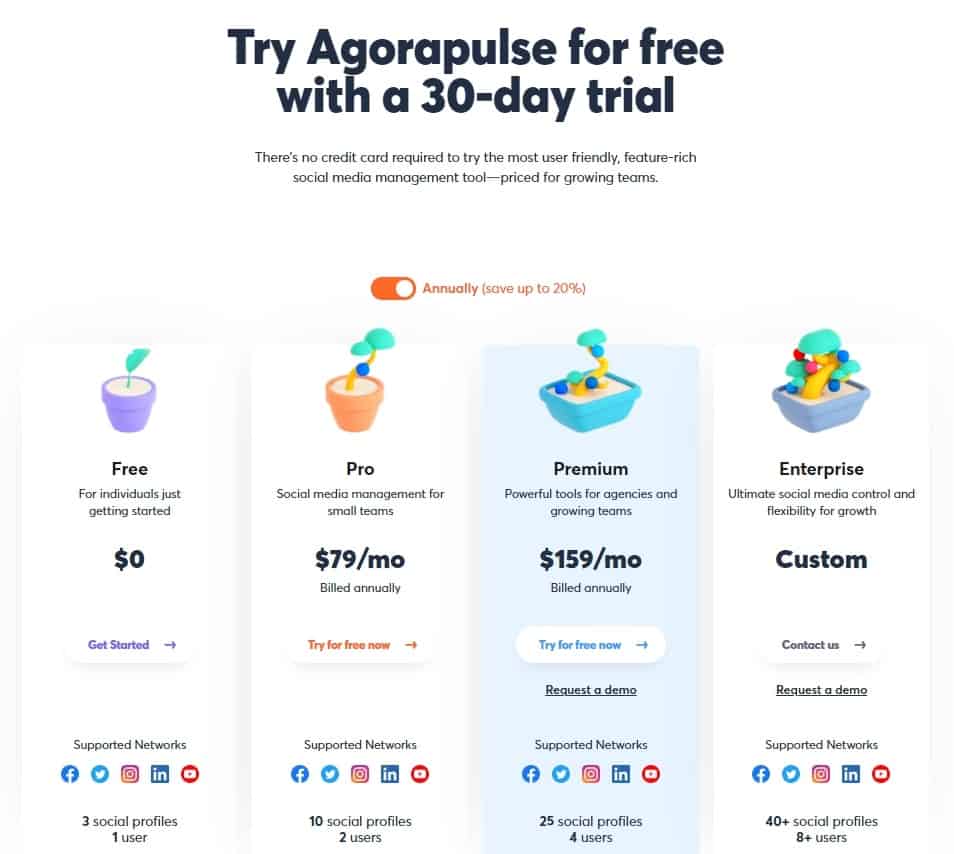 Zoho Social
Zoho Social is a social media management platform that helps businesses and agencies to increase their online presence. The platform allows managers to reach the right audience at the right time and engage them with the proper messages.
By using the app, you can easily manage multiple social media accounts and schedule different posts. The social media team can also cooperate through many accounts using the same dashboard. Zoho also helps by tracking marketing revenue over social media as well.
All data in the platform is accessible through reports which can be shared with your social media team, other departments, or senior executives.
Zoho links great with Twitter, Instagram, Facebook, and LinkedIn. Moreover, it is best used in an integrated way with Zoho CRM and other modules in the complete Zoho Suite.
In Zoho, you set team members to a specific social network or assign them roles by the use of an invitation system. The platform also allows managers to schedule posts, access summary reports, and analytics, respond and comment to messages and view advanced reports.
They also have a Monitor tab with a customized dashboard to track all interactions and online engagements that might be important for you. You can even track your competitors.
Zoho Social is a great solution because of its flexible scheduling and publishing functionality, as well as its robust analytics and social media listening capabilities, which is ideal for social media managers, agencies, small or midsize businesses.
Let's check their Pros and Cons:
Pros:
Offers a CRM product to manage your email, projects, accounting, and more
You can integrate all of their social media management platforms, which works with most social media networks
Plans starting at $10 per month
Has a Free Plan available
Cons:
Plans for agencies starting at $200 each month, which is quite expensive
Plans only include two to three team members, requiring an extra investment of $8.33/Member/month
Analytics and reporting isn't as robust as some competitors
And here's their pricing tab: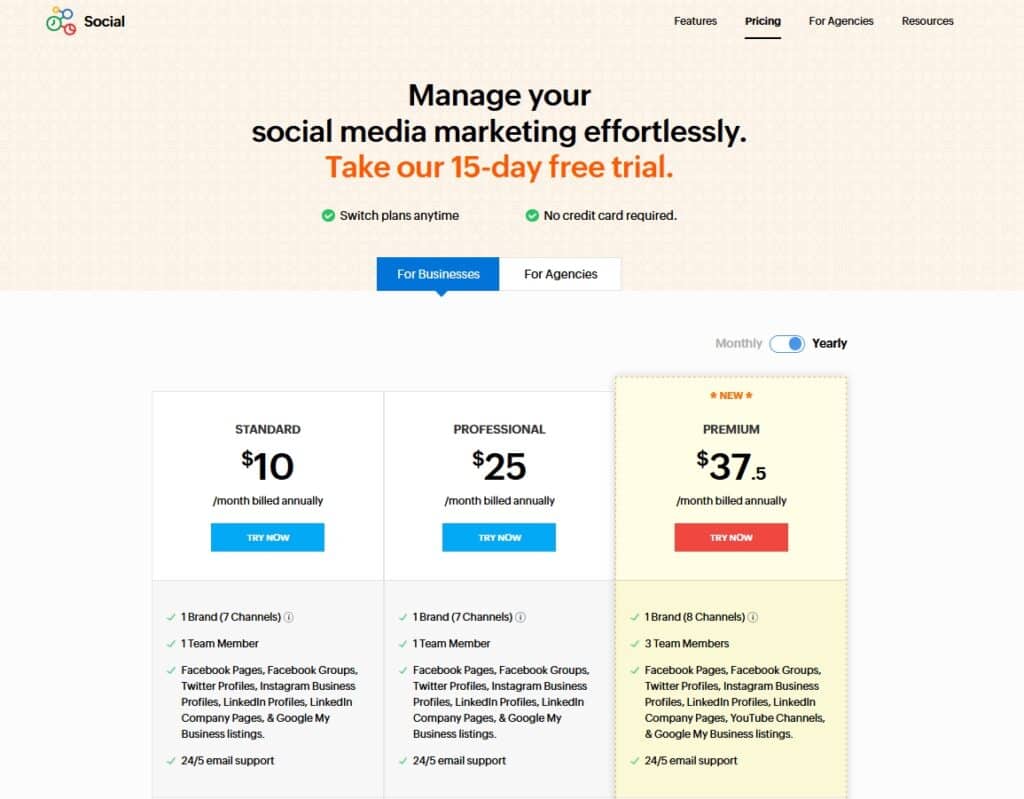 Sendible
Sendible is the ideal social media management tool for agencies with a large number of clients. This platform has the best integration in the market, offering services like Analytics, Automated Publishing, Content Management, Keyword Filtering, Multi-Account Management, and Post Scheduling.
As a Sendible user, you can link their services with Facebook, Twitter, Instagram, LinkedIn, Google My Business, Pinterest, YouTube, WordPress, Medium, Tumblr, Canva, Google Analytics, Google Drive, Slack, and a lot more. In total, Sendible allows you to link with 26 different networks and platforms.
The platform has a scheduled bulk-publishing tab, and it is connected with an interactive calendar.
They have a content curation engine with a "content recommendation engine" that tracks posts that had been already shared on your social media, suggesting the best content to be released in order to maximize your engagement.
They also have many templates to help you create more comprehensive reports for your clients and team members and reports all mentions of your brand, allowing you to respond to people and know your social media presence, strengthening your Social Listening.
Let's check the Pros and Cons of this integrating platform:
Pros:
Has more integration options than its competitors
Has a helpful social media dashboard that allows you to manage your brand online presence in just one place
Starter plans start at just $25 monthly
You can save up to 15% if you choose the annual package
Has a 14-Day Free Trial
Cons:
Basic plan (Creator) allows just one user and six social profiles
Doesn't offer a Free Plan
The most advanced plan is quite expensive, costing $340 each month
And here's the pricing tab for you to check: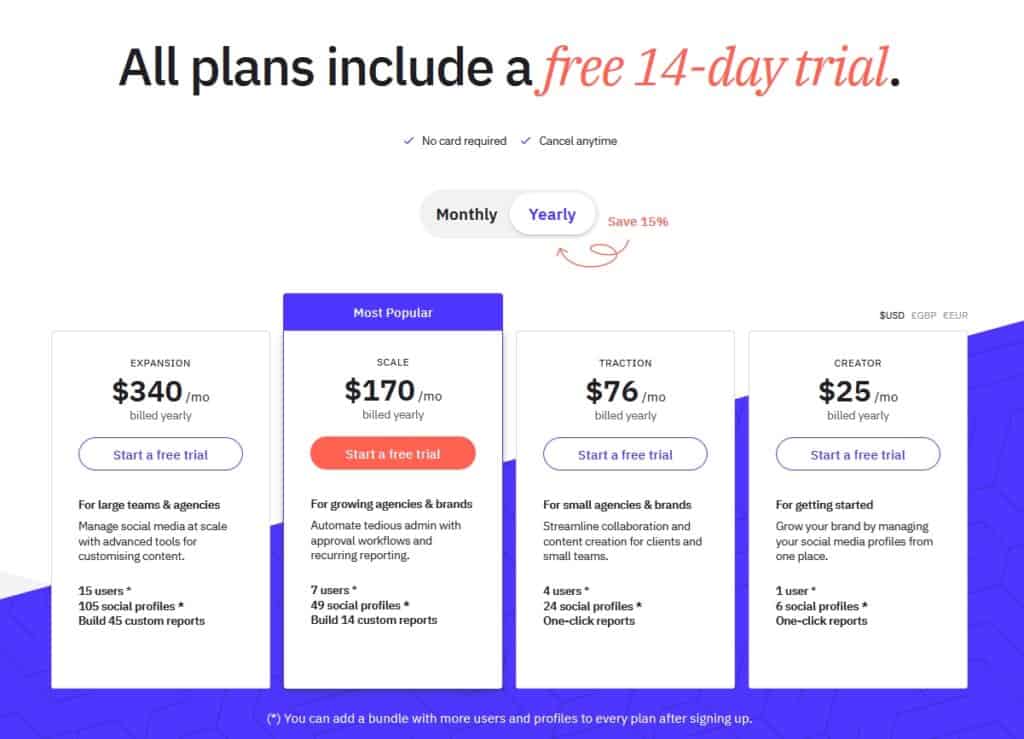 Social Pilot
SocialPilot is another social media management platform ideal for small businesses, agencies, and enterprises. They offer Automated Publishing, Analytics Monitoring, Content Management, Conversion Tracking, Multi-Account Management, and Post Scheduling.
The platform also provides a Social Listening feature and Social Inbox for monitoring replies, comments, and mentions.
The Account management in the platform is clean and effective since each account can be organized into relevant categories (by a channel, by a client, or anything). It's also simple to assign every media as part of the process if you're sharing the same content through several channels.
The app supports a large number of networks compared to its competitors, allowing you to manage your accounts of Facebook, Twitter, LinkedIn, Google+, Tumblr, Pinterest, Instagram, Twitter, VK, and Xing.
As a differential, I can say that Social Pilot fits a lot of tools into a single and intuitive dashboard at lower prices. With SocialPilot, you can have a platform that completely suits your brand, whether you are a professional, an agency, a small business or an enterprise.
Let's check their Pros and Cons:
Pros:
Starter plans start at just $25.5 monthly
Works with a good number of networks
Can integrate with Canva, Bitly, Zapier, Box, and more
14-Day Free Trial available
You can save up to 15% if you choose the annual package
Manage a minimum of 10 social media accounts with any plan
Cons:
Doesn't offer a Free Plan
Basic plans don't include many tools or features
Professional plan only offers 1 user and 10 social media accounts
Check their pricing tab: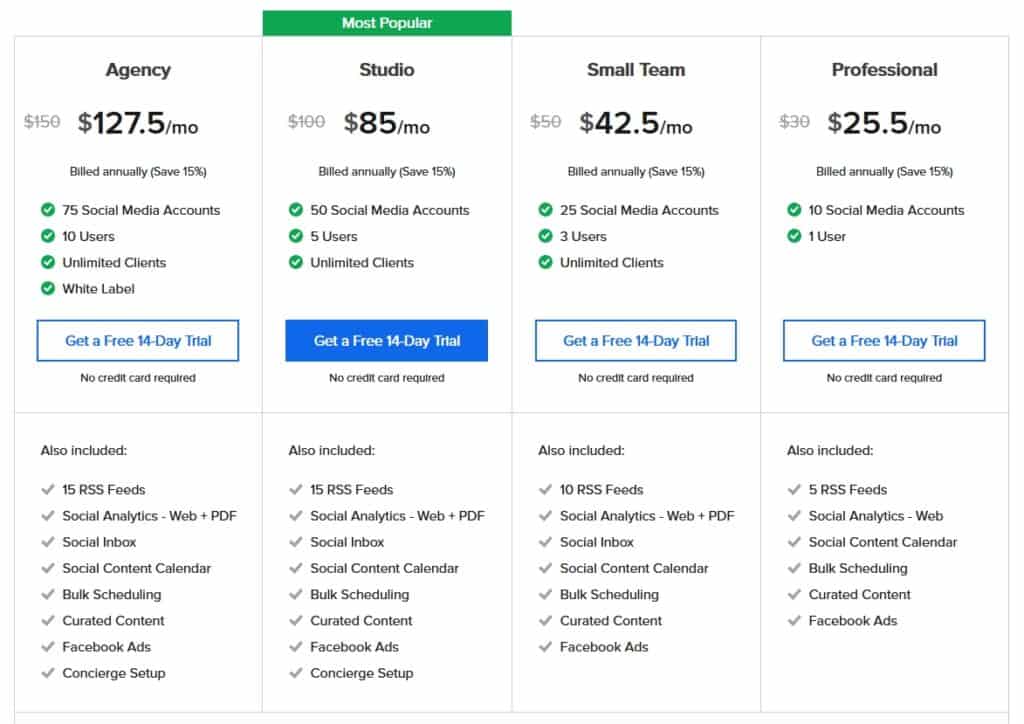 CoSchedule
CoSchedule is unquestionably one of the best social media management platforms available. It's also a marketing calendar that allows you to keep track of all of your tasks from a single dashboard.
In order to save time, you can also share and publish content at the same time on multiple networks via a single window. CoSchedule will help you increase your productivity by simply organizing your workflow.
CoSchedule allows you to plan and better coordinate your marketing tasks. This may simply include coordinating your blog and social posts if you are a solopreneur or influencer.
If you own a business, you can have additional efforts for smart marketing campaigns that need to be centralized. It also enables agencies to coordinate all of their tasks for each client individually.
The platform works by having a more considerable utility than just a social media management tool with its incredible calendar to manage various aspects of all of your marketing.
The platform is an excellent choice for marketers who want to handle all their projects (social media, content, emails, etc.) in just one place and publish more content to generate a higher ROI.
They offer a vast number of tools, such as Content Management, Automated Publishing, Multi-Account Management, Post Scheduling, Customer Engagement, Multi-User Collaboration, Reporting/Analytics, and Social Media Monitoring, all through the following channels: Facebook, Twitter, LinkedIn, Instagram, Pinterest, and Tumblr.
They also have a feature called ReQueue that helps you find the best posting times and fill gaps on your posting schedule with the best posts.
Let's see their Pros and Cons:
Pros:
Has a 14-Day Free Trial
Offers an excellent platform for a marketing organization
Allow users to publish content on multiple networks via through single window
Cons:
Only has trial for the Marketing Calendar, and not the entire Marketing Suite
Quite expensive, since the initial Marketing Calendar Plan starts at $29 monthly for each user
Don't show their price for the complete Marketing Suite, requiring to contact their sales department.
Here's the pricing tab: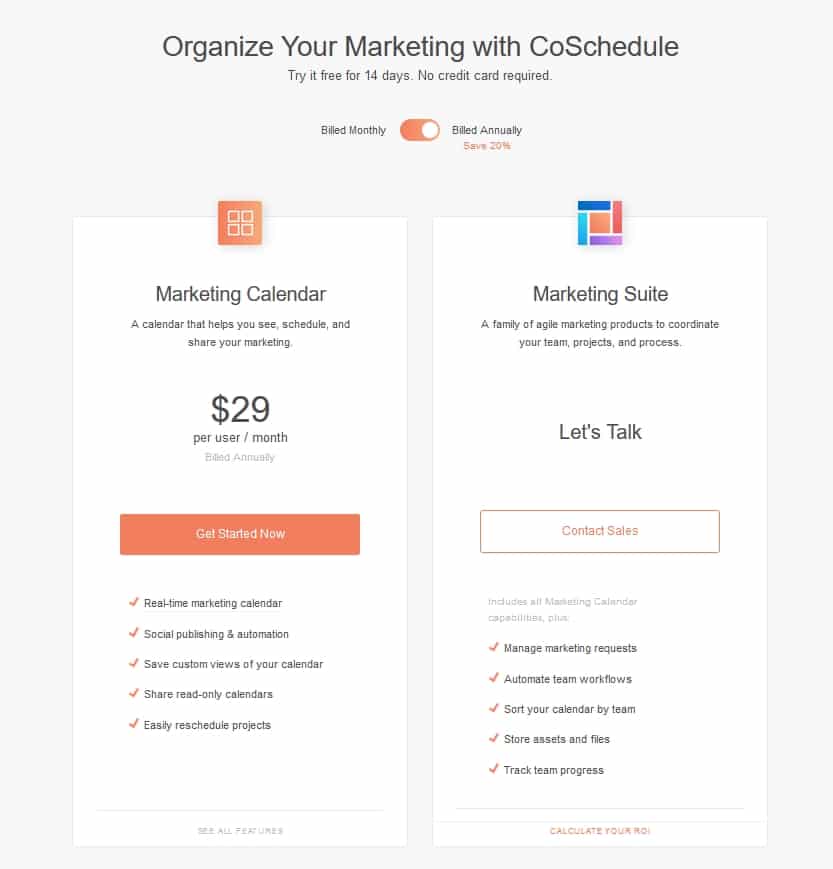 Meet Edgar
Meet Edgar works like an automatic pilot for your social networks. It does a lot of the grunt work for you and is compatible with Facebook, Twitter, LinkedIn, Pinterest, and Instagram.
This is not a focused analytics tool; it is a scheduling tool. It also does not support social listening and does not have an in-app inbox, but it has all of the post-scheduling functionality you'd expect from a great platform, including the ability to bulk import a series of cross-network updates.
The platform gives you a lot of performance for your money, particularly considering its relatively low price. Although not as feature-rich as other competitors, Meet Edgar is ideal for companies who want to focus on queuing and delivering content.
MeetEdgar's differential is its automation because they are designed to assist businesses in automating their social accounts.
This app allows you to create posts using a browser extension, set up category-based scheduling to save time and effort, and perform continual posting to ensure you're still engaging your audience.
And not just that, this is the only tool that I discovered while researching that actually produces content for you. Even better, it can create variations on previously successful updates, making it simple to recycle updates without repeating material.
Edgar allows you to schedule an infinite number of posts, allowing you to schedule and publish your social campaigns from a single dashboard while maintaining the professional presence you've been looking for.
The platform also offers a monitor to track your engagements across different social networks and provides an A/B test variation to check what engages your audience.
Let's check the Pros and Cons of this great platform:
Pros:
Excellent scheduling tool
Has a 7-Day Free Trial
Plans start at just $19/monthly
Offers Unlimited scheduled posts on all plans
Have an incredible automated platform
Creates content for you based on previous successful activities
Cons:
Only links with Facebook, Twitter, LinkedIn, YouTube, Pinterest, and Instagram
Most affordable plan only offers 3 social accounts, 10 weekly automations and 4 content categories
No Inbox tool for messages or managing comments
Not complete as its competitors
Check their pricing tab: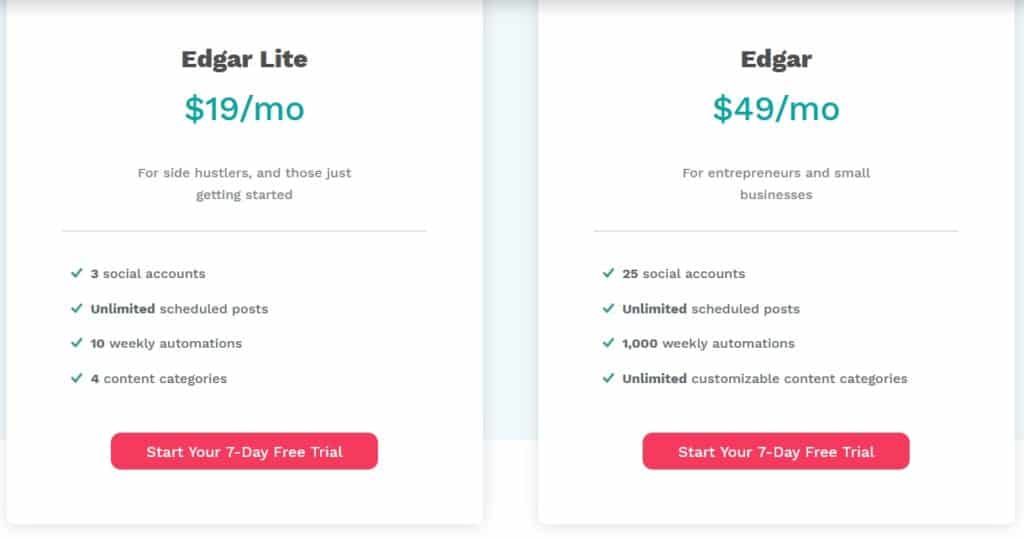 Executive Summary
Above is a breakdown of the 10 best social media management tools on the current market. Most, if not all of these tools will suit all your needs whether you're a start-up or an established business.
I believe the key thing to consider is the pricing because most of the tools can carry out similar functions. I would suggest choosing the one that feels right for you and then trialing it for a month.
If it feels good you can stick with it.