If you have a passion for teaching and want to publish your content, you're in the right spot because this review is all about the best online course platforms.
With COVID-19 still plaguing the world, many people have turned to online learning in order to get the education and training they need to improve themselves.
Online learning has many benefits. First of all, it is very convenient since you can learn at home and at your own pace.
Teachers, bloggers, influencers, and vloggers are experiencing a boom due to the pandemic. With many people looking to learn online.
Finding ways to reach these people has become less challenging thanks to online course platforms that let you create content and reach students who are willing to learn.
Teachable
Best Online Course Platform 1
14-day free trial
Pros:
Easy to use for beginners
Create as many courses as you want
Easy to track sales and numbers
Cons:
Payment options can be problematic for users outside USA
Some technical difficulties
Cannot import and configure course developed with third-party tools like Articulate and Captivate
Teachable is probably one of the most familiar online learning platforms on the internet today. They have been around for some time and I was able to use this platform years ago when I was teaching basic "how-to" courses.
One of the reasons I liked this platform was because it was so easy to use. As a newbie teacher with limited resources and basic skills, I was so surprised by how easy it was to use Teachable.
I was able to create a course consisting of several videos, market it and upload it using their very easy-to-use dashboard. It is so easy to understand, you gain confidence very quickly with Teachable.
As you begin to sell, you start to worry about the financial side of things such as sales and taxes.
Fortunately, they took care of this again by providing easy-to-understand analytics which enabled me not only to pay the correct taxes but also to track my progress as I continued to churn out courses.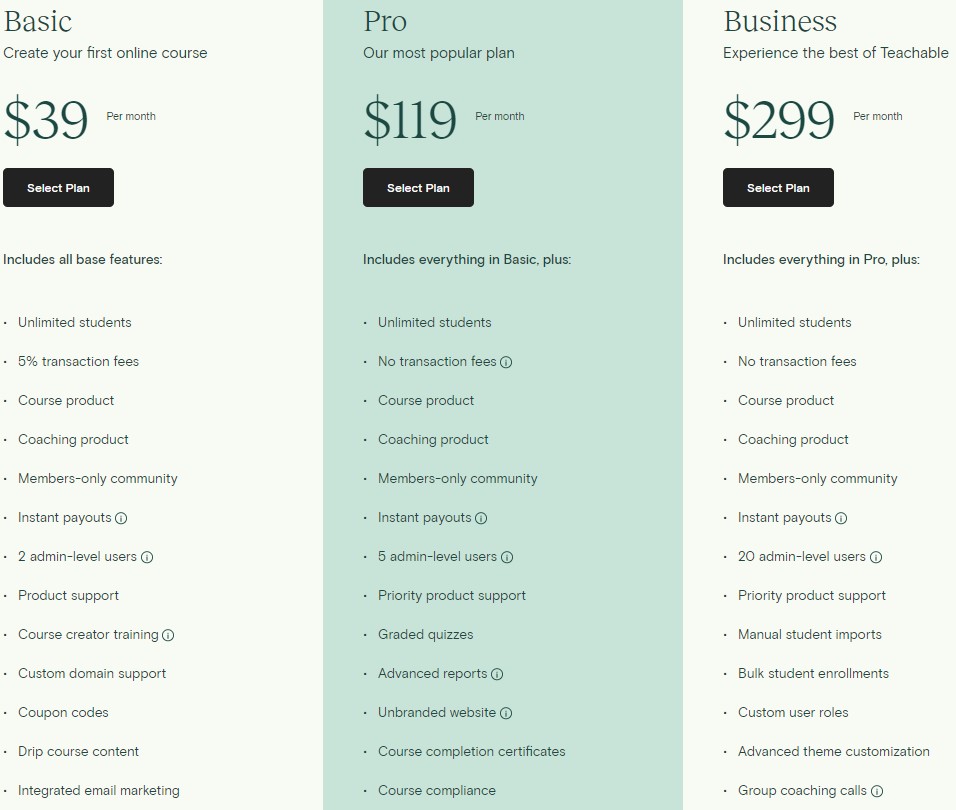 Unfortunately, Teachable is not perfect. I lived in the UK while I was teaching online courses so I paid in GBP which they converted into USD.
But when they paid me again, they converted USD into GBP again which caused problems with my income. This makes it hard for people outside the US to use Teachable.
Also, if you use third-party tools for your videos, it will be impossible to import and configure them. I found this to be very limiting especially because I wanted to create a more interactive environment for my students.
I also experienced some technical difficulties like how the courses don't really look good on mobile devices and I found that formatting the text editor was very basic.
Thinkific
Best Online Course Platform 2
Free trial available
Pros:
Easy to create a course website
Access to online tutorials and videos
30-day free trial
Easy integration with other tools like Infusionsoft
Cons:
Dated themes
WSIWYG editor needs improvement
Monthly payment for students not available in Basic plan
My experience with Thinkific is a bit limited compared to Teachable. I used this platform to create digital training for some of my colleagues and did not really intend to sell the courses to other people. However, my experience with them is generally positive.
I had an easy time creating courses and uploading them to the website. I also tried accessing the courses on a smartphone and found the experience decent.
One of the best reasons why I liked Thinkific was because of the 30-day free trial. This time allowed me to explore and figure out whether the platform was good enough for my needs.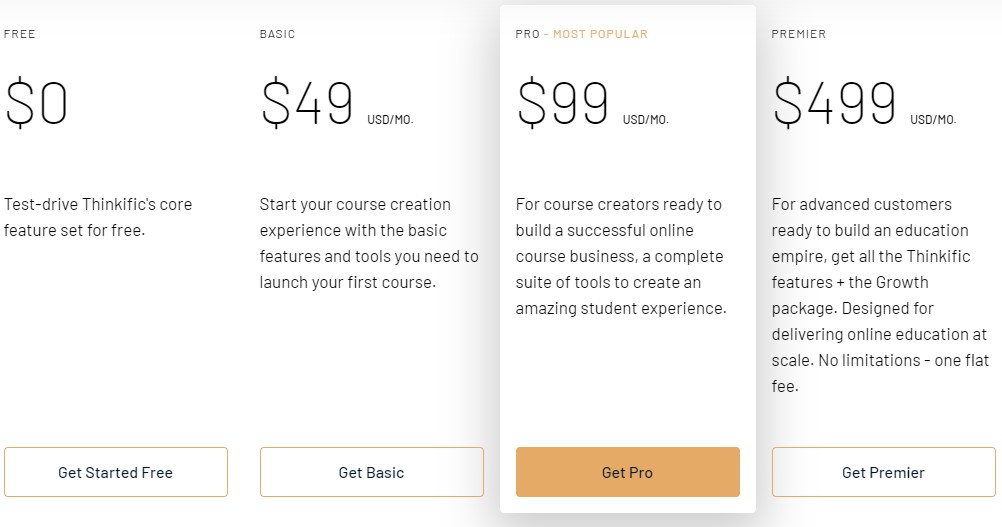 The 30 days is also generous compared to other competitors which only offered 7 or 14 days.
If you're new to course creation, their library of tutorials and videos will be able to help you figure out what you need to do and how to set things up.
But perhaps their most standout feature is their integration ability. For instance, you can easily integrate with Infusionsoft for marketing automation and Brillium for quizzes and tests.
When I used Thinkific, they had these outdated themes, and sad to say they're still out there. The platform needs to update themes so that courses look more modern and up to date.
Also, their WYSIWYG editor needs improvement. I'm not saying it's bad; it just needs more work. Lastly, the monthly payment option for students is not available on the Basic plan. You need to upgrade to make this option available to them.
Kajabi
Best Online Course Platform 3
14-day free trial
Pros:
Built to sell
Looks good out of the box
Good blogging capabilities
Marketing tools for promotion
Cons:
Expensive (paid plan starts at $119)
Can't create certificates
Coding skills needed for editing site photos
Kajabi is a teaching platform that is built to sell. This is a good online platform for people who provide online coaching. Like most online learning platforms, creating courses is easy and fast.
The dashboard is easy to use and follow. Best of all, it has tools that can help you sell and promote your courses.
Kajabi is a good choice if you provide online coaching. This is because Kajabi makes it easy for you to convert prospects into clients thanks to their marketing funnel.
For example, you can market your products with freebies and demand that they input their emails. This makes it simple for you to contact prospects which Kajabi also provides with customization.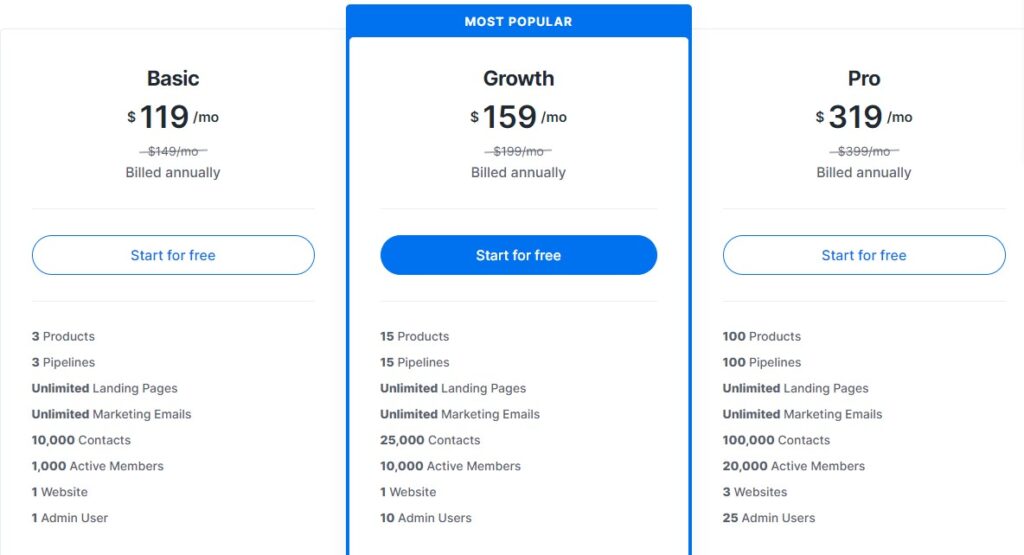 The platform also lets you handle transactions from your website whenever a client purchases a course from you. This is very convenient because you don't have to add third-party payment processors or leave Kajabi.
One of the areas that need work is their certification. While they allow you to give out certificates to students, it does not allow you to create one natively. You need to use apps like Canva for certificate making.
You don't have to be a coder to make courses in Kajabi but you will need it if you want to personalize the photos on your Kajabi-run blog. For instance, you won't be able to resize the photo on your blog if it's not the recommended size.
Perhaps the biggest drawback to using Kajabi is their pricing. Free trial is available for 14 days but the paid plan starts at $119 per month. You can get almost the same features with more affordable platforms like Teachable.
LearnWorlds
Best Online Course Platform 4
30-day free trial
Pros:
Affordable pricing
Highly responsive themes
Branding and theme editor
Infinite number of courses
Cons:
Glitches in the typing feature
Customer service needs improvement on cheaper plans
Using LearnWorlds is a great way to earn extra income if you're a teacher or coach. Not only is it easy to use, but the video editor also comes with auto-generated transcripts and subtitles.
The editor also makes it easy to add interactive elements to your videos and courses, making your videos fun and engaging.
Just like Kajabi, LearnWorlds is built to sell. They provide a powerful sales engine, extensive analytics, and 3rd party marketing tools but without the expensive price tag.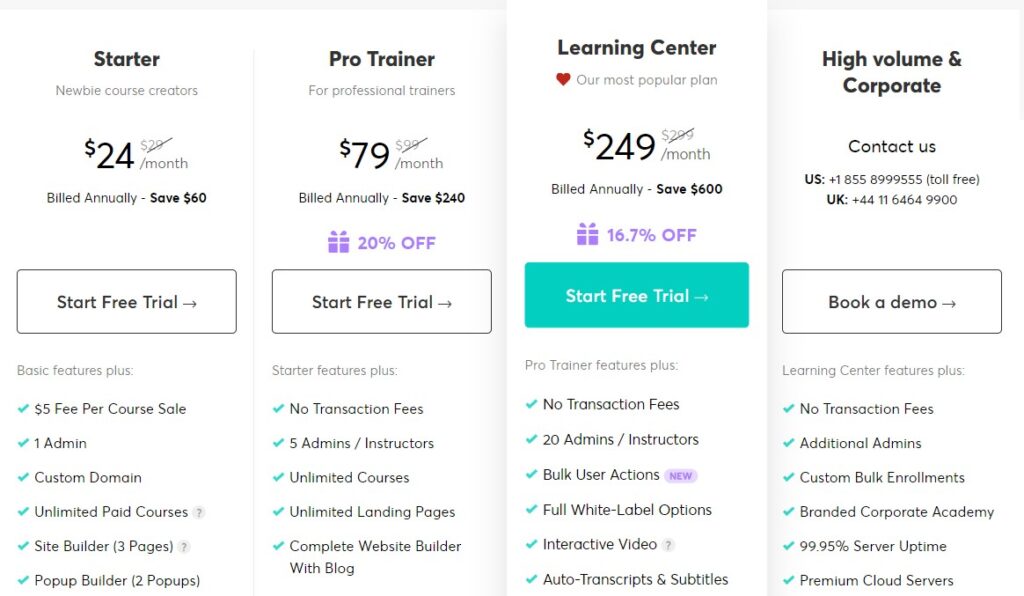 A paid plan on this platform starts at $24, making it more affordable than Teachable and Thinkific.
Their themes are also very responsive so your courses and videos will look good even if students access them via smartphone or tablet. The platform also makes it simple for you to brand and personalize courses using their editor.
One of the main drawbacks for me was their poor customer service for their paid plan. I initially tried out this platform in order to create videos for my teammates.
However, customer service took several hours to respond to me. A friend who purchased a more expensive plan did not have the same experience.
Podia
Best Online Course Platform 5
14-day free trial
Pros:
Affordable plans
Responsive 24/7 live chat support
Built-in email marketing tool
Cons:
Not as many course and site customization options
Monthly payment plan for students only available on higher plans
Need third party for sales builder
You're probably wondering why Podia has a strange name. Podia is actually the plural form of podium, so now it all makes sense.
Podia is a good platform if you're looking for online courses, downloads, and memberships. Unlike the other platforms mentioned before, Podia is new and therefore not yet very popular with content creators.
However, it is gaining followers mainly because it has no transaction fees. This means you get to pocket all of the money made on every sale.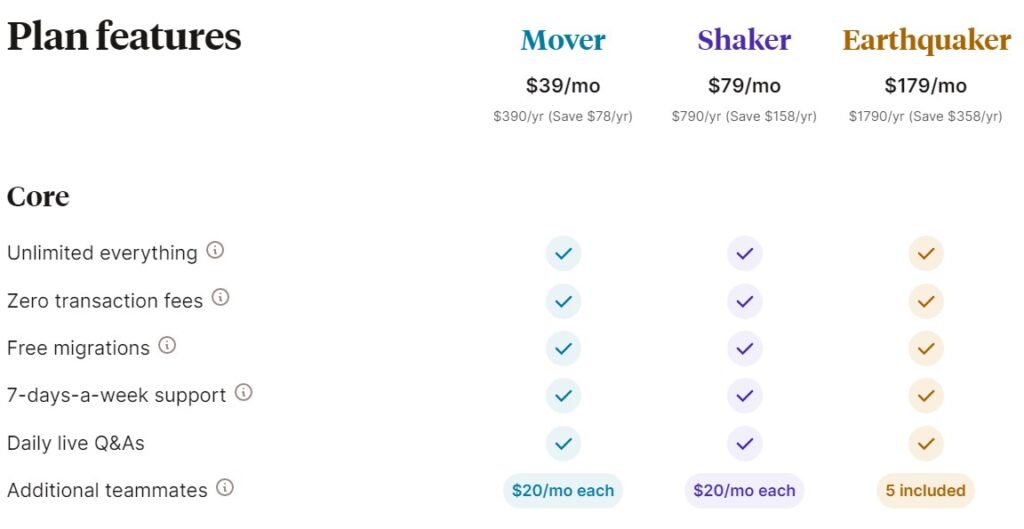 One of the reasons I like Podia is because onboarding is so easy. Once you sign up for the free trial, you're in. No credit card is required. The plans are also affordable while the trial period is long enough to let you experiment with their features.
The platform also makes it easy to sell digital products. The themes have a simple and minimalist design which allows you to maximize your customer's user experience.
Marketing tools like email marketing and affiliate marketing are also available on Podia. Best of all, everything is unlimited on the platform: bandwidth, courses, memberships, digital downloads, sales, and more.
While the platform is rich in features, areas like sales need improvement in my opinion. You will need a third-party platform like ClickFunnels or LeadPages for a sales funnel builder. When compared to other platforms, customization options are lacking.
Live chat support is highly responsive and is available 24/7. However, phone-in support is not.
Ruzuku
Best Online Course Platform 6
14-day free trial
Pros:
Easy to use and add videos
Easy to host webinars
No transaction fees
Cons:
Expensive paid starting plan ($74.75)
Email support only
Limited design customization
Limited marketing options
Ruzuku has been around for almost a decade, but it is a new find for me. I was looking for platforms with cheaper or no transaction fees and it led me to them.
I was very surprised with Ruzuku. The platform is very easy to use featuring a straightforward interface, making it a good choice for newbie content creators. One of Ruzuku's best features is its ability to record and host webinars.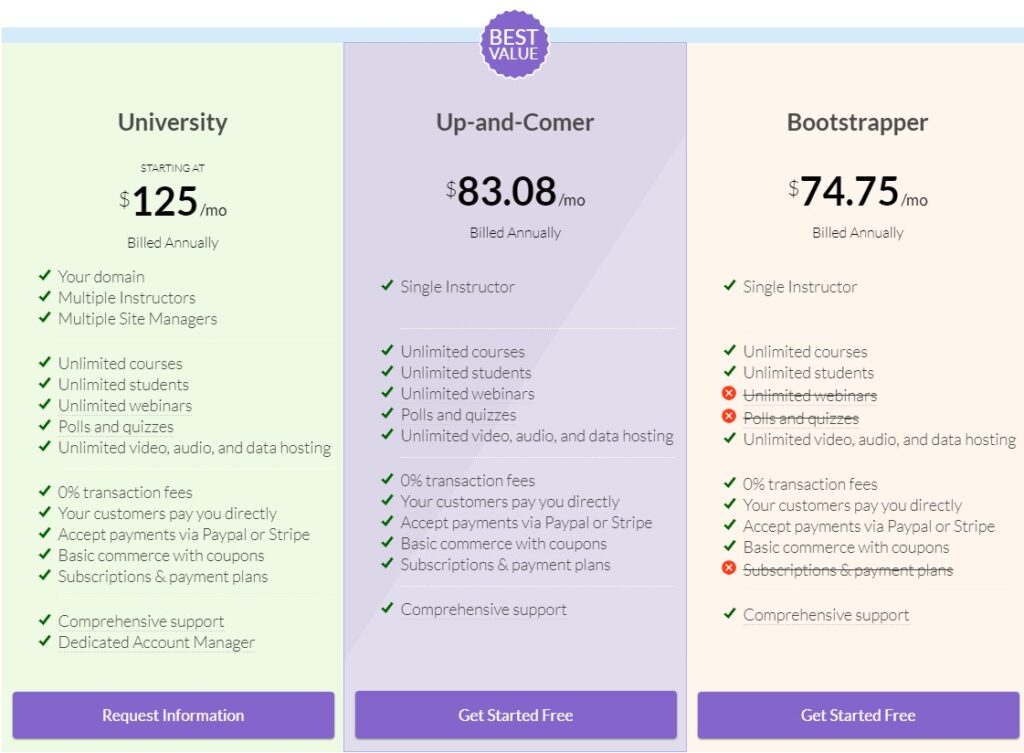 This is highly advantageous for creators as it lets them live stream webinars to add value for their students. Live stream features also add to more interactivity and engagement.
My main problem with this platform is their customer support which is primarily email. While they do promise to respond within 4 hours, some of us do not have this much time on our hands. Also, their support hours are Monday to Friday (9 am to 5 pm EST).
The cheapest paid starting plan starts at $74.75, making it more expensive than Teachable and Thinkific. For marketing, you can integrate with MailChimp only so it's very limited.
Finally, design customization is lacking too. You need to be able to customize to stand out and unfortunately, Ruzuku makes this hard for you.
LearnDash
Best Online Course Platform 7
Starts at $159
Pros:
Organizing courses is easy due to drag and drop feature
Monetizing courses is easy
Easy to integrate videos into lessons
Localized for different languages
Cons:
Can only be used for WordPress powered websites
No free trial with expensive starting price
Not very user friendly
WordPress lovers will be able to launch courses through LearnDash. It is an LMS (Learning Management System) plugin that can be used by educators to create webinars, courses, and other online videos that can be used for training.
Using LearnDash enables users to create their own content, sell and distribute courses for professional training or for education.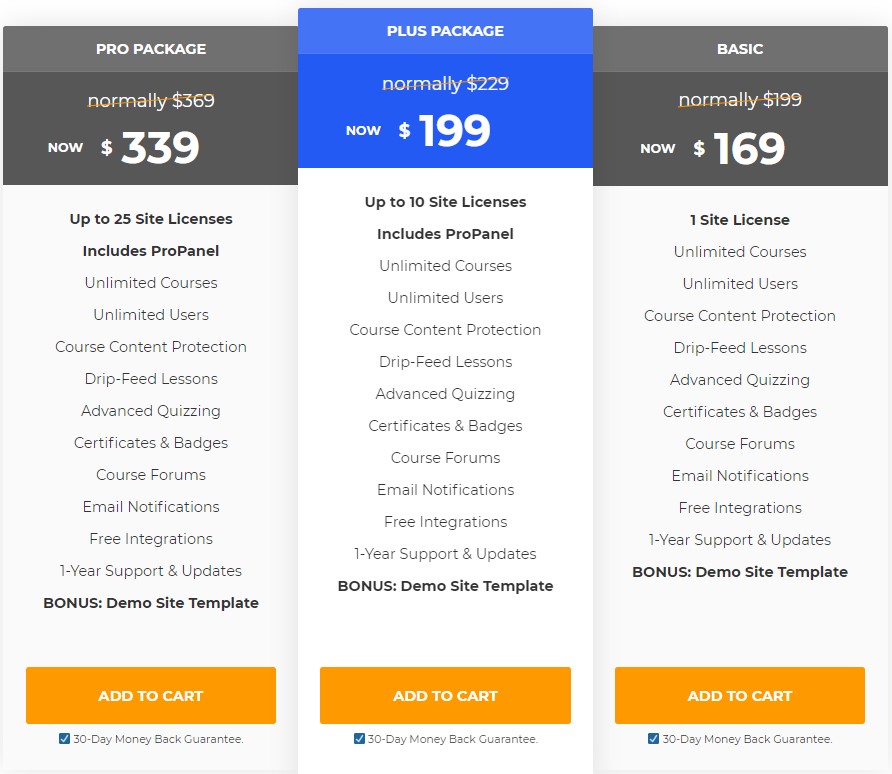 One of the best features of this platform for me is its drag-and-drop builder because it made it easy for me to visualize how my courses were going to look before they go live. Adding new lessons or quizzes quickly is also very simple to do.
You can also quickly monetize content by creating subscription portals, charging membership fees, or creating bundles that you can sell to the market.
While the drag and drop editor is fantastic, LearnDash does have a slight learning curve so that you can use it properly. This is mostly because they don't have many tutorial videos on how to use the plugin.
At $159, the starting price is also steep. The platform has demo videos to give you an idea of whether the platform is right for you, but it does not have a free trial for you to experiment.
And perhaps the reason why not many people have heard about LearnDash is most probably because you can only use it if your site is WordPress powered.
WizIQ
Best Online Course Platform 8
14-day free trial
Pros:
Cloud-based content library
Secure video hosting and streaming
Multiple teacher accounts
Cons:
Bad customer service
Web conferencing needs more feature
Like LeanDash, WizIQ is an LMS but cloud-based. They primarily market to the education sector but they are also used by small businesses for training.
The key features of this app are multiple live online classes and webinars, virtual classrooms, course builders, tests and assessment builders, and report generation.
WizIQ comes highly recommended by a tutor that I know mainly because it allows real-time delivery of content to students thanks to their secure video hosting and streaming services.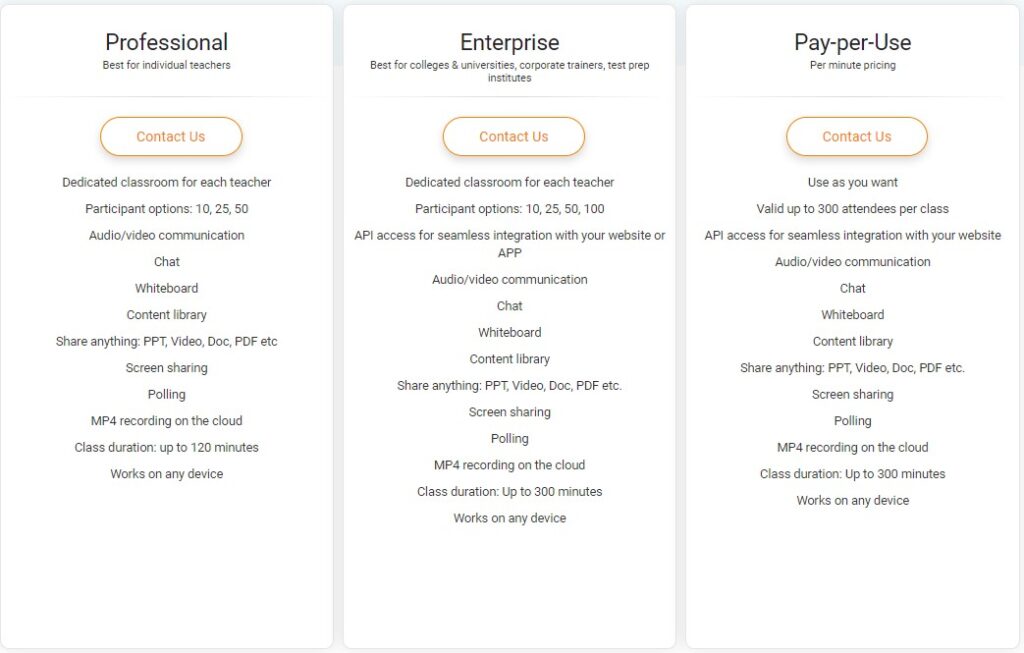 This ability to teach students in real-time is what makes the app popular among educators and schools. Other features that they found impressive include a discussion board and mobile streaming capabilities.
Sadly, WizIQ's customer service needs a lot of work. They had a hard time reaching customer service representatives when they encountered problems after set-up. There was also a mix-up in their billing where they had to wait for days before they received a callback.
While the live streaming capabilities are great, web conferencing is very basic and needs features like multiple whiteboards and other collaboration tools.
Academy of Mine
Best Online Course Platform 9
Starts at $899 per month ($9,997 per year)
Pros:
Excellent customer support
Drag and drop website builder
Pre-built layouts
High customization
Cons:
$9,997 per year is very expensive
Video guides to use platform are a bit lacking
Academy of Mine (AOM) is another favorite for teachers, educators, and big companies. This is mainly because the platform can accommodate large groups. Teachers can enroll an unlimited number of students and create unlimited courses.
I used this platform to create training videos and their built-in templates and layouts helped speed up the process. Their drag and drop editor is easy to use and adding images, videos, and documents for supplemental content of participants was also relatively painless.
The pre-built layouts can also be customized. This can be very helpful for organizations that rely on this feature for branding and marketing.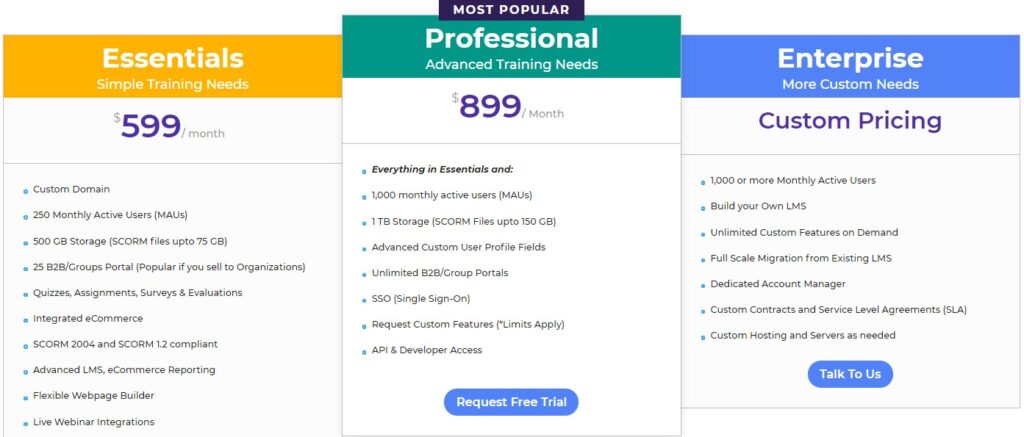 The price of AOM is perhaps its main drawback. Paying $899 per month ($9,997 per year) is very expensive especially if you're just starting out. This is why this platform, while powerful and intuitive, is mainly used by big universities and companies.
You also need to be patient when using the platform for the first time. They have a limited number of video tutorials that teach you how to set up the program.
Fortunately, their customer service is top-notch. They are very responsive to queries and are quick to help you resolve issues.
Udemy
Best Online Course Platform 10
Pros:
Robust community
Great way to earn residual income
Good marketing
Cons:
Messaging needs work
Organizing courses can be hard
Videos need to be 2 hours or more to monetize
Udemy is another popular online learning site. However, not many students know that the content found in Udemy is the work of many teachers who use the website to sell their courses.
I tried using Udemy years ago to upload simple "how-to" videos since they were surging in popularity. One of the best things I liked about them is that their platform is very easy to use for creators.
The best thing I liked while using the platform is the robust community. Every time I encountered problems and roadblocks, other users were keen to help you get things sorted out.
Once your video is uploaded, you can earn from it forever, making it a great platform for residual income.
Udemy also has excellent marketing. They do advertising, sales pages, couponing, affiliate schemes, and promotion of courses.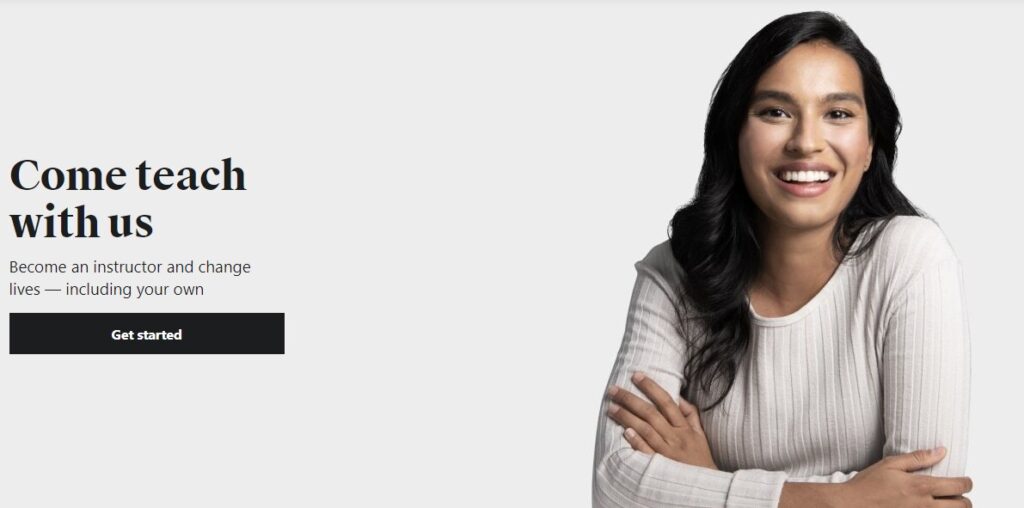 Udemy was great when I had around 5 courses uploaded. But it became a mess when I added a few more. Organizing courses was hard because they seemed to get jumbled no matter what I do.
Speaking of courses, they need to be 2 hours long before they can be monetized. I found this very problematic since my courses were not very technical. I had to go into every minute detail to stretch lessons.
Students can also find this length tedious. Imagine sitting and listening for at least 2 hours! Messaging back and forth between instructor and student also needs work. A lot of messages got lost on my end.
Bottom Line
Thanks to online learning platforms, sharing and monetizing content is now easier for content creators, educators and companies.
Uploading content has made learning more convenient not only during the pandemic but all the time.
The ability to access courses and learn at home can help students and employees learn new skills, enrich their professional lives and give them the convenience to learn at their own pace.
Best of all, online learning platforms can give educators, administrators, and small businesses a way to expand their reach and acquire a broader audience to sell their courses. 
Looking for other business software reviews, check them out here.