"Our review breaks down the 10 best CRM software of 2021. We scoured the internet to narrow down the list of the best customer relationship management platforms on the internet."
The science of sales has advanced significantly in recent years. There's still opportunity for imagination, but the fact is that investing in an integrated digital tool, like a sales CRM, is now practically essential for a business.
This sort of CRM keeps track of the whole sales process. Sales leads, sales procedures, and sales teams are all included.
Customer relationship management solutions also include technologies like automation and workflow management that are designed to help your sales staff be more productive while using fewer resources.
Your sellers can stay on the same page with a competent CRM on their side, no matter how far apart they are geographically, and sales activities can be consolidated in one location for best practice and complete visibility.
It's all about keeping track of everything you've done, are doing, and want to accomplish without putting in any more work. You'll be able to sell more effectively and breathe peacefully.
Customer relationship management (CRM) software may also help you stay in touch with customers while also keeping your team engaged.
What a great CRM platform must have?
It must have a user-friendly interface to allow your team to adapt themselves better to the platform. The company support also has to be good to contribute to a more productive user experience.
Excellent Contact Management, because the heart of your CRM will be the people, and how you are going to manage them is crucial.
Good Customization system available, because your CRM platform is supposed to work as your business does. The platform must fit your company as much as possible.
Decent Reporting tool so you are able to measure and report any data point you might collect, like sales by rep, sales cycle, average value, loss reasons, and much more.
And then, finally, it must have great Automation and Integration tools. The main point of using a CRM is to automate the process and increase the company efficiency, helping your team to never fail on the communication process.
In order to pick the finest CRM Software for your organization, you must first understand your business needs.
As there are so many alternatives on the market, I reviewed and analyzed more than two dozen CRMs to assist you in searching for the right CRM software for your company.
After considering a huge number of variables, including how much each CRM costs, how easy it is to use, and how effectively it connects with other popular business programs.
I came up with the 10 best CRM 10 Platforms that I believe best reflect businesses, their customers, workers, and future use cases.
Let's check them out:
HubSpot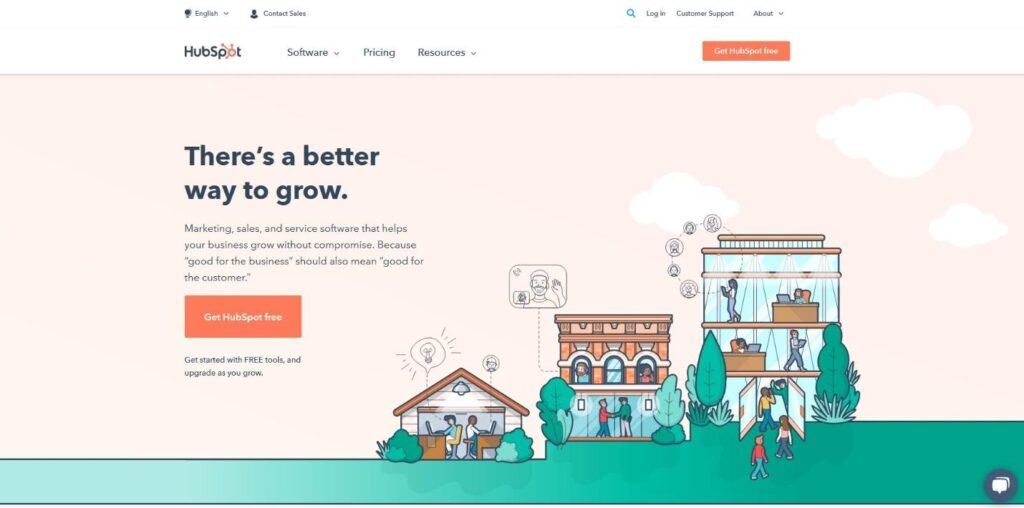 HubSpot is my top suggestion as to the best CRM software because it includes a very complete Free Edition that outperforms most expensive CRMs, and you can use it across your marketing, sales, and customer support departments. 
It's a fantastic alternative for just about any organization. Also, it takes care of every sales process, such as lead management and cross-channel customer contact tracking.
With hubs for sales, marketing, and customer service, the platform is a strong, fully-featured company solution.
HubSpot's free plan is more complete than most of the premium CRMs, and it makes the company's powerful feature set available to even the tiniest (and newest) companies.
The HubSpot Free Plan is also an excellent option for anyone who is new to marketing automation software or inbound marketing in general.
Their Free Plan includes Free Marketing Tools (with forms, email marketing, ad management, etc), Free Sales Tool (with live chat, conversational bots, team email, etc), Free Service Tools (with ticketing system, email scheduling, conversations inbox, etc) and Free Operation Tools (with data sync, historical sync, app marketplace integrations, etc).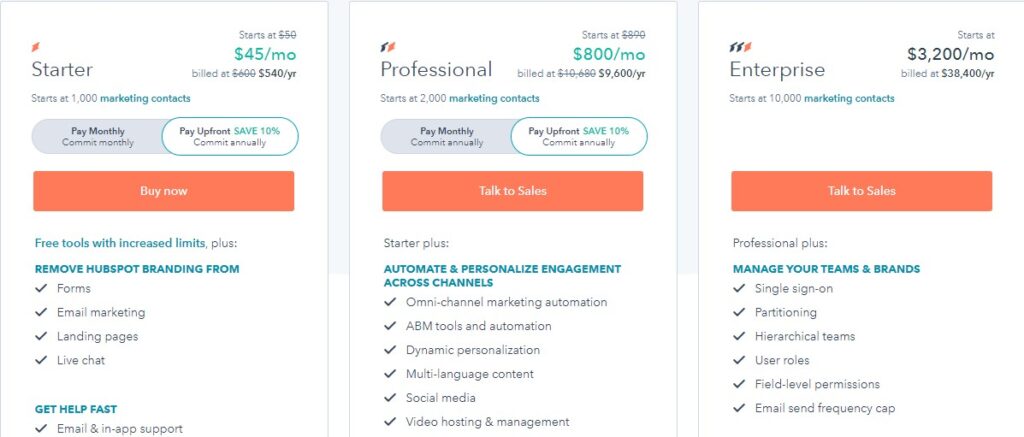 Every Free Plan has its Premium Plan, and each one of them starts at just $45 monthly. The CMS plan only has a Professional plan that offers a Free 14-Day Trial and starts at $360 monthly.
Also, they offer a proper CRM Bundle with Premium Plans of each service starting at just $45 monthly, which can be more affordable and accessible for you.
Zoho CRM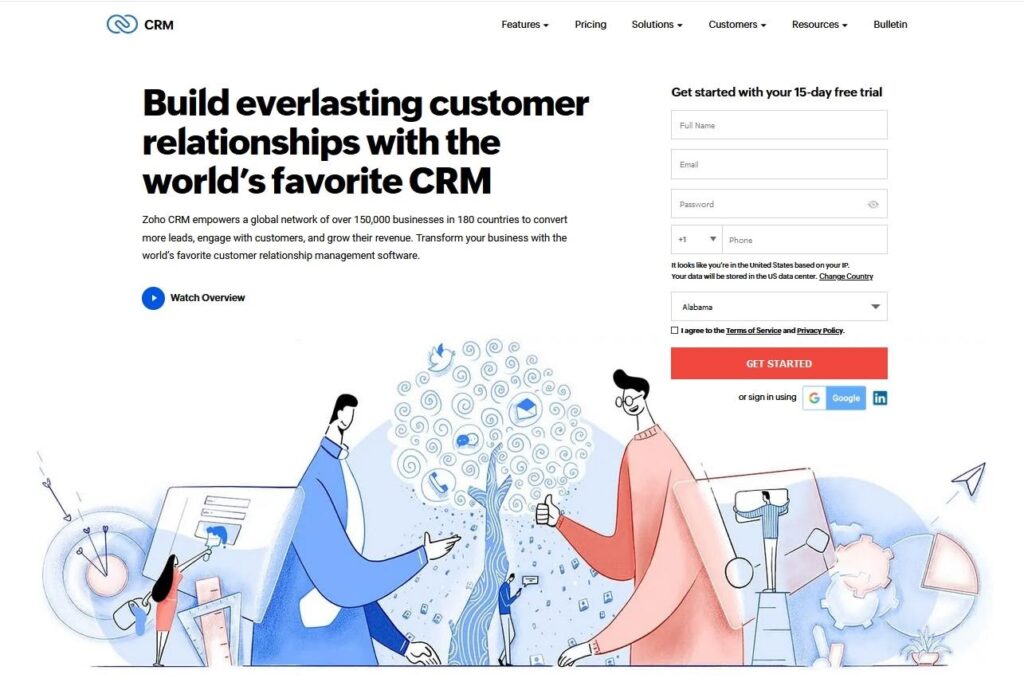 Zoho is probably the most famous software platform for businesses. With its easy user interface, configurable modules, automation, and social media tools. Zoho CRM is the perfect solution for small to midsize businesses (SMBs).
You may use the platform to create workflows, simplify your daily duties, manage leads, and automate operations.
Zoho CRM is a full-featured customer relationship management (CRM) solution with a huge number of integrations and functionalities that allow you to interact with them at the perfect moment, engaging with customers and growing your revenue.
The feature set of Zoho CRM includes lead management, sales force automation, contact management, omnichannel customer interactions, and a variety of analytics tools.
Performance management in Zoho CRM stands out, allowing users to produce accurate forecasts, integrate territory management, and even employ gamification to push teams to surpass sales quotas by earning badges and trophies when activities are performed and objectives are met.
Zoho CRM is an excellent choice for remote teams and sales professionals who spend a lot of time in the field.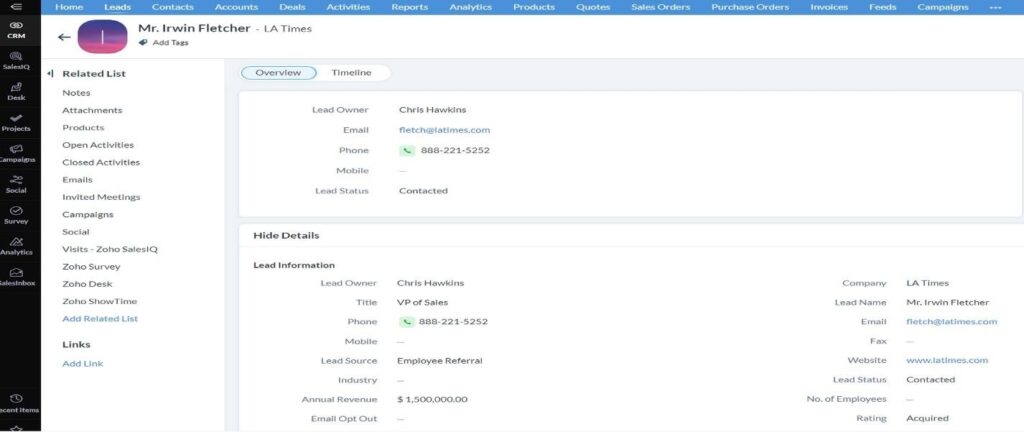 The platform is easy to set up and also easy to use, including at the menu bar items such as Leads, Contacts, Accounts, Deals, Activities, Reports, Analytics, and more.
They're pretty flexible, which allows it to work for all kinds of companies, and it has Video Guides to teach you to better handle the platform; and also includes a Mobile App to track everything on the go.
Zoho CRM also offers various types of automation tools, real-time reports and insights, product customization, automated process management, AI for smart selling, social tracking, marketing automation, web forms, team suite, inventory management, customer support, developer tools, and much more.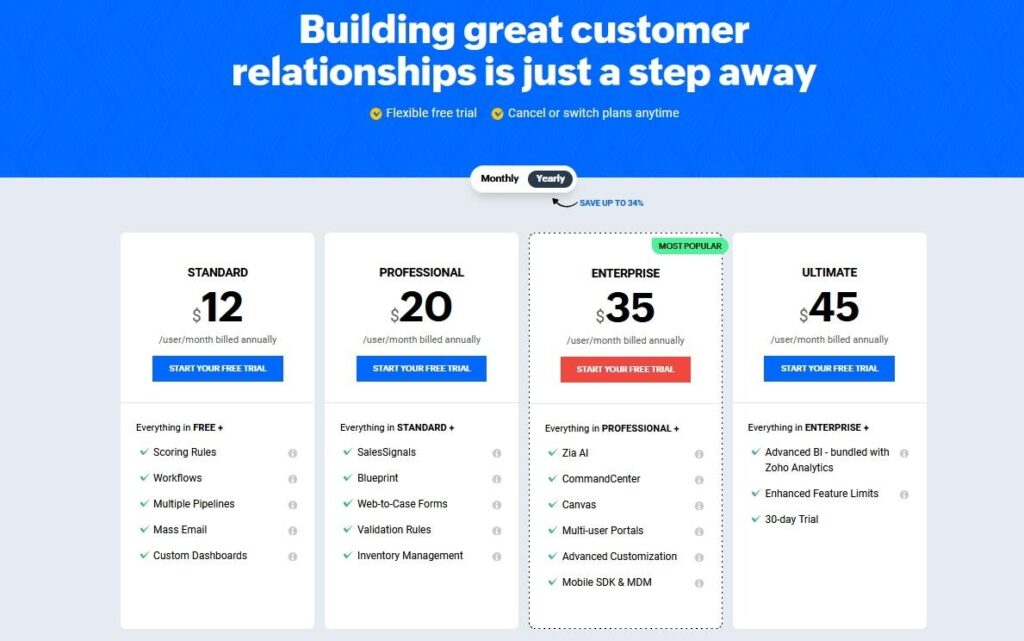 They have a Free Plan available with three free users allowed and essential tools like leads, documents, and mobile apps, which might be a perfect fit for your home business. Also, all plans have a 15-Day Trial, and Premium plans start at just $12 monthly.
Salesforce

Salesforce is a popular CRM tool that has a user-friendly interface with enough features that allow the company to fight against the competition.
Salesforce is a great option for businesses that want a lot of flexibility in their CRM. The possibilities for constructing customized platforms are practically unlimited.
Thanks to the company's own customization features, as well as its internal ecosystem and third-party AppExchange.
The platform has a customized CRM system with many integrations and a lot of detailed, well-developed capabilities for sales processes and team communication.
This is a powerful solution that enables sales managers and teams to create highly sophisticated task management systems.
Salesforce is also the most effective CRM for growing companies. For example, a business with three workers that want to grow in the near future can benefit from Salesforce as they increase their crew. It's definitely a perfect long-term investment.
They offer some great and advanced features, such as an advanced marketing automation tool, 24/7 customer support, and advanced account and contact management.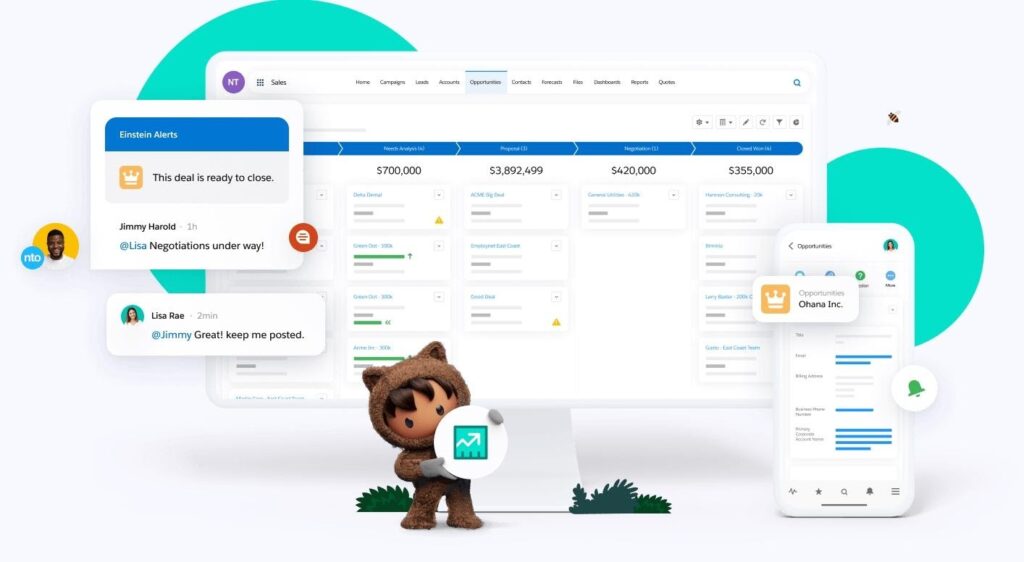 It has a straightforward and intuitive menu, which allows you to spend more time focusing on business and not how to operate the software.
Also, it has third-party app integration, automated workflows and approvals, and plenty of customization options.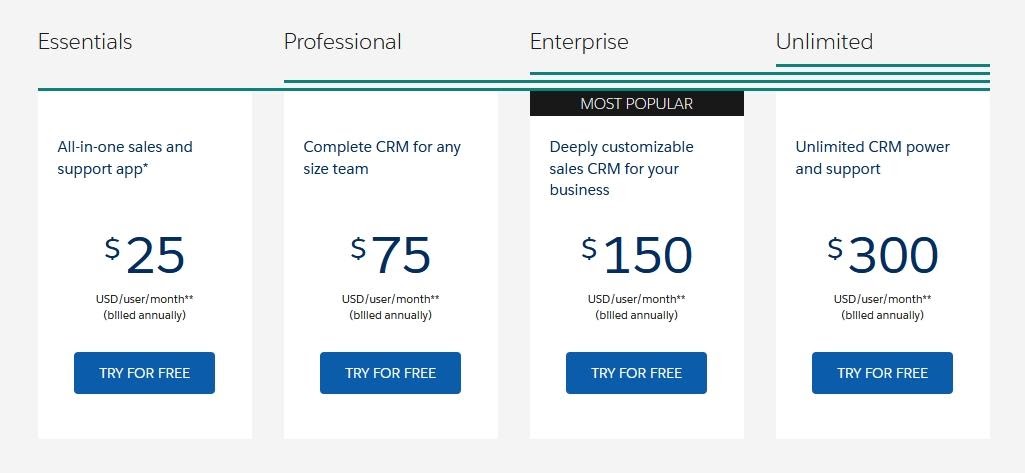 The company offers a 30-Day Trial, which is more than enough time to test the platform and Premium Plans start at $25 monthly, with the Complete CRM Package that includes almost every feature of the platform starting at $75.
FreshWorks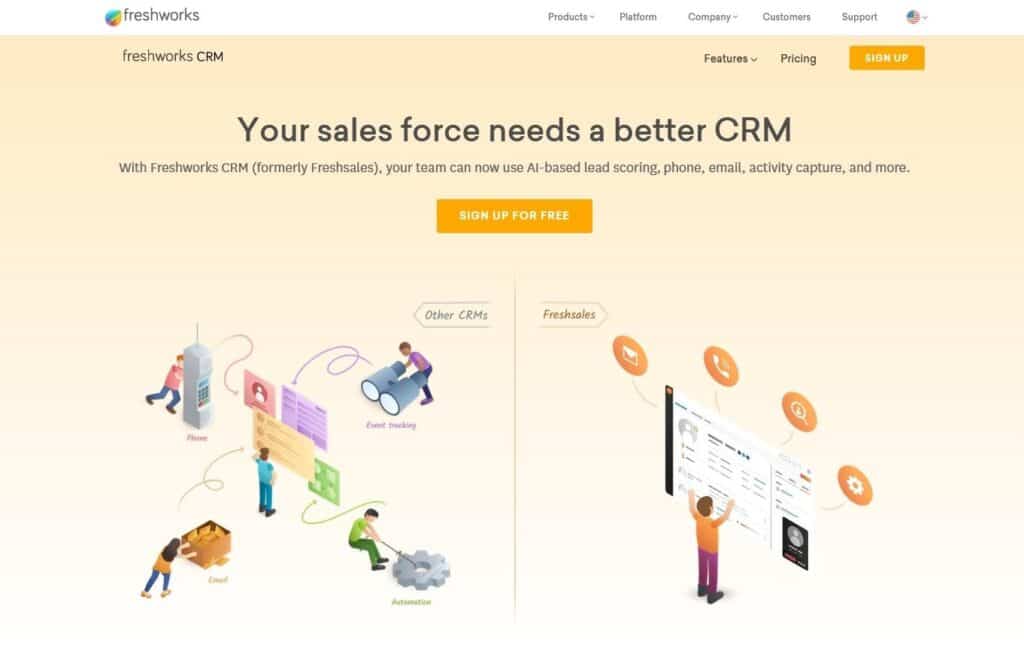 Freshworks is a standout solution and a perfect choice for salespeople that make and receive a lot of calls and require CRM software to track the data generated by those interactions.
With a single click, you can connect your existing phone number to the CRM platform, or purchase a new local or toll-free number from over 90 countries. There are also vanity and mobile phone numbers available.
Freshworks CRM offers AI features for businesses to conduct dynamic lead scoring to inform which prospects are most likely to buy. This is an excellent communication tool that helps Freshworks stand out from its competitors.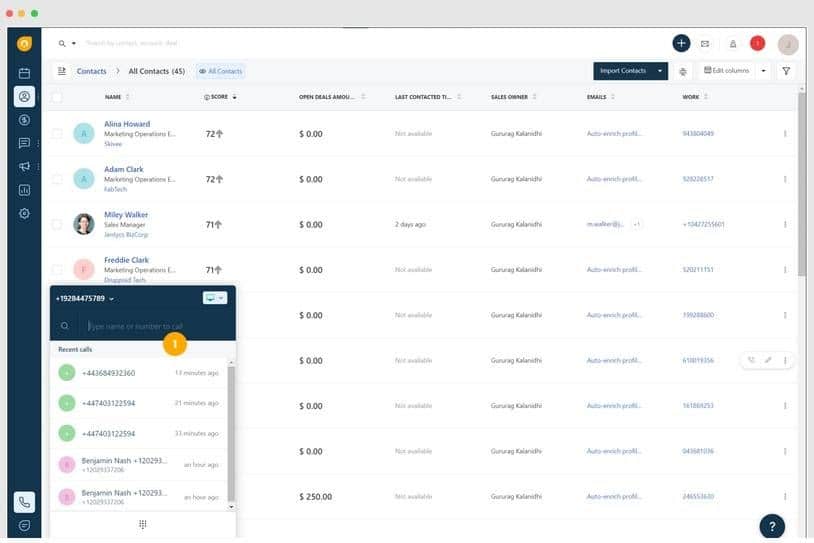 Sales Cloud, Marketing Cloud, and Customer-for-Life Cloud are the three primary cloud packages available, with the Customer-for-Life Cloud providing the finest of all CRM tools. It covers strategies for generating new leads, such as effective email marketing.
There's a lot of room for personalization when it comes to your CRM contact profile data. Finally, there's Freddy AI, the artificial intelligence helper. Freshworks CRM also features excellent mobile applications.
It also has Sales Reports, Marketing Reports, a complete Contact Management tool, Customer Segmentation, Email Campaigns, Web Forms, and much more.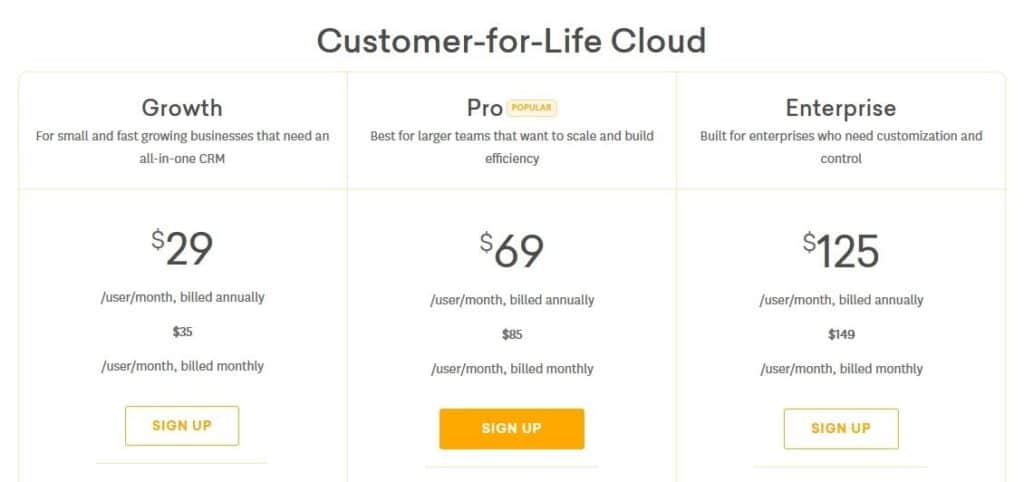 The platform offers a Free Plan that includes a Contact Management, Phone & Chat tool and provides 24/5 support. Also, they have a 21-Day Free Trial, which is a decent time to test the app, and Premium Plans start at just $29, which includes almost everything that the platform can offer.
Nimble

Nimble is customer relationship management (CRM) software that lets you keep track of all your conversations and consolidates all the information connected to each contact.
Since modern communication is spread over several platforms, you may tweet, text, and email the same individual all in the same week. When that individual is a client or customer, keeping note of what you said, when you said it, and how they replied is critical.
This platform keeps prospecting sales teams organized and productive with its Prospector engine, contact action lists, and social tracking tool. Additionally, their UI has a user-friendly quality to it that makes it entertaining to use.

Nimble's UI is full of instructions, especially when you first sign up, making it difficult not to get started quickly and up to speed.
The Signals section of the dashboard provides a high-level overview of critical daily information like transactions, tasks, activities, email monitoring, and social interaction.
Nimble is one of the most powerful CRMs concentrating on social media channels which is ideal for SMBs who need to improve their social media presence, especially in engaging with clients. You'll be able to create more sales leads as a result of these social media hits.
The platform also has actionable and accessible contact records, a segmentation tool, group emails, email tracking, pipeline management, and much more.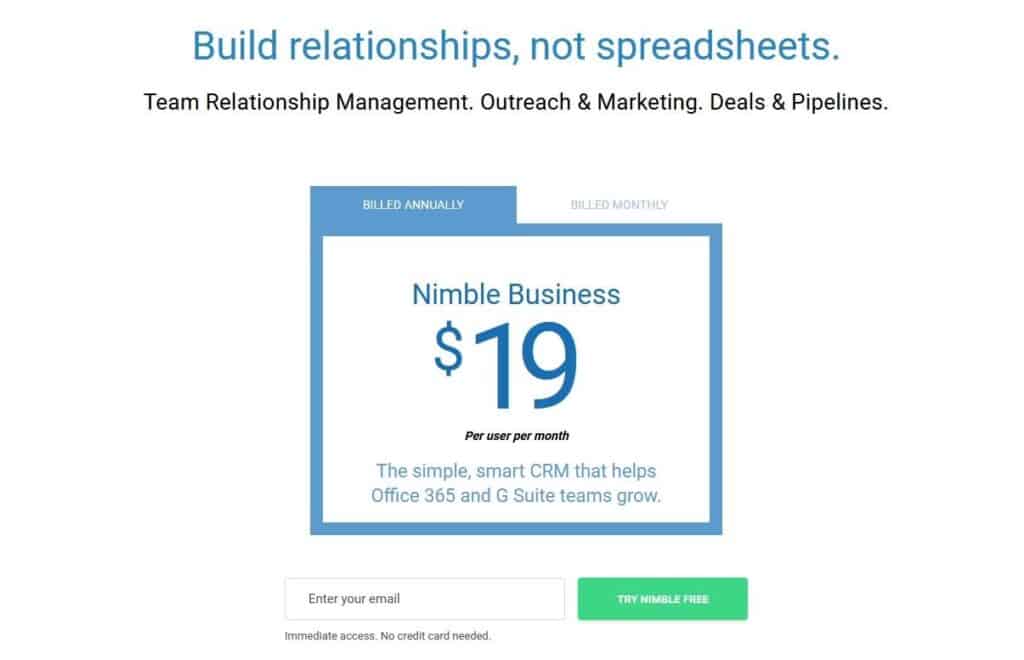 Nimble has a 14-Day Trial and only one Premium Plan available, which is the Business package, costing $19 monthly and includes everything the platform can offer.
Nethunt CRM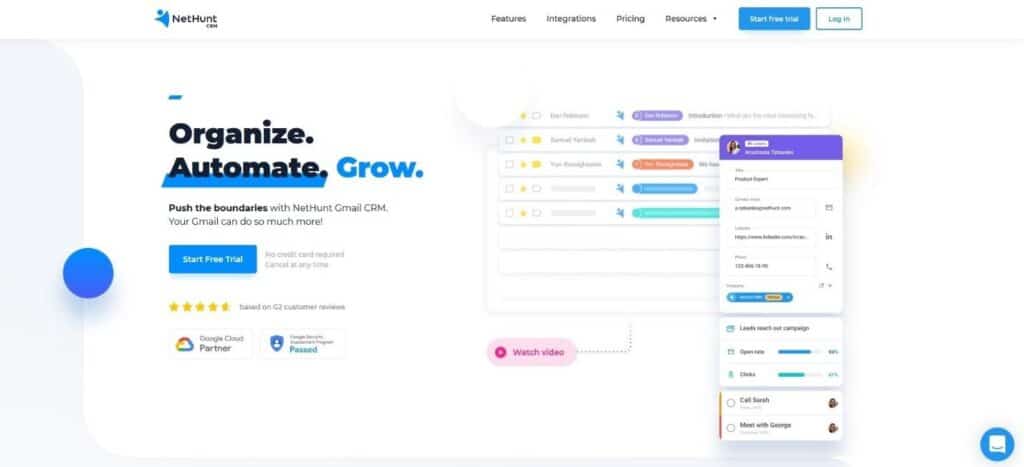 NetHunt boosts the effectiveness of your Gmail inbox by 10. I couldn't take my eyes off the enormous list of things it can do with your cluttered Gmail inbox–or its equally long list of great reviews when evaluating the finest CRM solutions out there.
NetHunt's very adaptable Gmail solution integrates directly into your inbox, making ticket generation easier to handle and filter through, offering you many automation tools, and allowing your team to tackle the surge of emails at any given time cooperatively.
Since it is a CRM designed for Gmail, you can also manage contacts, deals, tasks, reports, and email campaigns right from your inbox.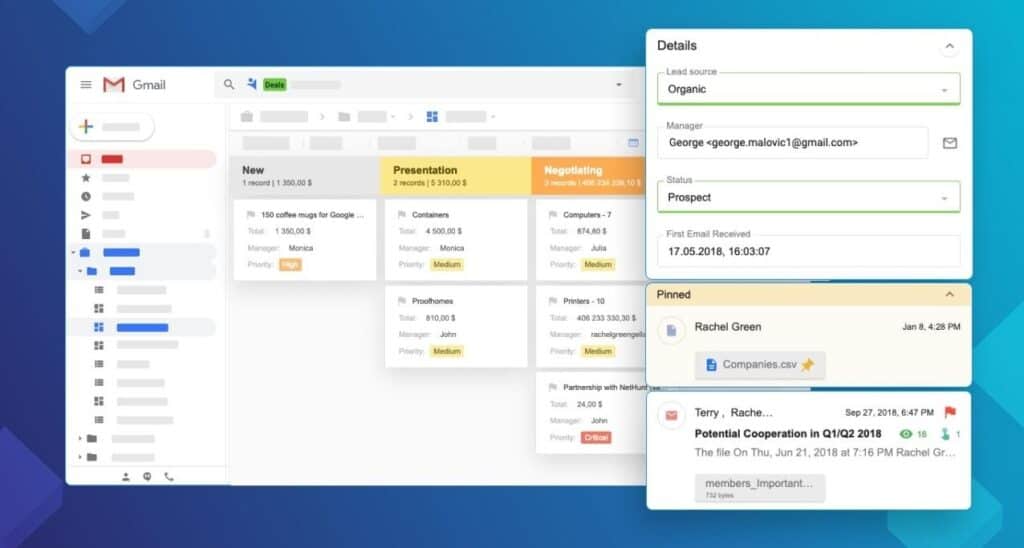 The platform simply transforms emails into business chances right from your Gmail inbox. It's also simple to follow up and give more information for marketing and upselling purposes with this app.
NetHunt also offers a well-organized customer base control, effective sales management, integrations with lots of platforms (GSuite, Intercom, LinkedIn, Facebook, Messenger), drip campaigns, lead capturing, lead nurturing, and much more.
This platform is ideal for users and SMBs that already spend a lot of time in Gmail and don't want to keep toggling between separate apps.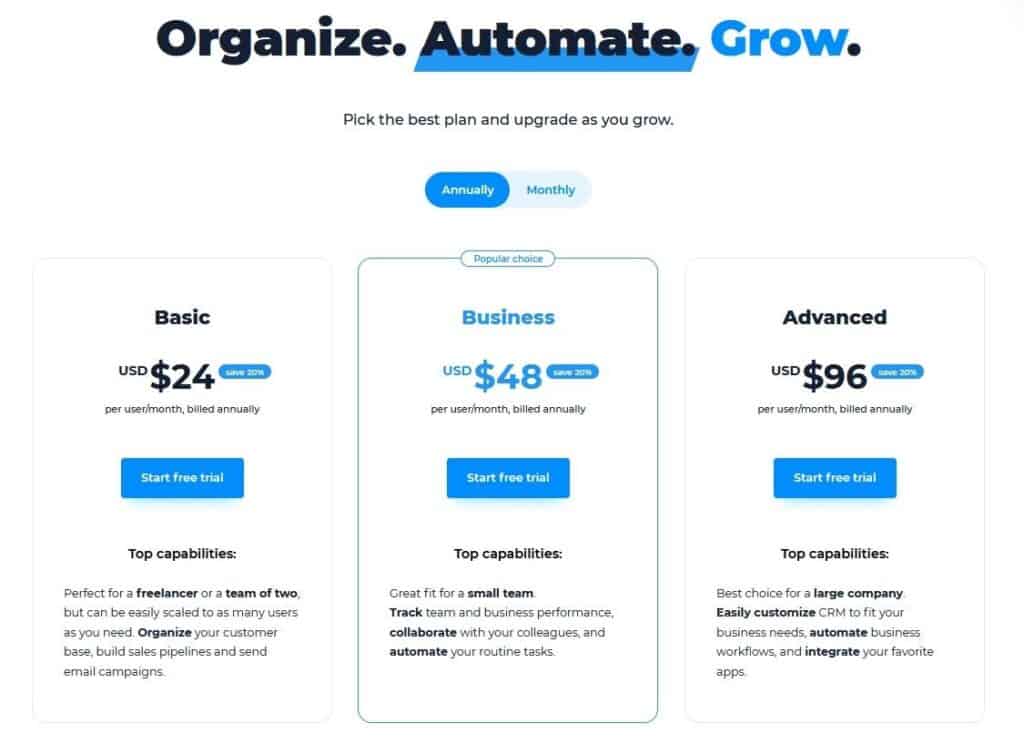 They offer a 14-Day Trial and Premium Plans start at $24. The most complete package costs $96 and is ideal for large companies.
Nutshell CRM

Nutshell is a sales-focused CRM with features that make life easier and more effective for sales managers and salespeople. Its features include detailed modifications to fit how and who you sell to and reporting tools to track every data point.
Nutshell CRM has all of the features and capabilities you'll need to turn leads into customers. Sales automation, pipeline management, contact management, performance monitoring and reporting, and team communication are all included. It also has excellent customer service.
This CRM solution is designed to streamline workflows, automate procedures, make job performance easier, and track each stage of a lead's journey till conversion.
Your sales team may use its strong capabilities to track transactions, identify pipeline gaps, assess sales performance, and analyze KPIs in order to generate and accelerate sales.
It claims versatility, allowing it to adapt to your preferred company sales approach, such as inbound, outbound, account, or relationship-based selling.
This enables your sales team to close deals quickly and efficiently, in keeping with your unit's tactical objectives and the company's strategic objectives.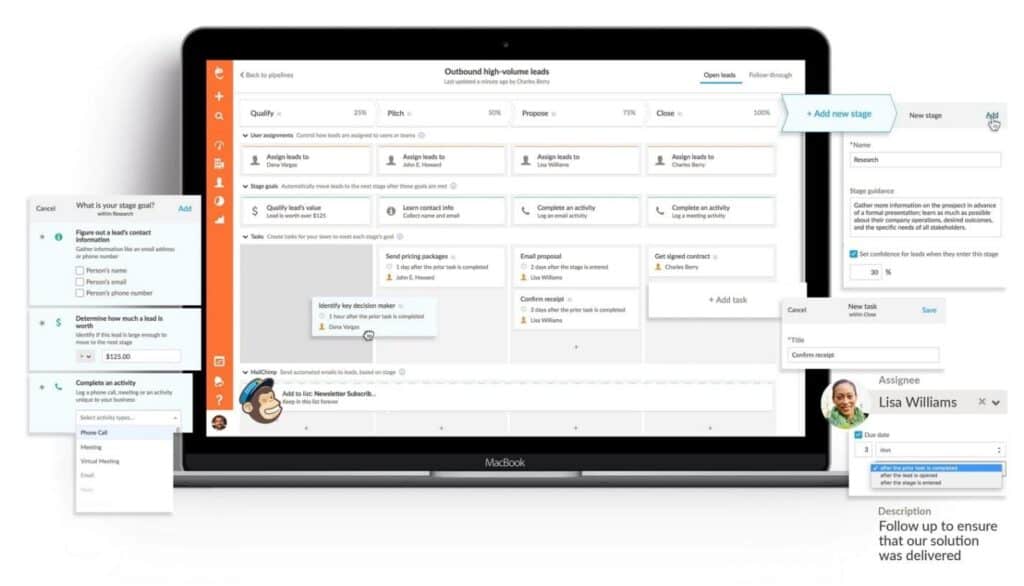 Every task and assignment at any level of the sales funnel is well-defined so that each team member understands what to do and can adapt to any changing circumstances and seize every sales opportunity.
Nutshell CRM also features analytics and business intelligence capabilities, as well as native iOS and Android mobile apps.
Although Nutshell may ostensibly grow your company, its interface is best suited to smaller groups. The platform asks how big is your company right when you are signing up for their trial. The larger your business is, the higher will be the monthly cost.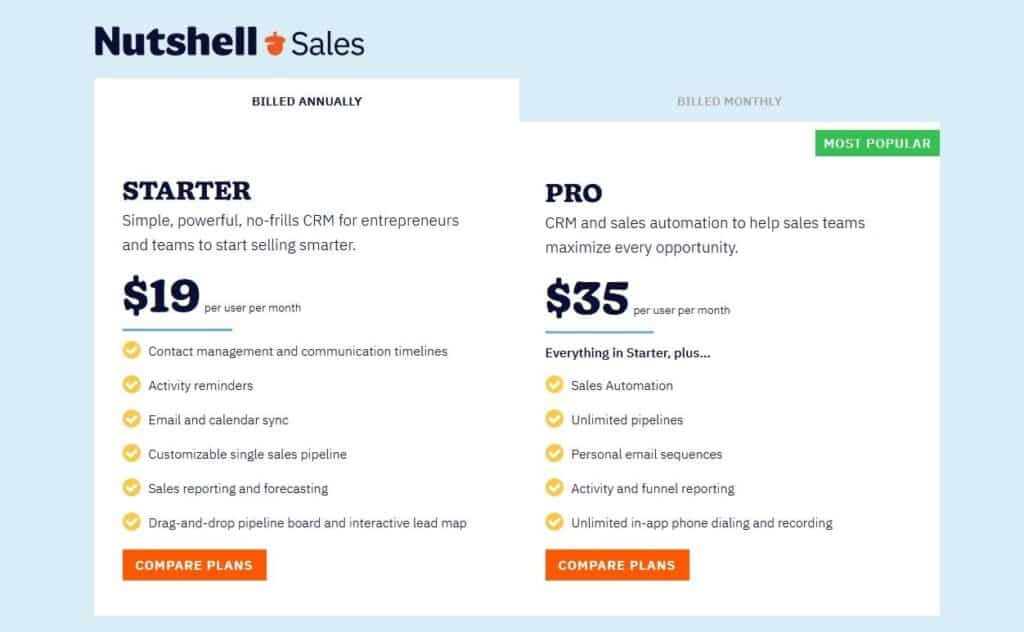 They offer a 14-Day Trial and Premium Plans starts at $22 per user with the Starter package and $39 per user with the Pro Package, which includes everything that the app can provide.
Pipedrive

Pipedrive is a great customer relationship management CRM solution that also functions as an account management tool to help with your marketing and sales process.
Pipedrive's proactive nature records and organizes calls and emails automatically and synchronizes calendars across devices.
Pipedrive's ability to see the sales process from beginning to end may be particularly appealing to most small to midsized enterprises (SMBs).
The system's simple intuitiveness assists you in identifying hot leads and priority deals and develop a unique strategy for each of them without spending too much time.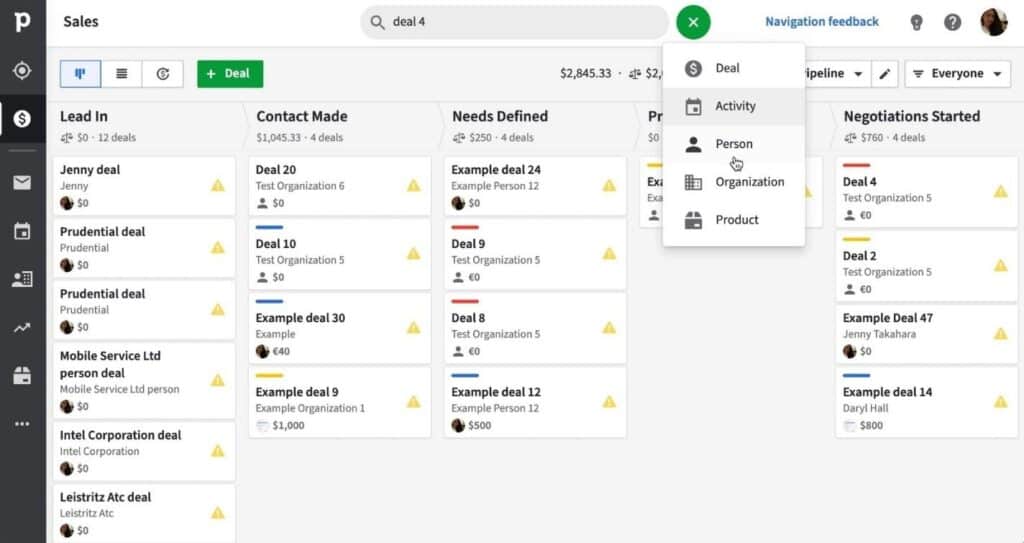 The app is user-friendly enough that most sales teams will fall in love with it at first sight. It's also simple to link with Google Calendar, Google Contacts, and other Google apps, as well as a variety of third-party business systems.
Also, managing lead connections is a very customizable procedure that you can quickly adapt to promote your brand or change the terms you disagree with.
Pipedrive, in fact, allows you to turn whole modules on and off while ensuring that there will be no negative impact on your service quality.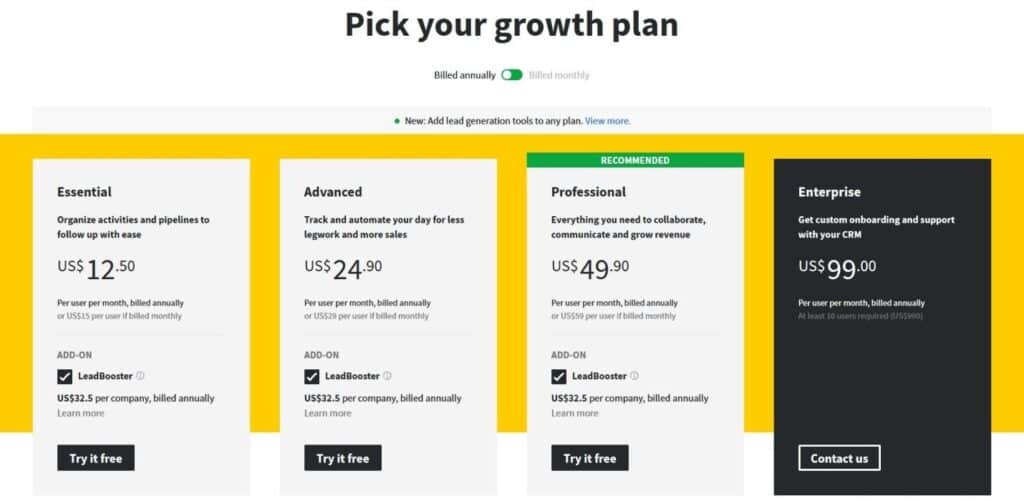 The platform in general offers a great management tool to handle your leads and deals, track communications, automation tools, insights and reports, and plenty of integrations.
Pipedrive is an ideal system for small businesses that have a well-structured plan to grow with a long-term project.
They offer a 14-Day Trial and Premium Plans starts at just $12.50 monthly.
Engagebay

EngageBay combines sales, marketing, and customer service into one platform. Many people regard it as a viable alternative to more costly corporate solutions.
It allows you to automate critical business procedures and routines, allowing you to focus on running and growing your company.
Modules for email marketing, CRM, sales, live chat, and marketing automation are among the features. All of this is stored on a dashboard with an easy-to-use interface.
As the name implies, its goal is to capture and engage website visitors, resulting in leads that, if handled correctly, may be converted into loyal customers.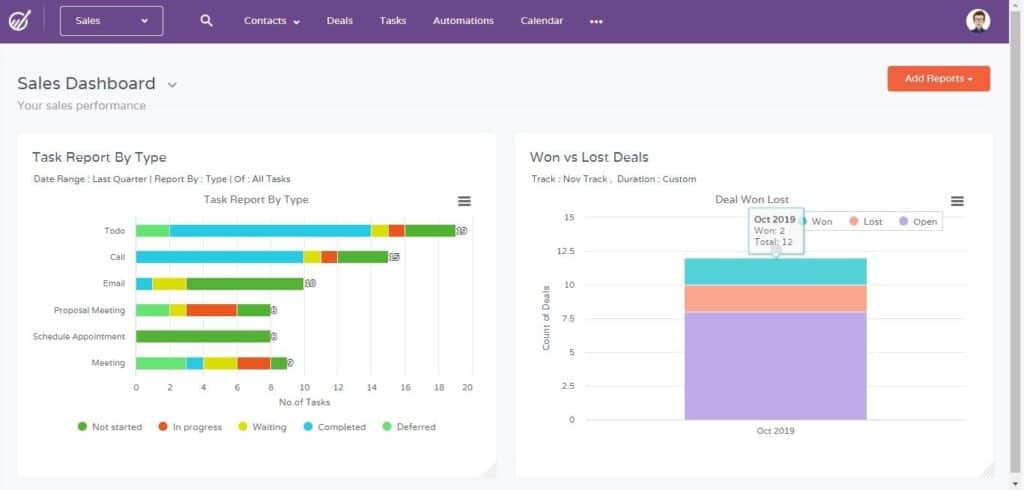 It also has tools like a calendar, contact management, deal pipeline, and assignable tasks that may help you manage internal procedures. You'll be able to handle essential company processes in one spot with all of these features and more.
Multi-channel listening is a great tool provided by the platform, which collects contact information from all of your client touchpoints. Contact activity, online activity, email response, open and click rates, and more may all be tracked.
With two-way sync features, it integrates with Gmail, Office 365, or any other IMAP provider. Integrations such as Zapier, SendGrid, Mailgun, Xero, and Mandrill allow you to link your CRM to other business processes and optimize your operations.
EngageBay sells three types of services: Marketing Automation, Live Chat & Helpdesk, and CRM & Sales Bay. The CRM Package also offers great tools such as a 360º customer view, appointment scheduling, sales automation, and a deal management system.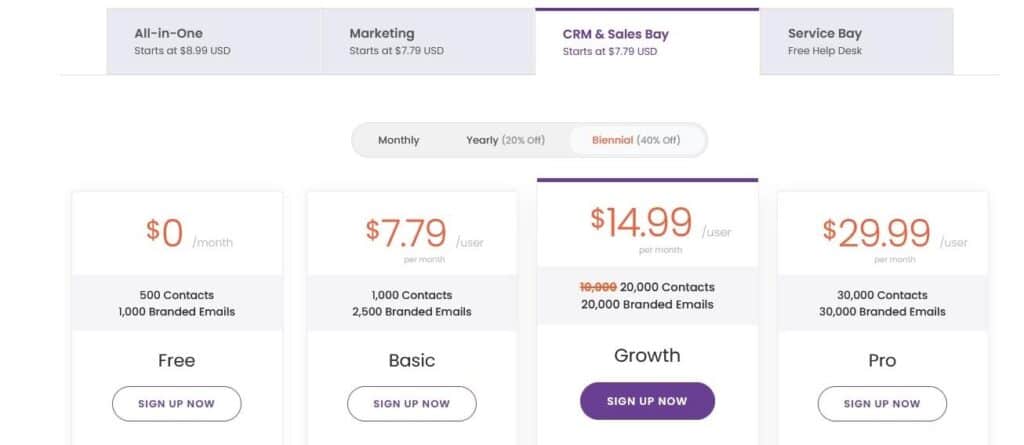 The platform has a great Free Plan available, which makes it a great option for small companies and users that are initiating with CRM systems. There is no Trial for Premium plans, and they start at just $14.99 monthly.
Agile CRM

Agile CRM is a powerful cloud-based customer relationship management software that combines basic sales, marketing, service, and web interaction platform functionality into a single unified system.
Agile CRM has great tools such as project management, contact management, scheduling, sales and marketing automation, customer support, email tracking, and landing pages.
It also has a social media marketing management tool that is trusted by thousands of small to medium businesses across multiple sectors.
The platform provides users a unified system that brings all of their information and people together on a single page, simplifying their duties, improving communication and collaboration, and considerably increasing productivity and output both individually and collectively.
Agile CRM can automate all of your forthcoming phone conversations and follow-ups if you keep your appointment calendar online.
You can keep everything running smoothly with a 360-degree view of contacts, drag-and-drop project management, reporting, and timeline features. Also, In the app, you may attach documents to track deals, companies, contacts, and emails.
The platform also has a gamification tool to gamify sales for ramped-up competition and collaboration, a lead prospector, an autodialer, and a great automated scoring system.

Agile CRM has a great Free Plan available with a capacity of 10 users and plenty of tools that are paid on its competitors, which makes this CRM a great opportunity for new users.
Starting Premium Plans costs only $8.99 monthly, and the most advanced plan costs $47.99 monthly.
If you're interested in any other Business Software make sure to check out our in-depth reviews: