Looking for the best SEO tool but not sure which one to choose? This list of the 10 best SEO tools will help you make your decision. We reviewed them so you don't have to.
Starting a website and having an online presence is more important in the digital world than having a big production or spending lots of money on paid advertising.
Money, of course, is always helpful. However, implementing SEO correctly is what makes any strategy worthwhile.
The greatest SEO tools simplify and ease the management and monitoring of your search engine rankings, ensuring that your website is both search-friendly and performance-optimized.
So, regardless of how much money you might have to invest, you can climb the ranks and position your company's website at the top of the search results using solid SEO techniques and information.
But first…
What Is Search Engine Optimization (SEO), and why use tools for it?
Search engine optimization (SEO) is the process of driving targeted traffic to a website through the organic rankings of search engines. Typical SEO activities include developing high-quality content, optimizing material for specific keywords, and developing backlinks.
To put it another way, SEO is all about enhancing a site's ranks in the organic area of search results. The most significant advantage of ranking for a given keyword is that you might get "free" traffic to your website month after month.
The best SEO tools will also give information on how you compare to competitors and where the most chances are. Furthermore, they help you to analyze search performance across countries, regions, or languages.
If you handle more than one website, SEO tools may let you analyze the performance of each site on the go. Many marketers who run several websites end up placing a huge amount of data into spreadsheets and manually evaluating it.
However, that soon becomes overwhelming, increasing the probability of inaccurate reports. Fortunately, you can utilize SEO software to save hours and get precise results with the push of a button.
What Software Should I Use?
Handling SEO optimization may be challenging, particularly if you're just starting. But I compiled a list to review the 10 best SEO tools on the market with a wide range of purposes that cover many typical demands.
Moreover, these tools are fast and straightforward to use, and I hope you find one that you can use to boost your organic rank and improve your company's performance.
Growth Bar
GrowthBar is an effective SEO tool that is ideal for result-oriented businesses, marketers, and bloggers.
Launched as an SEO Chrome extension, the tool has evolved into a powerful SEO platform that provides lots of useful data to enhance your search rankings and generate more traffic for your page.
In addition, essential domain metrics such as domain authority (DA), organic traffic, and top backlinks are also shown in your web browser for each Google search result. You may also see a site's top paid keywords and track their Facebook advertisements.
All of these critical data elements may help you get a better picture of your organic and paid competition, as well as provide a clear image of how tough it would be to rank for your target keywords on Google.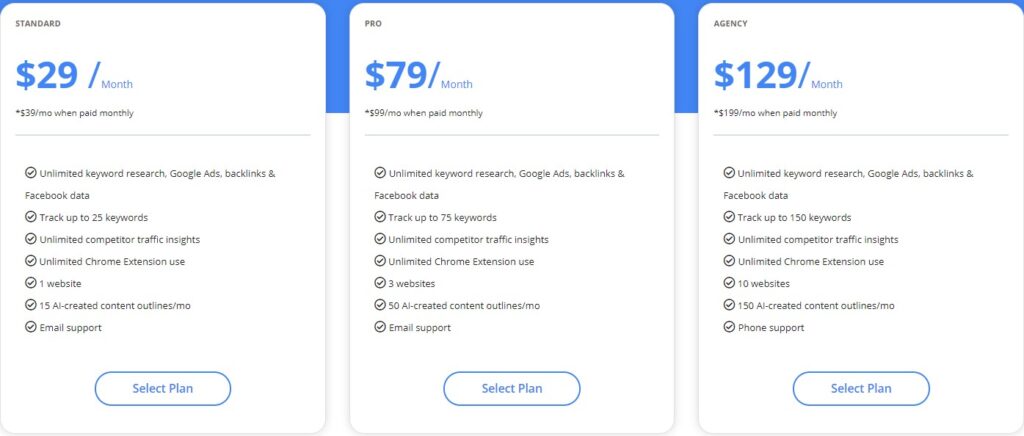 The key features of Growth Bar are the possibility to see the ranking difficulty score of any search query. Also, the platform has a great backlink checker to keep track of your competitors. The insights that the platform provides on paid keywords and Facebook Ads are also very powerful.
They have a 5-Day Trial, and Premium Plans start at just $29 monthly with unlimited keyword researches, unlimited competitor traffic insights, and unlimited use of their Chrome Extension.
Conclusion: GrowthBar is a necessary SEO tool and Chrome extension for businesses, bloggers, and anybody else who is serious about ranking their websites in Google SERPs. It gives you plenty of SEO data to support you to get better results in the search rank.
If you need a low-cost SEO tool and want to turn your web browser into a sophisticated SEO analysis tool with vital analytics at your fingertips, you should try GrowthBar.
Ahrefs
Ahrefs is a robust and popular SEO tool that analyzes your website's structure and generates keywords, links, and ranking profiles to assist you in making better content choices. Ahrefs' Site Audit function is simply the greatest SEO analysis tool available.
Probably one of their best function is the possibility to identify your competition's backlinks and use them as a baseline for your own brand in competitor analysis.
Ahrefs has a variety of tools to assist you with your SEO. Site Explorer, Keywords Explorer, Site Audit, Rank Tracker, and Content Explorer are some of its more well-known tools.
The platform Audit tool is completely cloud-based. That means you don't have to install anything and can access your data from anywhere at any time. You may also plan your crawls to occur on a daily, weekly, or monthly basis.

You may utilize Rank Tracker to track how you monitor your favorite keywords, as the name implies. In addition, you may use Material Explorer to identify the most shared and relevant content across the most popular social media platforms.
Ahrefs offers a 7-Day Trial in the monthly package, with Premium Plans starting at $99 each month, and they offer 2 Free Months if you choose the annual package, with Premium Plans starting at $82 monthly.
Conclusion: Because of the depth of its index, Ahrefs has developed a reputation on its backlink checker function, but once you start using the platform, you find out that it is much more than a backlink research tool.
Ahrefs delivers advanced SEO tools for any kind of user, including newcomers, providing excellent data that may be a game-changer to your business.
Semrush
SEMrush is a great all-in-one SEO tool with a detailed dashboard that can show you how your site or specific pages perform. It includes SEO, advertising, social media, content marketing, and competitive research toolkits.
SEMrush provides a great Free Audit that will assist you in understanding and fixing on-site issues, allowing you to improve your Google results.
The Domain vs Domain comparison, which allows you to compare your website to your competitors instantly is one of the most popular features of this SEO tool.
If you're looking for analytics reports to help you better understand your website's search data, traffic, or even your competitors, you'll be able to compare their keywords and domains with this tool.
The platform offers more than 40 tools to help you to enhance your company, including a Keyword Overview, on-page SEO, local SEO, rank tracking, link building, and competition SE analysis.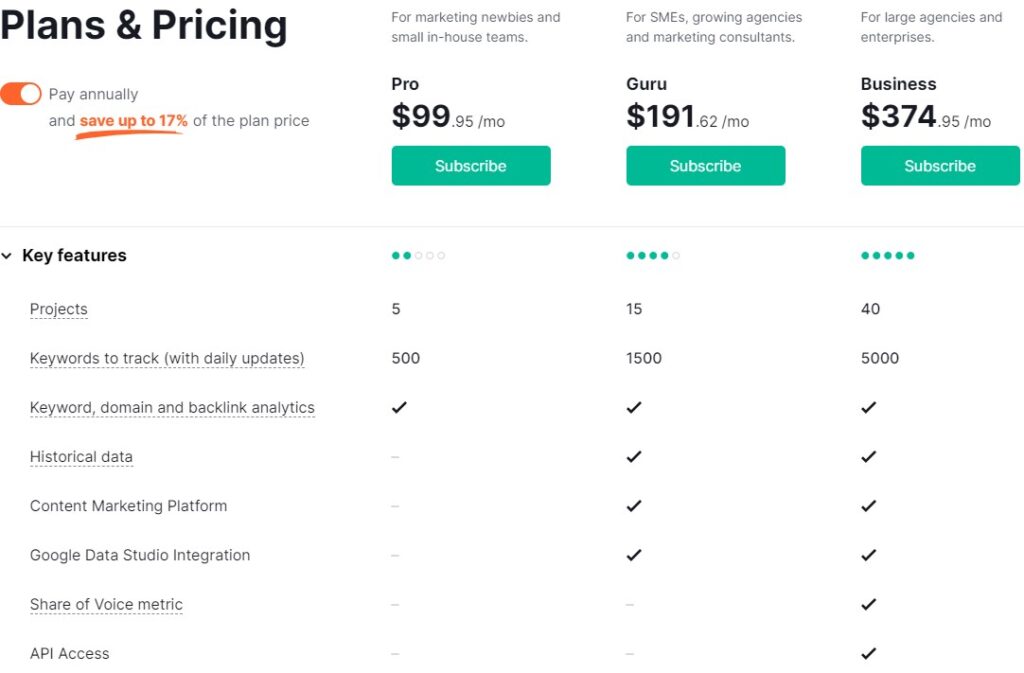 In addition, their Organic research tool allows you to examine your competitors' organic keyword ranks and pages in order to identify the best ones for your niche and perform new approaches to dominate SERPs.
SEM Rush is ideal for businesses that need an excellent marketing bundle in a single platform. All features combined will certainly increase the organic traffic and help in several other aspects.
The platform offers a 30-Day Trial through Special Offers and Invites, and Premium Plans start at $99 monthly.
Conclusion: SEMrush has an excellent variety of capabilities that will make your life simpler, from keyword research to technical SEO audits, reporting, and competition analysis.
SEMrush has been at the forefront of online marketing innovation for the past few years, and they've added several new features and improved on old ones to give their consumers more accurate and complete statistics.
Google Search Console
Google Search Console is another excellent SEO tool. You may use the platform to gain more insights into your site's organic performance as well as any problems that have been reported, such as notifications of manual action penalties.
GSC can provide you with a summary of your site's performance, including clicks, impressions, average click-through rate, and average SERP position. It also tells you which parts of your site are throwing issues or aren't operating as well as they should.
Whatever the size of your site or blog. Google's Search Console and the many user-friendly tools behind its hood should be your first port of call, even if you're not an SEO guru.
At a glance, the suite of tools provides you with helpful information about your site. The platform is entirely free, and its SEO audit tool is helpful for novices.

In addition, it also provides you with a wealth of information regarding page load time, indexed pages, broken links, HTML markups, and much more.
Conclusion: For inexperienced web admins, Google Search Console is an ideal place to start with SEO. It helps you understand your site's SEO performance, inspect URLs, find coverage errors, submitting a sitemap, and much more.
GSC is the most accurate way to observe the difficulties that Google encounters when crawling and indexing your site. You may test a URL on a page-by-page basis to see how Googlebot reads it, including the user-defined and Google-selected canonical, the date it was last crawled, and more.
Also, it's the first place you should go if you're having problems with how your site looks in the SERPs.
Advanced Web Ranking
Advanced Web Ranking is a powerful SEO tool that includes a wide range of keyword tracking features. This is a fantastic alternative if you're searching for the best platform to handle all of your SEO efforts.
This program gathers all of the essential SEO tools in one location, making it easy to keep track of all of your activities. It includes link development, competitor analysis, link management, keyword optimization, and performance reporting, among its optimization capabilities.
All of these features work pretty well, but performance reporting stands out beyond the others. This function is well-designed to deliver precise information from all of your SEO components as well as to get data from Google databases.
AWR has a sophisticated ranking tool that may assist you in finding the greatest keywords and keyword phrases. This makes it easy to optimize your website and get it to the top of relevant internet searches.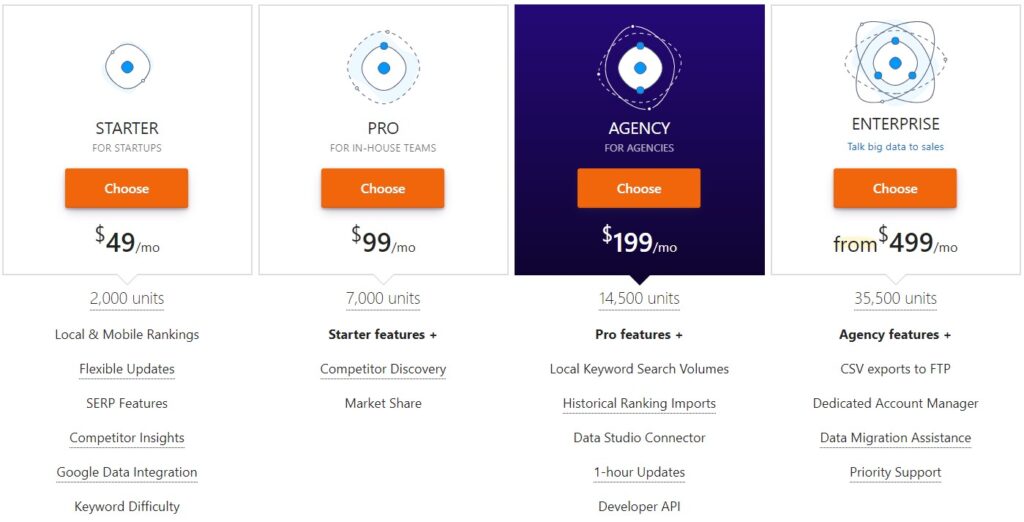 Advanced Web Ranking is a low-cost SEO solution that is ideal for medium-sized companies that cannot afford more expensive solutions. They have a 30-Day Trial, and Premium Plans start at just $44 monthly.
Conclusion: The platform has fantastic capabilities that help to improve organic traffic, and their competition analysis tools provide you a detailed picture of your competitors' social media initiatives, on-page SEO techniques, and link partners.
Together with helpful guidance and support, all of these capabilities make this platform one of the best on the market today, especially because of its price of just $44 monthly, which is relatively lower than its competitors
Authority Labs
Authority Labs is a robust web-based SEO monitoring platform with a simple user interface that makes it easy to use.
Competitor tracking, white label keyword reporting, local and worldwide monitoring for multiple search engines, report exporting, and Google AdWords integration are all included in the platform.
Also, the software's sync feature duplicates all of your keywords across all of your domains, saving you time on keyword tracking. Furthermore, if you are monitoring local rankings, keyword tracking is done regularly and in such a way that it may determine the location of the search initiation.
Customized reports make it easy to keep track of your progress on a daily basis. The reports provide a comprehensive picture of the average keyword rankings in a certain search engine and the changes in those rankings.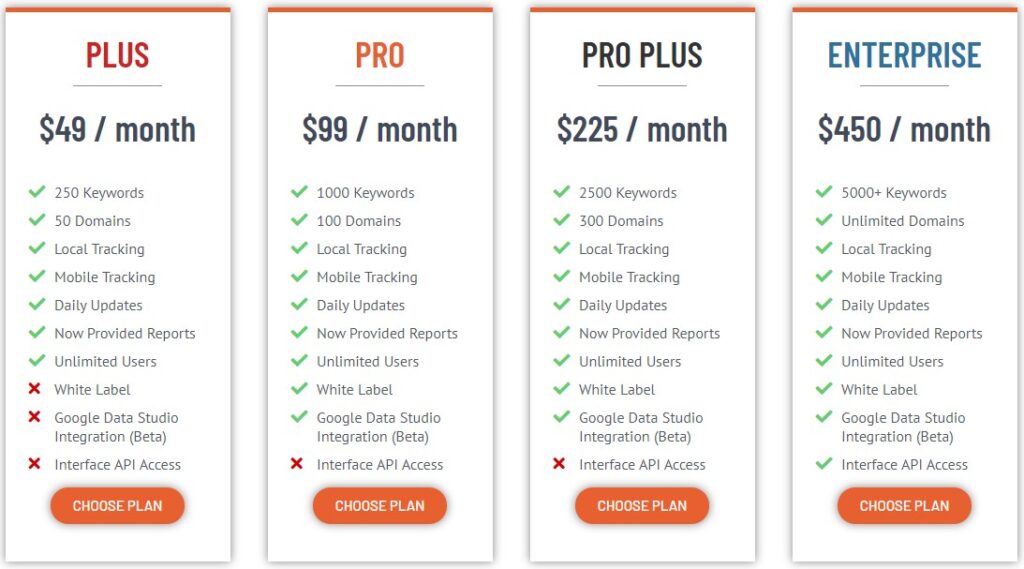 Authority Labs is an excellent choice for bloggers, marketers, SEO agencies, and local companies since the platform has a special focus on local search and real-time daily data, so if you're a local company owner who's upset because you don't know what keywords to target, Authority Labs might be one of the finest solutions for you.
The platform has some Free SEO Tools and offers a 14-Day Trial. Premium Plans start at just $49 monthly.
Conclusion: Authority Labs offers very precise and reliable SEO tools that help your business and provide you with insights into your target keywords, and based on what I've seen, it truly delivers on this promise.
In addition, they offer some great tools for Free, like Backlink Checker, Keyword Grouper, Partner API Tester, Website Crawler, and Rank Checker, which is a great point to the platform.
Longtail Pro
Long Tail Pro is a well-known keyword research tool used by over 70,000 marketers all around the world. Although many marketers use it to create pay-per-click (PPC) ads, the program was designed primarily for SEO.
This fantastic platform allows you to find low-competition, high-traffic keywords, especially, as the platform name implies, "long tail" keywords that you can then target in your posts to increase traffic to your website or blog and, possibly, generate more money.
Unlike other keyword research tools on the market, Longtail Pro performs a lot more than simply keyword research. It's a versatile tool that combines keyword research and rank tracking into one package.
Also, in order to make a higher informed conclusion, the tool gives detailed information on each keyword. The average keyword competition, search volume, bid price, and rank value are considered.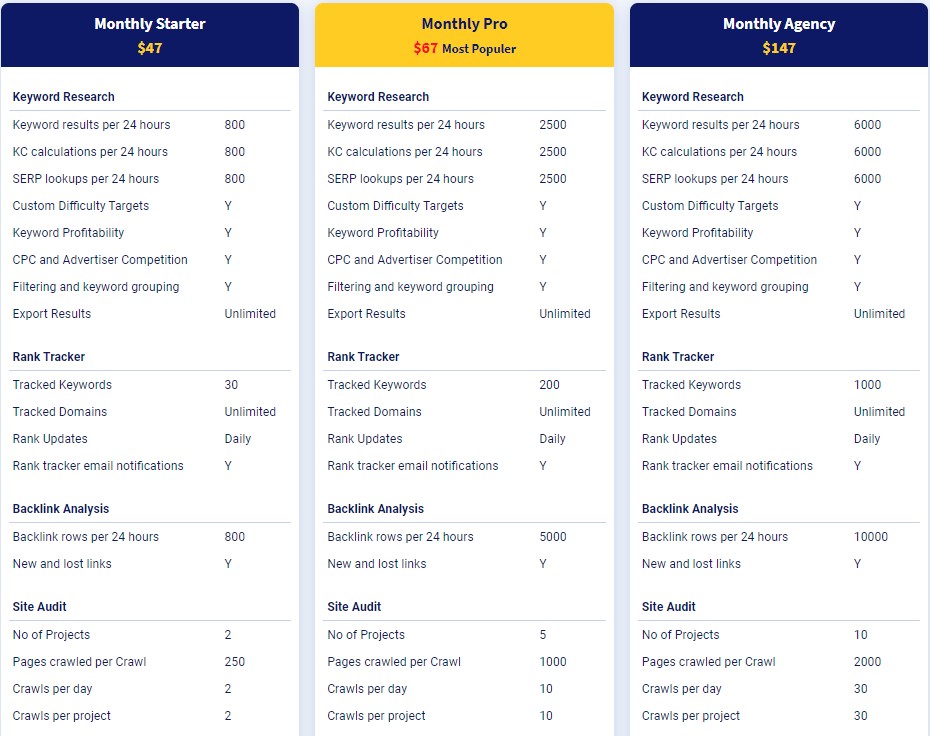 Long Tail Pro is one of the greatest tools for content marketers, including freelancers, bloggers, and small company owners. The program helps you to quickly find fresh keyword opportunities and analyze competition using the KC score, saving you hours of time and effort.
The platform offers a 7-Day Trial, and Premium Plans start at just $47 monthly.
Conclusion: Long Tail Pro is a good and cheap keyword research platform that can also track your rankings and analyze your competitors. Besides being a keyword research tool.
Long Tail Pro does a great job as a rank tracker and competitor analysis tool, providing an in-depth study of the top-ranking websites on the SERPs in order to assist you in determining what you need to do in order to outrank them.
Serpstat
Serpstat is a growth-hacking platform that helps you achieve your SEO, PPC, and content marketing objectives.
Serpstat is also well-known for its impressive characteristics, including keyword and competition analysis data for all of Google's regions.
The most popular is a tool called Missing Keywords, which shows you which keywords your competitors are ranking for in the top 10 search results, but you aren't.
With this platform at your disposal, you can identify which websites appear on the first pages of search engine results pages (SERPs) and develop strategies to stay ahead of the competition.
In addition, the tool will assist you in gathering current promotion-related information from your competitors as well as discovering the keywords that they are employing in their campaigns.
All of this information can be utilized to create efficient SEO efforts that provide results, propelling your company to development and success. The platform has also a complete backlink analysis tool.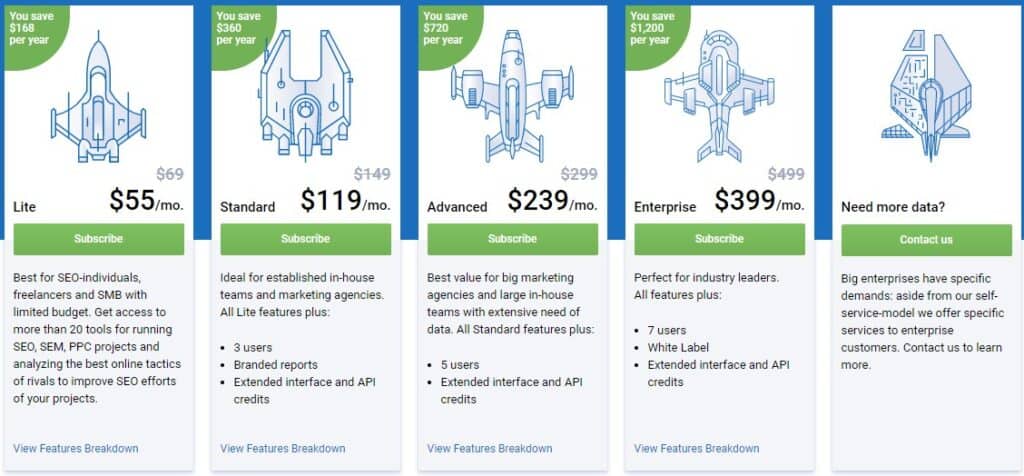 Serpstat is an ideal tool for SEO and SEM professionals, analytics experts, content managers, and digital marketers.
However, if you are a beginner in the field, Serpstat also has a very clean and simple UI with detailed information for every single feature, so you will be good at using the platform.
The platform offers a 7-Day Trial, and Premium Plans start at $55 monthly.
Conclusion: Serpstat shines at three tasks: keyword research, PPC analysis, and competition research. The rank tracker is especially useful since it provides you with a day-by-day breakdown of how your site performs in relation to your most relevant keywords.
In addition, it may be used to discover new keyword opportunities, generate content ideas, analyzes PPC campaigns, and conduct in-depth competitor research.
SEOptimer
SEOptimer is an excellent SEO checker that can help you enhance your website, rank higher in search engines, and gain more clients by providing you with creating engaging SEO reports.
This is also a powerful tool for conducting website audits. It provides a rapid overview of the website's SEO, performance, usability, and social media presence.
The platform's Audit Tool reviews many factors to help identify problems and provide a clear and prioritized list of recommendations to improve your website.
Their proper SEO Tool analyzes your whole site for issues and recommends clear, easy-to-follow actions with guidance specific to your website type. In addition, they will track your keyword ranks and improvements and keep you informed of your site's performance.

According to the company, SEOptimer is ideal for SMB's, digital agencies, SEO Experts, Web designers, and anyone who needs to improve their website. With the platform, you will save more time, present beautiful reports, and win more customers.
The platform offers a 14-Day Trial, and Premium Plans start at just $19 monthly.
Conclusion: Whenever it comes to SEO Audit, getting your website to rank in Google is becoming complex and more competitive than ever.
There are many factors to consider, and SEOptimer will perform a detailed SEO Analysis across 100 website data points while providing precise and actionable recommendations for steps you can take to improve your online presence, and ultimately rank better in Search Engine Results.
LinkMiner
Mangools' Linkminer is an excellent all-around SEO software suite that includes tools for link research, keyword analysis, and ranking tracking.
Users may believe that Linkminer is only an SEO tool, but it is actually a suite of five products merged into a strong SEO solution for companies and blogs.
When you join up for the Mangools SEO tools bundle, you will have access to the following 5 SEO tools:
KWFinder, which is a keyword research tool that assists you in determining the ideal keywords for your site and content.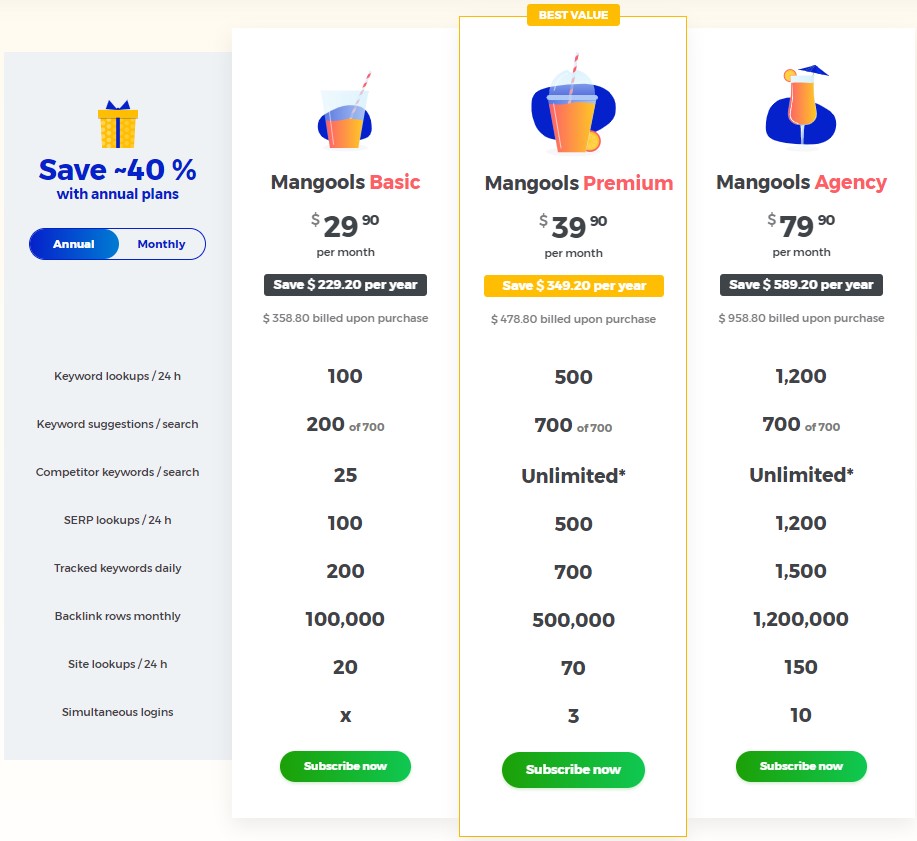 SERPChecker, a tool that shows you which sites are ranking for your chosen keywords in several regions worldwide. It also lets you look at mobile ranks.
SERPWatcher, the keyword rank tracking utility that allows you to monitor your keyword ranking in the search results.
The proper LinkMiner is a backlink analysis tool that helps you to evaluate your competitors' backlink profiles and identify link-building opportunities.
And lastly, the SiteProfiler, a website analysis tool that allows you to gain a birds-eye perspective of your competitors' websites.
Mangools' Linkminer is a great choice for your SEO needs, no matter who you are. The platform will provide a lot of value whether you are a blogger or a small business with a limited budget.
The platform offers a 10-Day Trial, and Premium Plans start at just $29.90 monthly.
Conclusion: Linkminer is an excellent tool for concluding what's going on in the minds of your consumers.
If you want to have the same possibilities as your competition while still having a chance to outrank them, this is a great platform to use. Their bundle includes some great tools that, combined, will definitely help you out.
Executive Summary
To summarise, Seach Engine Optimization is a complex skill to learn. There are over 200 variables that go into ranking websites.
Above all else, I recommend sticking to creating really valuable and well-structured content and combine this method with one of the SEO tools mentioned above.
Young or new sites have the best chance of ranking for smaller, less competitive keywords. So using a tool such as Growth Bar start with the less competitive keywords and build from there.
Above all else, it takes time to be trusted by Google and establish authority. Keep pushing and don't give up, you will smash those SERPS one day.