So you're looking for the best podcast host? The truth is there is no one best podcast hosting service out there. Each service has its pros and cons with each service being suited to different individuals each with their own needs.
In this review, I run through 15 plus podcast hosts and discuss each one including who it is best suited for. I have direct experience with setting up some of these podcasts hosts for clients including Buzzsprout and Podbean.
If you have any queries about any of the podcast services please get in contact with me using the contact form. I will be happy to assist you in your journey.
Buzzsprout
Buzzsprout began operations in 2009 and has been gradually rising since then. Now, it is one of the best web-based platforms for hosting and storing podcast episodes.
Podcasters can utilize Buzzsprout's sophisticated features to promote their content and monetization activities in addition to hosting their shows.
The platform allows users to manage different podcasts with Unlimited Team Members and offers a professional Analytics System, Automatic episode optimization, Dynamic Content tool, and Magic Mastering tool.
Also, you can transcribe your episodes inside Buzzsprout to make your podcast more accessible to search engines, speed-readers, and the hearing impaired. And you will get all of this and more with a low monthly or annual charge.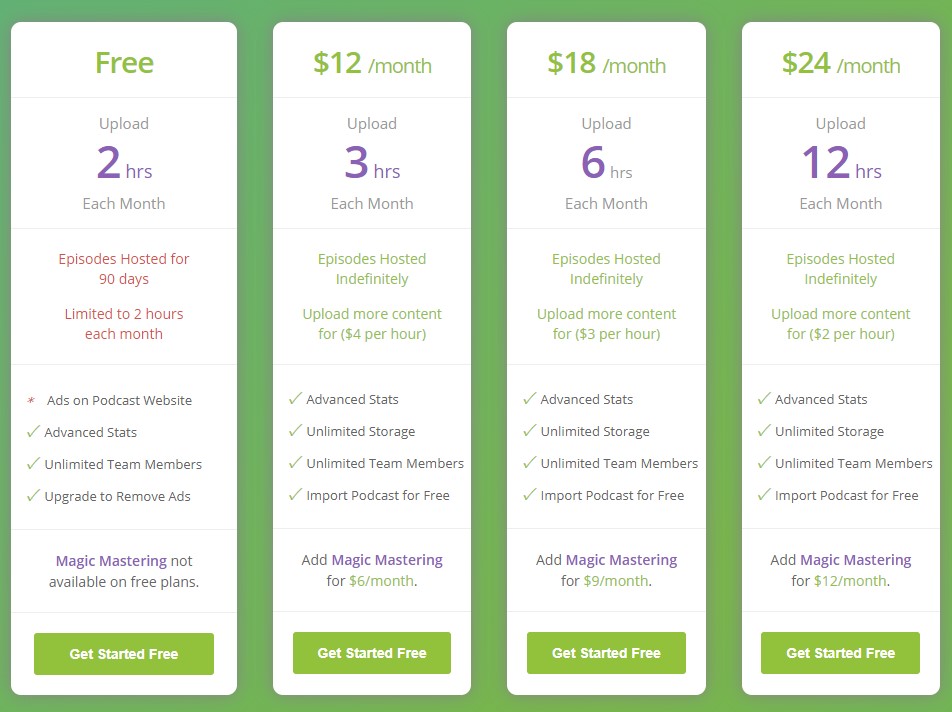 Who is Buzzsprout best suited for?
Buzzsprout is built to adapt to all levels of podcasters, but if you ask me, I believe it would be especially appealing to newcomers.
The platform has a user-friendly experience and allows you to upload your podcasts to Spotify, Apple Podcasts, Google Podcasts, Stitcher, iHeart Radio, TuneIn, Alexa, Overcast, PocketCasts, Castro, Castbox, and Podchaser
Many beginners to the podcasting world can be confused by terms including RSS feed management, ID3 tags, and different file formats. But with Buzzsprout, on the other hand, any new podcaster will easily handle both of these things.
And if you're a seasoned podcaster, promotion is something you might have to do. Thankfully, Buzzsprout handles the ads and assures that you don't have to worry about the particulars of podcast production.
You'll be able to focus more on making material that viewers would like to listen to!
They have a free plan available, allowing users to upload up to 2 hours each month, and premium plans starting at just $12 monthly.
With improved ease-of-use and completely loaded functionality for all podcasting needs, I've noticed the app to become even more intuitive over time.
The platform is no longer just another podcast hosting service. With stable hosting, proper RSS feed management, and seamless integration with many social networks, it has risen to the top of the field.
Try Buzzsprout using my link below and get a FREE $20 Amazon Gift Card courtesy of my partnership with Buzzsprout, enjoy 😉
Captivate
Captivate is an entirely new podcast host that has a focus on increasing podcast listeners. They have been produced by Rebel Base Media that also manages Podcast websites.
This is their biggest offering so far, as they combined everything they've gained through years of podcasting practice into one innovative podcast hosting service.
All plans allow an infinite number of podcasts and an unlimited number of members, a modern podcast player, advanced analytics, and marketing resources.
Their automated podcast website and built-in calls to action are two outstanding development features. All packages include a fully personalized, mobile-friendly platform with built-in donation support.
Also, you can use podcast player calls to action to develop your email list and create new leads. If someone is listening to your podcast player, they will be able to sign up for your email list directly via an opt-in process.
Captivate's analytics platform is also updated on a regular basis. They collaborate with the Interactive Advertising Bureau (IAB) to develop more valuable insights to track the success of your shows.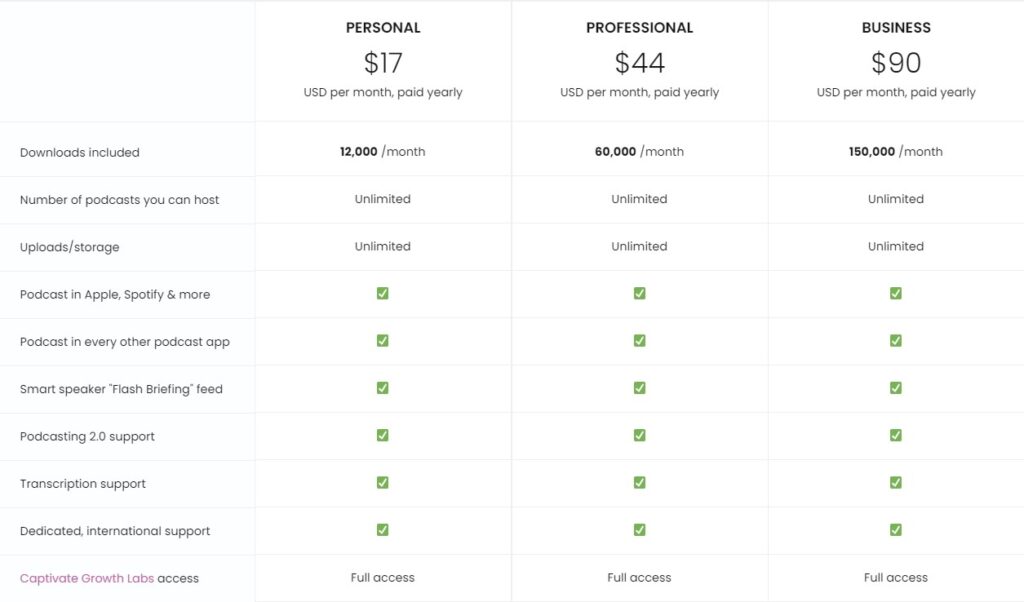 Who is Captivate best suited for?
Captivate is the ideal option if you were searching for a growth-oriented platform with lots of marketing features like a web player with calls to action, a single-subscription marketing link, email marketing integration, and a one-click sponsor pitch creation.
They also have other great features, including unique listener data, a performance comparison system, trend analysis, Zapier automation, and transcription support.
They don't have a free plan available but offer a 7-Day Trial on the platform. Premium plans start at just $19 monthly with a 12,000 downloads/month limit.
Transistor
Transistor is a reputable, high-quality platform that hosts a large number of popular podcasts. It's an easy, simple, and well-integrated podcast hosting service that delivers on its guarantees.
It has a simple interface with large and easy-to-understand measures. If it's the first time setting up a podcast or you only want more exposure, their setup is highly user-friendly. Also, your audio and cover art files can be dragged and dropped.
They're renowned for giving their podcasters built-in analytics and everything else they need to expand their popularity.
Their dashboards show information such as average downloads per episode, subscriber count, and downloads over time. Their analytics tools are what set them apart from their competitors.
The platform has also some great other features, such as the ability to host an infinite number of shows per account, handle different users per account, create branded websites with your own domain name, upload your podcast to major networks, and view advanced metrics and monitoring.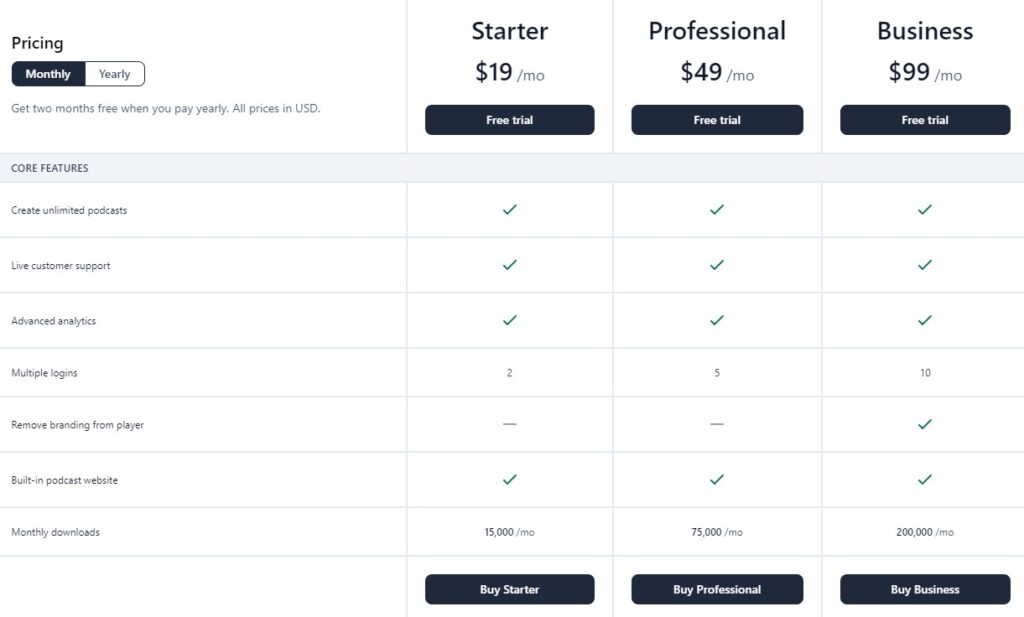 Who is Transistor best suited for?
Transistor is ideal for independent podcasters and it can become your home forever. The platform allows users to have multiple, public and private podcasts, and have multiple users on the same account with different permissions.
It also has embedded players and integrates perfectly with newsletter and mailing list sites, such as MailChimp, Convertkit, HubSpot, and more. Also, as said before, their analytics is another excellent point on the platform.
They offer a 14-Day trial and there's no Free Plan available. Premium plans start at $19 each month and allow users to have 15,000 downloads monthly.
Castos
Castos is a podcast platform with a great analytics system that allows users to manage audio or video, depending on the plan. The platform works as a WordPress Plugin or as an independent software/website.
The platform has many features, which include a premium podcasting option that helps you to choose who gets your content first from your audience.
This is a perfect opportunity to monetize your membership base and have special exclusives to specific subscribers since they would have links to an exclusive RSS feed that no one else will.
Also, you can use Casto's automated republication feature if your podcast has a YouTube account affiliated with it.
The WordPress plugin operates comparably to the usual software, with a few small differences. The most important among them is, of course, the WordPress collab that has the Seriously Simple Podcasting plugin.
Castos also has some other great features, such as unlimited storage and bandwidth for your podcasts, easy free migrations between the platform and WordPress, automated transcripts, responsive podcast webpages, and a customizable media player.
Their analytics system provides information such as the location of your audience, their device types, playback duration of each episode, viewing/listener stats, and much more.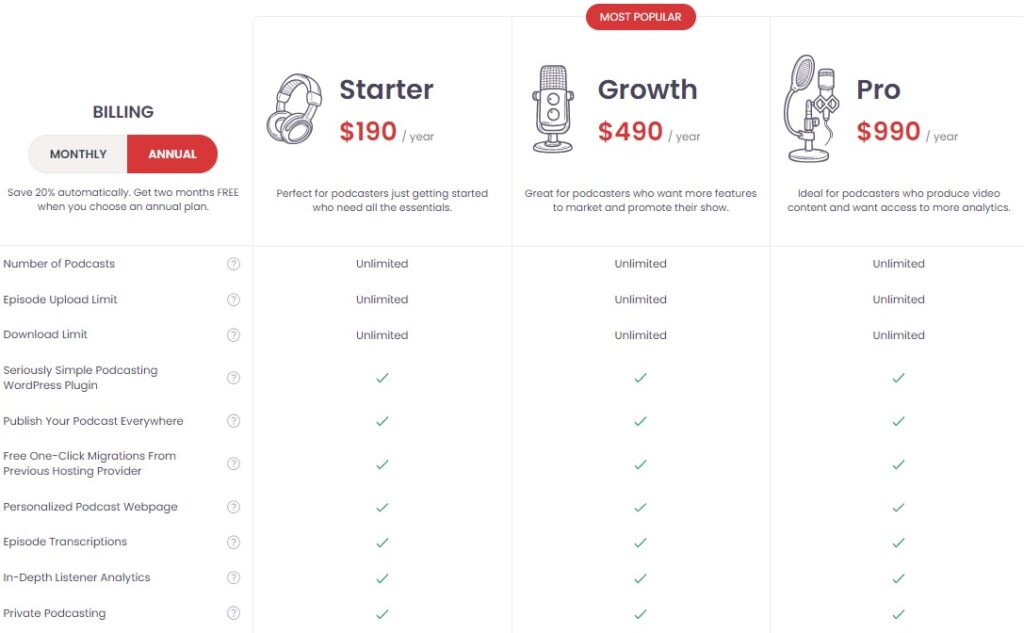 Who is Castos best suited for?
Castos is an ideal solution for users who love WordPress. If you already have a WordPress site, maybe for your business or blog, then this platform might be a perfect match for you.
With the WordPress plugin, you can easily unify your media and add built-in podcasts to your site in order to increase your traffic and encourage visitors to explore your content more.
They have a 14-Day Free Trial available and Premium plans starting at $19 monthly.
Podbean
Podbean has grown from its modest origins in the early 2000s to become one of the most well-known podcasts publishing and monetization platforms in the last decade.
The platform has a simple and user-friendly design that allows anyone to get started right away.
They already have one of the most common apps on the iOS and Android app stores, so by simply hosting your podcast on Podbean, you will immediately diversify from the crowd.
They make publishing, delivery, monetization, and even live broadcasting an easy task to do, handling all the boring details of putting yourself out there through an intuitive system with great analytics, helping you to concentrate on creating high-quality material.
The platform provides a user-friendly publishing interface, distribution and promotion services, an amazing monetization tool, and flat-rate plans with unmetered bandwidth, embeddable players, email integration, social media auto-sharing, scheduled publications, and much more.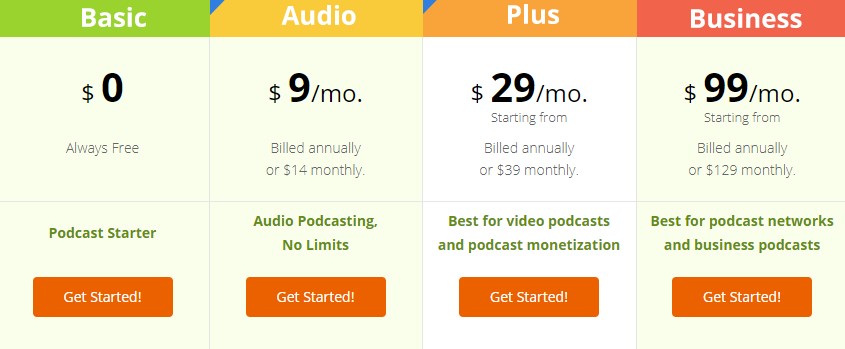 Who is Podbean best suited for?
Podbean is a fantastic hosting platform for newcomers. It's easy to use, has a lot of features, and provides you with all the resources you need to get started, including a variety of monetization options (with paid plans).
They have a Free Plan available, giving users 5 hours in storage space and a bandwidth of 100GB monthly. Premium plans start at just $9 and offer unlimited storage space and bandwidth.
Simplecast
Simplecast is a podcast hosting provider that offers top-notch publishing, distribution, sharing, and analytic capabilities to its customers.
The company is notable for the length of time it had remained in existence since it started in 2013, well before podcasts were as common as they are now.
From the beginning, the business was dedicated to its creative products. Users searching for an easy-to-use podcast option quickly flocked to its website.
Simplecast has developed itself as a significant player in the industry over the years. It has served a large number of customers from both large and small shows.
This is in sharp contrast to the many podcast hosting firms that have come and gone through the years. While searching for a podcasting host, it's safer to go with someone who has a solid track record.
The platform has provided services for some of the most prominent brands, including Kickstarter, Nike, Facebook, and HBO.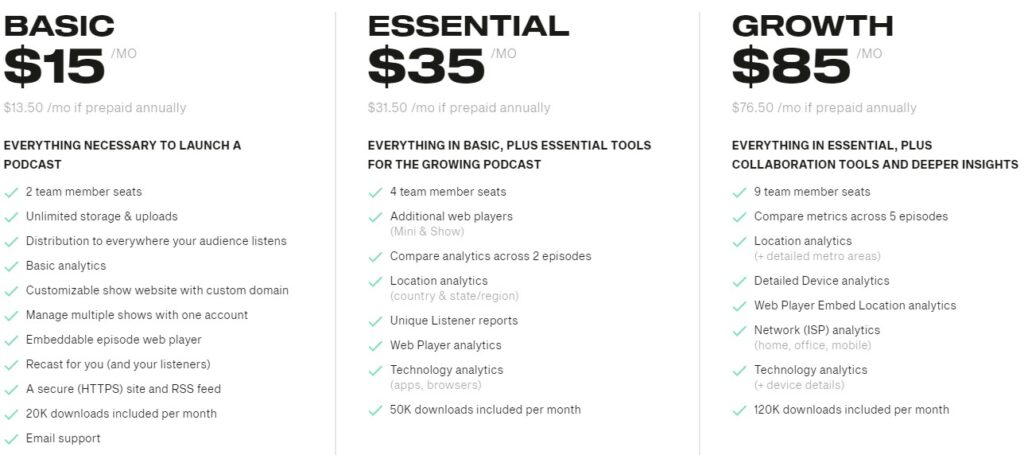 Who is Simplecast best suited for?
This platform is ideal for professionals or even beginners who want to keep everything in one, easy-to-manage place. Simplecast offers a great management process that is easy and complete at the same time. They have well-balanced plans that can please everyone.
Also, the platform offers some great features, such as unlimited storage and uploads, distribution to a lot of platforms, analytics, customizable website with a custom domain, embeddable players, recast, 20 to 120k downloads per month, location analytics and you can manage multiple shows with one single account.
They offer a 14-Day Trial and the Basic Premium plan starts at just $15 monthly.
Resonate
Resonate Recordings presents a straightforward process of high-quality podcast editing used by many of the top podcast professionals. Their team is full of dedicated people in all areas to make podcasting easier for you.
As they say on their website, Resonate Recordings is a comprehensive podcast editing and production software platform and a definite solution for all of your podcast production needs.
Their general services include episode reviews, pre-production support, trailers, podcast artworks, editing, mixing and mastering, and even website development and marketing services.
Resonate's Podcast Hosting provides a one-click publishing, insightful dashboards, a fantastic player that help users retain audience and measure engagement, dynamic Ad insertion, private and public hosting, and a lot of platforms to distribute the podcast feed, like Apple Podcasts, Google, Spotify, Stitcher, and many more.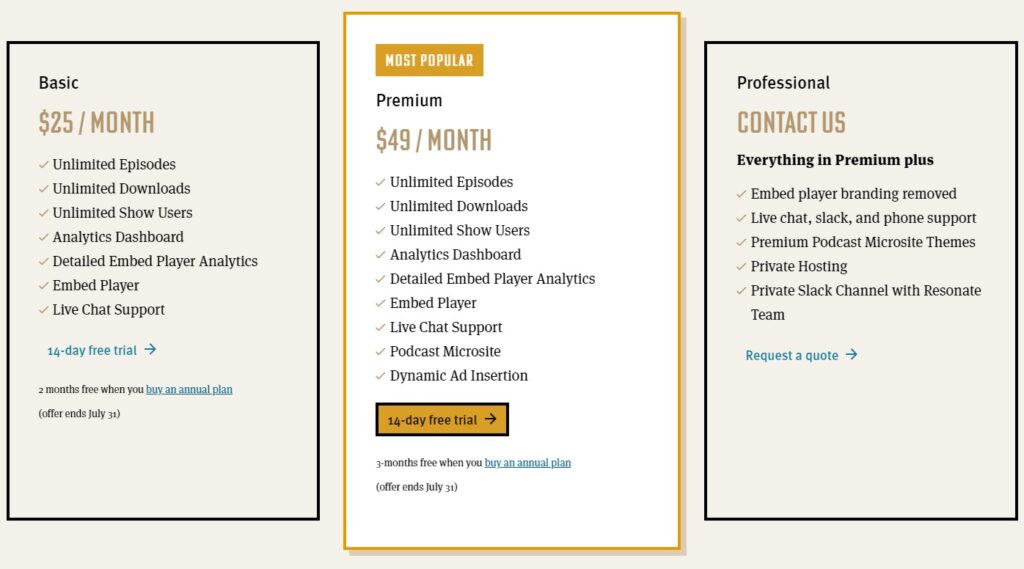 Who is Resonate best suited for?
Resonate is designed to be as simple as possible, being ideal for beginners. Besides offering complete music production separately, their hosting service is user-friendly and helps users who need a suitable platform to manage.
Also, all premium plans provide unlimited episodes, downloads, show users, embed players, detailed analytics, and live chat support.
Most expensive plans even offer a private Slack channel to talk with their team directly. They offer a Free 14-Day Trial, and Premium plans for hosting start at $25 monthly.
Spreaker
Spreaker is one of the best and cheaper all-in-one platforms for podcasters. The platform brings listeners, podcast producers, and publishers together in one spot (web and smartphone apps), making it simple for any sort of content producer to monetize their entire podcast library.
They offer a clean and user-friendly interface and simplistic features, making it easy to manage your audio storage
They also provide a one-click distribution, insightful analytics, social media sharing, embedded players, and a professional studio made by Spreaker, which is easy to record, edit and live stream directly from the app.
The platform allows users to manage and schedule multiple podcasts on the same account, has a team management feature, and its content management system enables users to automatically distribute your podcast to the most popular platforms.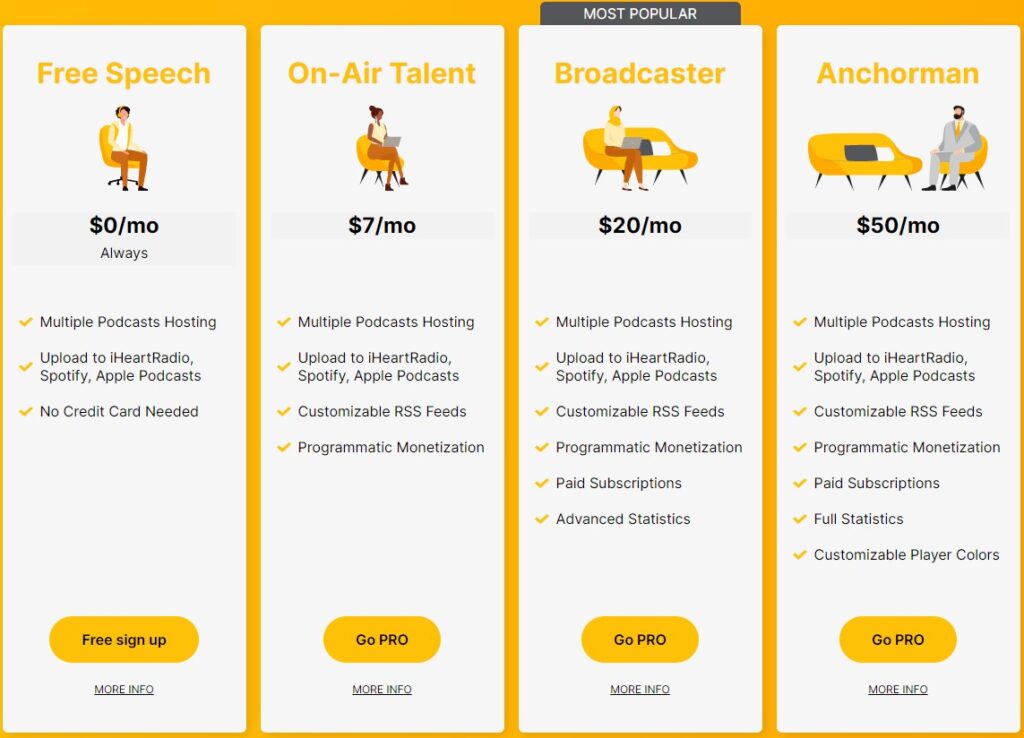 Who is Spreaker best suited for?
Spreaker is ideal for podcast hosts who wish to expand their audience and use the monetization tools full-time. Spreaker can select advertisers and advertisements for you, so you won't have to do anything related to this.
If you're an individual podcaster or a podcast publisher, the right monetization strategies will help you transform your passion into a profitable business.
Furthermore, the simple GUI makes it simple to use the tools, making it a stress-free environment for newcomers.
Spreaker has a Free Plan available that allows users to host multiple podcasts, store 5 hours of audio, have unlimited listeners, host up to 10 episodes, and much more. Premium plans have even more benefits and start at just $7 each month.
bCast
bCast is a podcast hosting site developed especially for marketers. They have specialized resources for optimizing the podcast, such as audio inserts, transcriptions, and YouTube publishing.
The platform is also one of the biggest and most widely used podcast marketing software, with several companies, entrepreneurs, and many others using it.
You can use bCast Suite to generate material, record narrations, edit and publish content, and distribute it with other podcast platforms. It has a really simple user interface that can be set up in a matter of minutes.
bCast Suite is an audio podcasting and marketing platform that allows you to increase your podcast's social engagement and traffic.
It has a detailed cloud-based platform that assists you in increasing revenues and income by having a complete range of features.
They have a lot of features, such as Audio Inserts, Auto Optin to convert Listeners into Leads, custom domains to build traffic and SEO, automatic notifications to your customers, podcast website, youtube publishing, Headliner integration, and podcast hosting.
With bCast Suite, you can even expand your email lists and improve the online visibility of your company's website.

Who is bCast best suited for?
bCast is ideal for more experienced podcasters since they can use marketing techniques like SEO optimization to obtain online visibility, which is particularly important if they choose to transform their podcast into a business.
They have a 14-Day Free Trial and a Premium Plan that starts at $15 monthly, which includes unlimited episodes and storage, 10.000 downloads each month, and much more.
Blubrry
Blubrry is an excellent podcast platform that helps content creators to profit, get detailed audience analytics, and host their media. Their stats are trusted by advertisers and used by a lot of people.
The platform has built a solid reputation thanks to their PowerPress plugin to WordPress, which is a considerable advantage for WordPress users since everything is more optimized, from storage space to ease of use. And the PowerPress site looks pretty good to display your content.
Blubrry key features are their WordPress Integrated Plugin, their Storage Limits that range from 100MB to 1GB, their unlimited bandwidth, professional statistics, custom embedded player, free WordPress site, and file migration.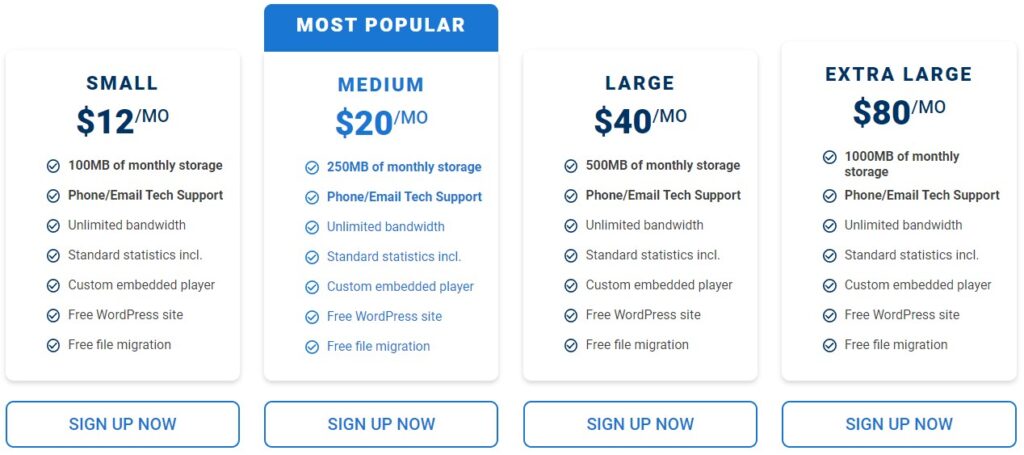 Who is Blubrry best suited for?
Beginners may find their dashboard a little bit difficult to handle, so Blubrry is more ideal for advanced podcasters or users who are already familiar with WordPress. If you already deal with WordPress in your routine, this platform might be suitable for you.
The platform is developed by expert professionals and great developers, designed to maximize their features and help grow the user's audience, becoming a great choice to establish your name.
Blubrry offers three services on their website, Podcast Hosting, Podcast Statistics, and their PowerPress Plugin. Both Hosting and Statistics services are pretty complete and perfect for tracking your success. Also, their plugin makes everything easier through WordPress.
Their statistics service has a Free Plan available, and the Premium plan costs $5 each month. There's no Free Plan available for the Hosting service, and they don't provide any trial. Premium plans start at just $12, and most expensive plans cost up to $80 monthly.
Libsyn
Libsyn is one of the biggest and popular podcast hosting platforms in the world. The platform offers more distribution channels than any other host and has helpful tools for the podcaster to adjust their settings.
You can upload your podcast to a large variety of destinations, including Apple, Pandora, iHeartRadio, Amazon Music/Audible, Youtube, SoundCloud, Twitter, and WordPress.
The special thing about Libsyn is that they have a stand-alone feed for each platform, such as Spotify, Pandora, and other major networks, providing extra details and unique marketing opportunities for each one.
Libsyn also has great other features, like detailed audience stats, custom smartphone apps, mobile compatible player and Podcast Page mini-site customized for your show, podcast monetization system. They also provide a complete statistics tool and a custom episode publishing and optimization dashboard.
Their Integrated Plugin allows users to publish their podcasts directly from WordPress, and the storage limits range with the plan's price.
The platform also doesn't have bandwidth limits, but it does have a limit on the upload size for each plan.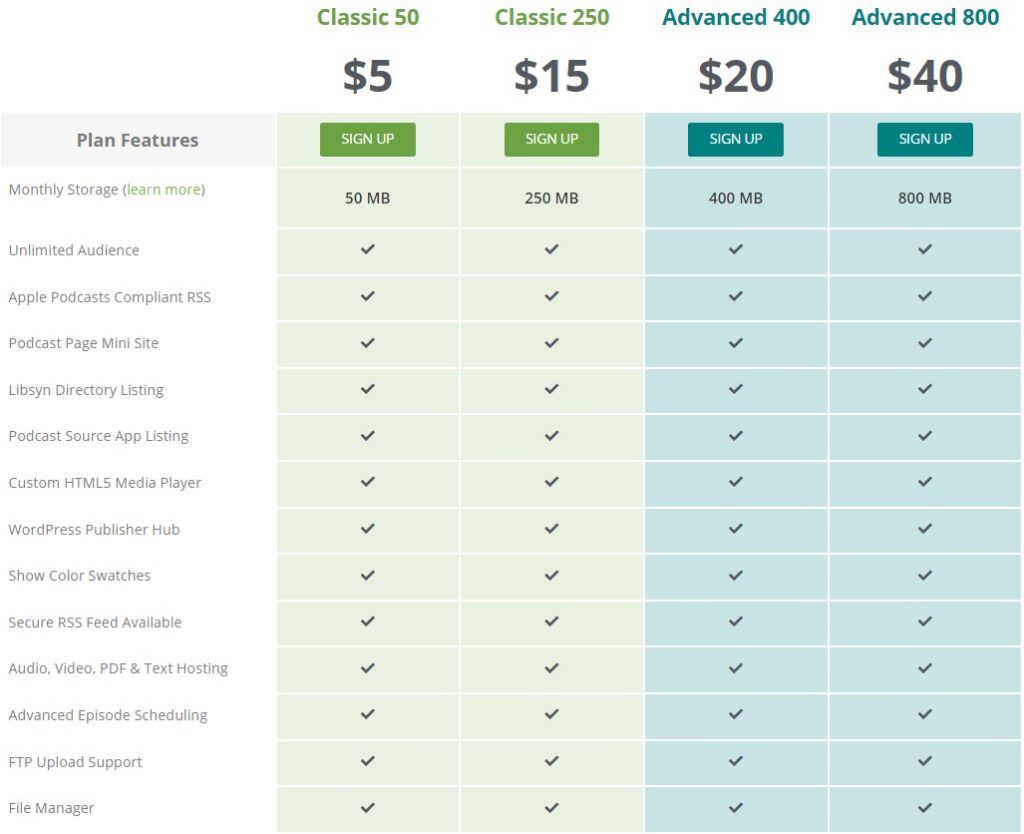 Who is Libsyn best suited for?
Libsyn is ideal for newcomers since it offers some complete features through a clean and user-friendly layout, but the platform is a great choice for everyone, from a hobby podcaster to an enterprise-level one.
There's no Free Plan available and neither a Trial mode. Premium plans start at just $5 monthly, and all offer almost the same features, differentiating only the monthly storage available.
Castos
Castos is another huge platform that offers hosting, distribution, and production for podcasters. The company was previously named Podiant, which changed after Podiant and Castos merged. They are now fully trading under the name Castos.
According to the company, Castos will turn to another hosting platform focused on WordPress. Castos has always been simple but offering robust features to its users.
Its features include a vast distribution channel, allowing users to upload their content into Apple Podcasts, Spotify, Google Podcasts, Amazon Music, Player FM, TuneIn, Stitcher, and the many players for iOS, Android, Windows, and Mac that use open podcast directories.
The platform also has a mobile-responsive website and a complete analytics tool with a lot of info. All plans have unlimited downloads, bandwidth, and episode duration.
They have great tools to grow your audience and make marketing strategies in addition to an audio mastering service. They even had a mentorship program to help you monetize your podcasts and collaborate with others.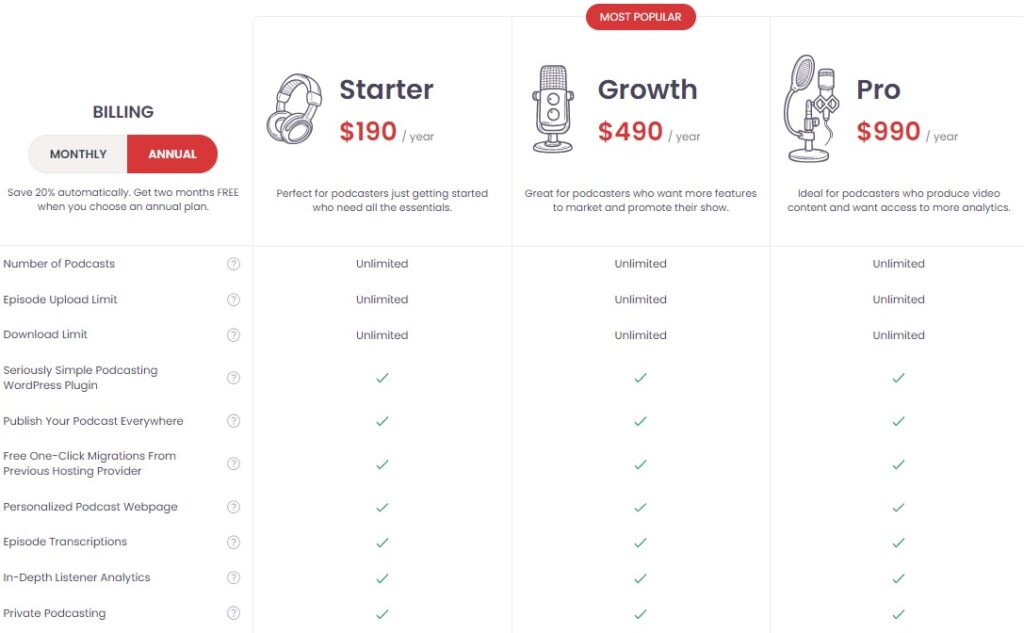 Who is Castos best suited for?
As said in Casto's review, with the fusion between the two companies, Podiant might also be an ideal solution for users who loves WordPress since the two companies are officially partnered.
Besides that, Castos always had been a perfect solution for every kind of user, since you can adjust their plans for your needs, having "Indie," "Professional," and "Networks" plans.
According to the company, they will not change their prices with the fusion. They offer a Free 14-Day Trial, and Premium plans start at just $12.99 each month.
Backtracks
Backtracks is a powerful advertising and analytics podcast hosting platform. The platform offers advanced analytics tools and Ad services to connect advertisers to podcasters in order to match their content.
They are built to benefit all kinds of users, including podcasters, publishers, advertisers, and listeners.
This platform helps users to analyze what's working and what isn't in their podcast, including their advertising and content, by providing audio and listener data.
Backtracks have some other great features, including a searchable index, monetization tools, switchboard, multi-channel audio statistics, real-time and historical data, verified metrics, actionable insights, embedded player, advanced marketing strategies, customizable branding, social sharing, fraud detection and removal, RSS feed themes, powerful campaign reporting, dynamic targeted advertising and much more!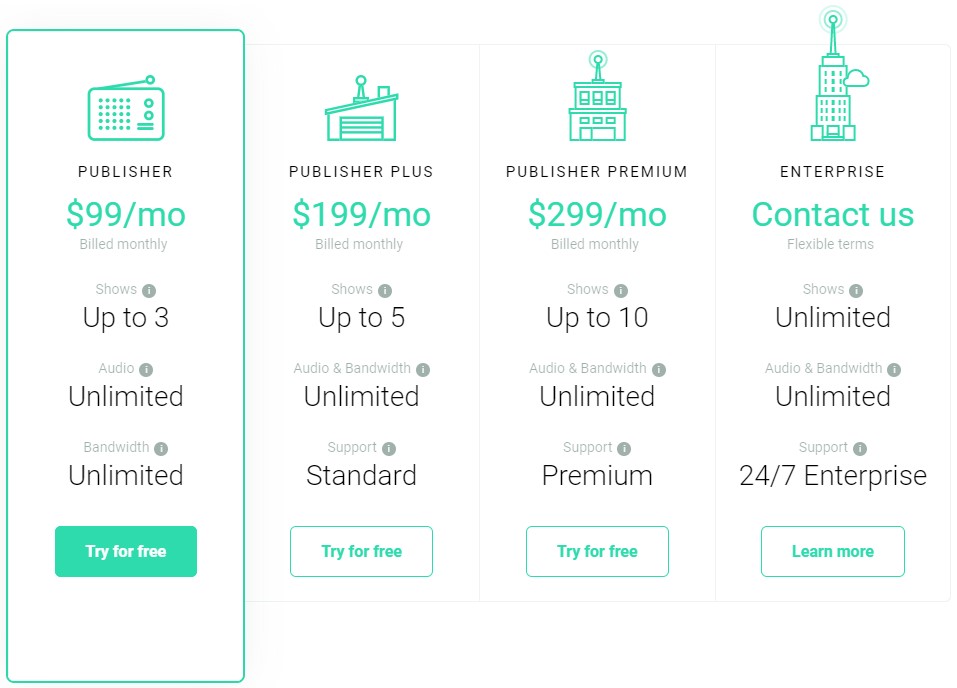 Who is Backtracks best suited for?
Backtracks is best for advanced podcasters since it is one of the most complete and advanced hosting platforms in the world, with its focus on analytics and monetization with Ads.
It offers a lot of features, and it is quite difficult to handle them all. However, they have modern and user-friendly dashboards that might be easy to manage by any podcaster.
They offer a 7-Day Trial and have expensive Premium plans, starting at $99 each month on the Publisher plan and most advanced plans costing up to $299 each month.
AudioBoom
Audioboom is a great platform that provides all the essential tools for every podcaster. It also has features that help content creators, advertisers and listeners.
The platform benefits all users, including radio groups and networks, by providing one single interface to manage all their elements.
Their monetization and advertising are also outstanding features, and they provide advanced analytics and insights tools to help users understand who their listeners are, how's their podcast performance, and what exactly their audience wants.
It has an extremely simple and user-friendly interface with a huge distribution channel, allowing users to share their podcasts into Apple Podcasts, CastBox, Deezer, Google Podcasts, iHeart, RadioPublic, Spotify, Stitcher, and TuneIn.
It also has an Embed player and a professional podcast page.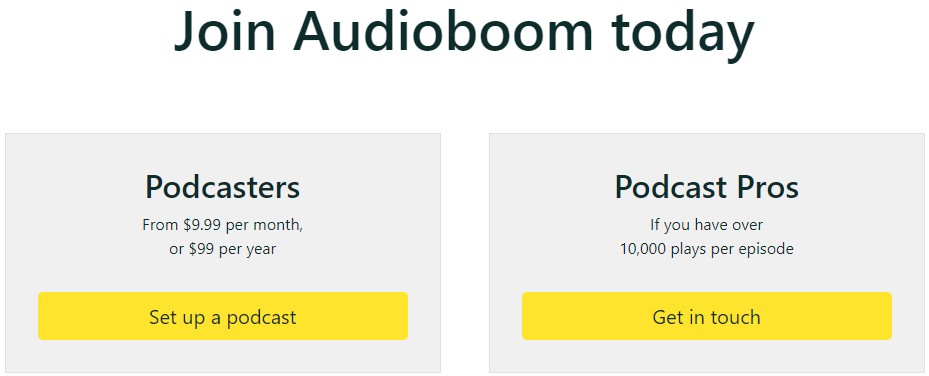 Who is Audioboom best suited for?
Audioboom is ideal for any level podcaster or advertiser. Since it has an extremely easy interface, it helps podcasters to grow their brand through Ads and hosting elements.
The platform is ideal for those who are looking to monetize their content with basic tools that even optimize their audio.
The platform also matches advertisers and podcasters to increase monetization and grow their visibility.
They don't have a Free Plan available, and neither offers a Free Trial. However, Premium plans start at just $9.99 each month and offer unlimited episodes, up to 10,000 plays per month, advanced analytics with breakdowns by app, device, and geographic region, and much more.
Fireside
Fireside is another great platform that is made by podcasters to podcasters. The platform is relatively new in the segment but is already perfect for growing podcasters' audience and visibility.
They offer some great features like a customizable website, built-in security for every podcast, custom domain, fast file hosting, accurate download stats and analytics, responsive website and blog for every podcast, embedded player, and more professional tools.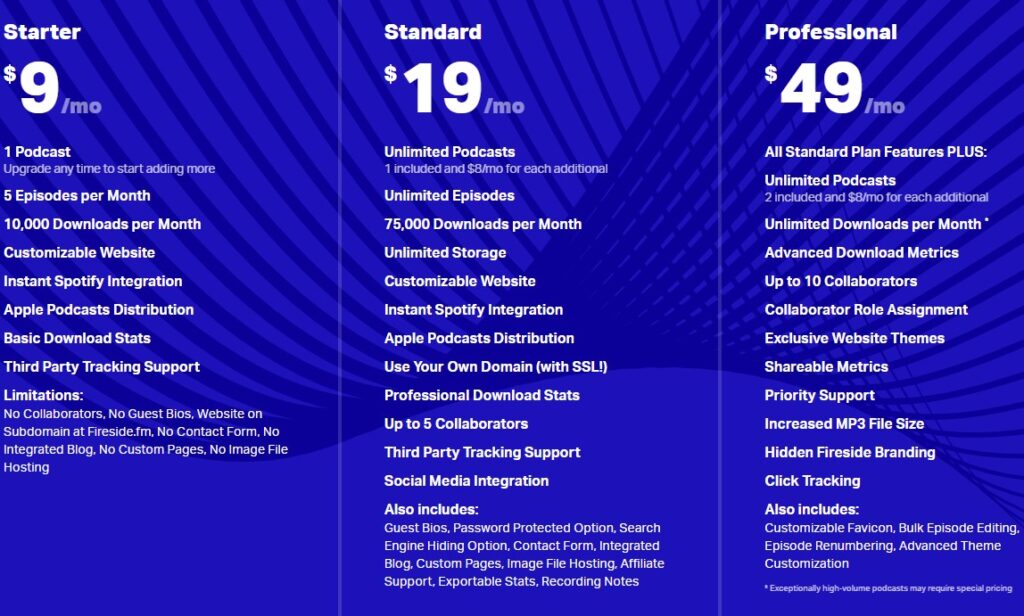 Who is Fireside best suited for?
Fireside can suit everyone since it has complete features with real-time analytics to help podcasters grow their audience and make revenue.
It has a simple user experience and a dashboard that was designed with this in mind. Created to be fast, simple, and optimized for the podcasting workflow. This allows podcasters to focus their energy where it counts the most.
They offer a 14-Day Trial and Premium plans starting at just $9 monthly, which includes 1 Podcast, five episodes per month, 10.000 downloads/month, and much more content.
Best free podcast platform – Free Plans Available
Buzzsprout
Buzzsprout is built to adapt to all levels of podcasters and is one of the only ones that have a great Free Plan Available. It is limited to 2 hours each month and allows users to host their episodes for 90 days.
The plan offers advanced statistics, unlimited team members, podcast websites, a custom embed player, and a huge podcast directory.
Once again, if you sign up using my link below you will receive a free $20 Amazon Gift Card. Enjoy!
Podomatic
Podomatic is a free podcasting platform that allows everyone to become a podcaster. You can create, upload and store all of your episodes within their database.
They offer a 500MB Storage that can store up to 6 hours of recording and the first 20 episodes don't occupy the space, including a 15 GB Bandwidth/month with up to 180 hours of non-stop listening and free daily stats to track your podcast performance.
The platform has the right tools to introduce your show to the world and your podcast can be played directly from Facebook and Twitter feeds, allowing you to embed your episodes on your site or on any other social media network.
Spreaker
Spreaker is one of the best all-in-one platforms for podcasters. The platform has an incredible Free Plan available that helps podcasters grow their audience and brand name.
The features include 5-hour Audio Storage, Up to 10 episodes, Unlimited Listeners, Multiple Podcasts Hosting, Episode Scheduling, Recording/Live Stream App, Up to 15 mins per live Podcasting with a Listeners Chatbox, RSS feed for each podcast, Embedded Player, Free Statistic Reports about Downloads and Daily Listeners.
Wrapping up
As I said before there is no one podcast host that is the best. There's only a podcast host that suits your needs and wants. Thankfully most of them have a free trial so I suggest using the free trial and getting a feel of each service for making the investment.