When I teach people how to setup a website, one of the first things they ask me is how to monetize it. Having a website is one thing but monetizing it is another. Well, affiliate marketing is one of the best ways to monetize your content. But there are just "ok" affiliate marketing programs, then there are the best affiliate marketing programs.
Globally, the affiliate marketing industry is estimated at $12 billion dollars with America accounting for $5.4 billion of that. Nearly have of all affiliate marketing transactions happen in the United States, the hub of capitalism, crazy right?
I remember how excited I was when I made my first $130 back in May 2019. Although it's not that much money, what made me so happy was the feeling that it actually works.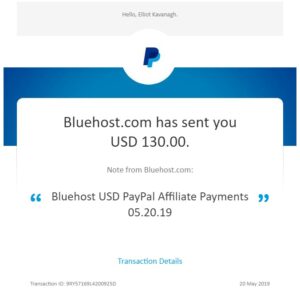 There's a lot of fraud in the affiliate marketing industry claiming you can make money overnight. It's certainly not a get-rich-quick scheme, it takes a lot of time, hard work, and dedication to making a profitable affiliate marketing business.
If done correctly, you can make serious money. For example, look at Pat Flynn, from Smart Passive Income who makes up to $125,000 in one month. That's serious bank!
Before we get into the best affiliate marketing programs. Let's have a look at what affiliate marketing is.
What is affiliate marketing?
The process itself is quite simple. You create quality content and leave a link back to the brands mentioned in your article. If the person makes a purchase using your link, you make a commission of that sale.
Commission rates are usually a percentage of the sale price or a flat fee. For example, Bluehost offers affiliates $65 per affiliate sale. So in order to make $1000 per month from Bluehost, you'd need to make 15 or more affiliate sales in a month.
Affiliate programs work on a cookie duration system. This means that when someone clicks on your link, they need to make a purchase within a certain time frame in order for you to get the commission.
The general cookie duration length is 30 days but can be anything from 24 hours to 365 days.
Now let's get into the best affiliate marketing programs rundown.
Best Affiliate Programs 2021
Web Hosting Affiliate Programs
For content creators, especially those that cover marketing, website creation, and how to make money online will most certainly be promoting a web hosting service.
Not only does it go hand in hand with their content, but it can also be very lucrative. Web hosting companies offer some of the best affiliate rates and payments out there, with some paying up to $500 per conversion.
Bluehost
Bluehost is a leader in web hosting and has been around since 2003. They host over 2 million websites around the world.
Bluehost is my number one pick for the best web hosting affiliate program. It offers a minimum $65 per sale and up to $130 depending on how many sales you make.
They also offer affiliate deals throughout different seasons where you can make up to $100 per sale.
I personally recommend Bluehost and have been for many years. Many of my client's websites are built on Bluehost.
So not only are they a high-paying affiliate program. I also personally love the service they provide.
Cookie Duration: 60 days
Cloudways
Cloudways is a cloud-based hosting provider headquartered in Spain. They have been providing cloud-based services since 2011 and are a very reputable hosting company.
Their affiliate program offers a minimum of $50 per sale and anything up to $125 depending on how many referrals you make per month.
Additionally, they have a Hybrid program where you can earn from $300 plus in passive monthly income.
They also don't require any minimum website stats to be approved. Simply fill in the application form and wait to be approved.
Cookie Duration: 90 days
WP Engine
WP Engine has been around since 2010 and is a leader in WordPress hosting. That's probably the reason why they can offer such a lucrative affiliate marketing program.
They offer two ways to receive a commission, either cash upfront or a percentage of each sale. They also provide affiliates with banners and landing pages to promote their offers.
WP Engine has one of the longest cookie durations at up to 180 days depending on the product you promote.
Cookie Duration: 60 to 180 days/offer dependent
Hostinger
Hostinger was launched in 2004 and now provide their services to over 29 million users. They boast a new sign-up every 5 seconds which amounts to 15,000 per day. They also operate 000webhost.com, a completely free web hosting service which I reviewed here: best website hosting providers.
Hostinger offers a strong affiliate program. Affiliates can expect to earn up to 60% of hosting packages. However, they don't offer any commission for one-month plans.
Although they offer a high commission rate, there is a $100 minimum payment threshold and commissions have to be older than 45 days before they payout.
Cookie Duration: 30 days
Hostgator
Hostgator has been around since 2002, that's two decades in the business. They now host over 2.5 million websites around the globe. They're a great brand to promote and offer a sweet affiliate program.
Their minimum commission starts at $65 per sale and anywhere up to $125 per sale depending on how many people you refer.
They offer plenty of opportunities for bonuses based on your performance and have over 100 ad designs to choose from.
Cookie Duration: 60 days
VPN Affliate Programs
VPN's are a very versatile service to promote and can be suited to a lot of niches. Worldwide, a total of 31% of internet users have reported using a VPN. If that's not enough, the VPN industry is estimated to be worth $107 billion by 2027.
Not only is their popularity rapidly increasing, but they also offer some of the best affiliate marketing programs. They offer commission rates of up to 100% and a very high conversion rate once you have sent someone to an offer.
Pure VPN
Pure VPN offers 40% commissions rates and a 100% rate for 1-month sign-ups. They also provide a lot of promotional banners to help you promote them.
Cookie Duration: 90 Days
Surfshark
Surfsharks affiliate program offers 40% for every subscription referred. That's a very high commission rate to start from for an affiliate.
Cookie Duration: 30 Days
IPVanish
IPVanish is a leader in the VPN industry and offers a very lucrative affiliate program. To sign up you will need an count on Commission Junction.
Commissions are both flat fees and recurring. Affiliates make 100% of a one-month subscription, then 35% recurring. For a 3 month package, you earn 40% and 35% recurring. Finally, for the 1 and 2-year packages, you will earn 40% and then 30% recurring.
NordVPN
NordVPN is a pioneer in VPN services and has been around since 2012. They offer some of the fastest and stable VPN servers on the market.
They offer a great variety of commissions depending on what product you refer. The 1-month offer bags you 100% commissions and 30% recurring. A 6-month sign-up nets you 40% commissions and 30% renewal. The 1 and 2-year plans earn affiliates 40% commission and 30% on renewal.
ExpressVPN
ExpressVPN is the number 1 leader in VPN services and offers server locations in 160 locations in 94 countries.
Express VPNs affiliate program offers a flat fee per referral. Affiliates get $12 per 1-month sign-up, $22 per 6-month signup, and $36 per 12-month signup.
Email Marketing Affiliate Programs
Email marketing is often overlooked by marketers. However, the email industry is still booming and according to a study by Statista, it is expected to be worth $17.9 billion by 2027.
Email marketing affiliate programs are best suited to people in business marketing or how to make money online niches. These are the types of websites that will typically promote these offers.
The programs offer some of the best recurring affiliates commissions in the industry, with some offering up to 30% recurring commissions. That means you'll receive 30% of the customer's subscription payment for as long as they're with the company.
Convertkit
Convertkit is my number 1 recommended email marketing service. I've been using them for 2 years now and I can personally vouch for them. Even better, their affiliate program is fantastic and offers great recurring commissions.
Convertkit offers affiliates 30% of every sale they make. On top of that, the commission is recurring so you will make 30% every month as long as the person stays with Convertkit.
Cookie Duration: 60 Days
Active Campaign
Active Campaign has been in the game since 2003 and now has over 150,000 clients using their services. They are a staple of email marketing so promoting them is easy.
Their affiliate program offers a starting commission of 20% and increases to 30% based on performance.
They boast a great marketing team that will close the deal for you whenever you refer a customer so conversion rates should be decent.
Cookie Duration: 90 days
Constant Contact
A very well trusted and established company, Constant Contact has been in business for 20 years providing several marketing services including email marketing and website development.
Their affiliate program offers $5 for every trial sign-up and $105 when the person signs up for a new paid account.
The program has detailed affiliate analytics to track your clicks and conversions.
Cookie Duration: 120 days
Aweber
Aweber is a pioneer in the email marketing realm and was founded in 1998. Their services are very well trusted which makes their service easy to sell.
They offer a 30% recurring commission on every sale made through your link. They provide very good marketing material which makes it easy to promote their services. Also, they have a full affiliate dashboard to help you track clicks and referrals.
Aweber has one of the best affiliate cookie duration lengths at 365 days, that's a whole year of cookies!
Cookie Duration: 365 days.
GetResponse
GetResponse is based in Poland and has been around since 1998. They have over 350,000 users in 150 countries.
They offer two types of affiliate plans. The affiliate bounty program rewards you with $100 per referral and the affiliate recurring program offers 33% for every sale referred.
This will depend on preference but it's nice that they give affiliates this option.
Cookie Duration: 120 Days
Travel Affiliate Programs
These are the best travel affiliate programs for travel blogs looking to earn some extra income from their content.
The travel industry took a major hit and is still suffering. The consulting firm, McKinsey reckons it may not return to pre covid levels until 2024. However, there still is plenty of opportunity in this industry and things can only get better from here out.
The affiliate programs below offer anything from 5% to 50% commissions.
Tripadvisor
Everyone that's traveled or went looking for a hotel knows Tripadvisor. They're literally all over the place and have become the go-to for travelers looking for reviews on hotels and destinations.
Tripadvisors affiliate program offers a minimum of 50% commission for every person you refer to their partners.
However, the cookie duration is very short in comparison to other affiliate programs.
To sign up for Tripadvisors program you need to apply through an affiliate network. As of now, you can do so by registering with AWIN and CJ Affiliate.
Cookie Duration: 14 Days
Travelpayouts
Travelpayouts was founded in 2011 and is a reputable affiliate program for travel bloggers and content creators alike.
As an affiliate network, they offer a range of commission rates depending on the hotel or offer you are promoting.
Based on their stats, they have 30000 affiliates working for them which indicates that the program is trustworthy.
Cookie Duration: Varies depending on the offer.
Marriott
Marriott's program offers affiliates commissions on hotel stays in over 6700 properties across the world and also vacation packages.
Although they don't exclusively state their commission rates. After some research, I found that the rate tends to be between 10 to 12 percent.
Cookie Duration: 7 Days
Booking.com
Booking.com is one of the world's most recognizable online accommodation booking platforms and affiliates have a choice of promoting over 2.5 million properties.
They currently have over 12500 affiliates and provide a dedicated support team if you need any help with setting up campaigns.
Cookie Duration: They don't currently use cookies. The person must make a purchase in the same session to qualify as a conversion.
Hotels.com
Hotels.com is another pioneer in accommodation and booking services so referring people should be easy.
To sign up to Hotels.com you need to register with the affiliate network CJ.com. Similar to a lot of hotel affiliate programs. Affiliates receive a 4% commission on every hotel or package referred.
Cookie Duration: 7 Days
Expedia
Expedia is a well-known and trusted travel brand with 20 years of experience in the industry.
They offer up to 6% commissions on travel bookings. It's important to note that this only applies to bookings that are completed.
Affiliates can also use their hub for access to marketing materials and promotional offers. To sign up for Expedia applicants need to apply via CJ.com.
Cookie Duration: 7 Days
Travelocity
Travelocity is in fact owned by Expedia mentioned above. However, they operate as independent entities and offer separate affiliate marketing programs.
They offer varying commission rates ranging from 2 – 4% per sale. You can also earn $30 per cruise sale.
Unlike other travel affiliate programs, Travelocity has a long cookie duration which is a bonus.
Cookie Duration: 45 Days
Fitness Affiliate Programs
The fitness industry is a tough niche to crack. However, if you can gain traction the affiliate earnings are great.
The global market size of the fitness industry is estimated at $87 billion. So surely another content creator can take a piece of the pie.
Life Fitness
Life Fitness is a well-grounded brand and has been providing fitness equipment since 1977.
They have two programs catering to content creators and social media influencers. They offer an 8% commission on sales.
To sign up for their affiliate program you need to open an account with AvantLink.
Cookie Duration: 30 Days
TRX Training
TRX is a suspension training device that uses the person's own body weight to complete exercises.
TRX offers a 10% commission for every sale that is US-based. They also mention on the signup form that the average order size is $200.
To sign up simply head on over to their sign-up form.
Cookie Duration: 30 Days
Ace Fitness
Ace Fitness or the American Council on Exercise has been around for years providing courses to exercise professionals.
Affiliates earn an 8% commission for every fitness or exercise course they sell.
Cookie Duration: 30 Days
Bodybuilding.com
BodyBuilding.com is a pioneer in online fitness advice and motivation.
They offer between 2 and 8% commission on referrals. At times they close their application system so if it's closed now bookmark the tab and check back again.
Cookie Duration: 7 Days
Gaming Affiliate Programs
The gaming industry is estimated to reach $175.88 billion by the end of this year. If you think to yourself, you probably know a lot of people that game in some way or another. Whether it's by a console, PC, or mobile.
Affiliate programs in the gaming industry can be lucrative. However, affiliates need a decent size audience due to the commissions being on the low side.
Twitch
Twitch is the leader in live stream broadcasting. It began as a broadcasting website for gamers but now caters to everybody.
The affiliate program is open to people who obtain 50 followers and have 3 concurrent viewers on average. Twitch users can subscribe to your channel for about $5 and you receive 50% of every sub. Affiliates also share a percentage of ad revenue.
Logitech
Logitech's affiliate program offers affiliates 4 to 10% commission on every sale. They claim to have an average order volume of $125.
Cookie Duration: 30 Days
Bluestacks
Bluestacks is an android emulator that focuses on emulating mobile games to a PC. Their affiliate program offers varied commissions based on what games you promote and how many Bluestacks installations.
Cookie Duration: 4-6 hours
G2A Goldmine
G2A is an online games store selling digital games and gift cards. They've been around a long time and are well known especially to PC gamers.
They offer a 5% commission rate on all sales. You can also make 1 to 2 bucks per membership subscription.
Cookie Duration: 14 hours
CDKeys
CDKeys have over 2 years of experience providing digital keys to gamers.
CDKeys affiliate program offers affiliates 5% commissions on all sales. They payout after you have earned $10 so the payment threshold is low.
Cookie Duration: 30 Days
Instant Gaming
Instant Gaming is an online game key store based in Europe. Affiliates can earn 3% of each sale and 1% of every sale their affiliates make.
Cookie Duration: 30 Days
WTFast
WTFast is a fully dedicated gaming VPN service. In fact, they are a GPN(Gamers Private Network), GPN is a registered trademark of WTFast.
Affiliates can earn $1 every time someone signs up for a free trial and $5 every time someone buys a WTFast subscription.
Cookie Duration: None specified
Bitcoin and Crypto Affiliate Programs
The crypto industry is one of the most lucrative industries right now and is estimated to be worth $2.6 Billion by 2026.
The affiliate programs are very lucrative especially for those in the wealth and finance niche.
Binance
Binance was founded in 2017 and is now the world's largest cryptocurrency exchange in the world.
Affiliates can earn from 30% to 50% commissions based on what they offer to their audience.
Cookie Duration: 90 Days
Coinbase
Coinbase has been around since 2012 on the cryptocurrency scene and is now the largest cryptocurrency exchange in the USA.
Referring customers to Coinbase nets an affiliate 50% of the referee's trading fees for the first 3 months.
Cookie Duration: 30 Days
Ledger Wallet
Ledger was founded in 2014 and headquartered in Paris. It develops security solutions for cryptocurrencies.
Their affiliate program offers 10% commissions on every sale referred. However, you will be paid in Bitcoin.
Cookie Duration: 30 days
Trezor Wallet
Trezor is another cryptocurrency wallet provider. Their affiliate program offers 12-15% commissions for every sale made. They provide monthly payouts in Bitcoin and also cash via Wire Transfer.
Cookie Duration: Undisclosed
Local Bitcoins
Local Bitcoins is a Finland-based peer-to-peer Bitcoin marketplace. They have been around since 2012.
Affiliates can expect to earn 20% per sale and payouts are done daily. You will be paid in Bitcoins into your LocalBitcoins wallet.
Cookie Duration: 90 Days
Fashion Affiliate Programs
The global fashion industry is estimated to be worth a whopping $2.25 trillion by 2025. So it looks like there is plenty of room to crack into a share of that revenue.
Fashion affiliate programs offer decent commissions and many other perks such as free clothes for partners.
Warby Parker
Warby Parker offers affiliates up to 20% commission. They claim to have an average sale of $125. They also reward you commissions for supplying them leads for their Home Try Ons.
Cookie Duration: 45 Days
JNCO Jeans
JNCO Jeans may be a good affiliate program for male fashion influencers. They specialize in boys' and men's jeans.
JNCO Jeans affiliate program offers a 20% commission on every sale referred to their online store.
Cookie Duration: 30 Days
Newchic
Newchic has a very appealing affiliate program with commission rates of up to 50% on some goods.
The rate depends on the item that is purchased. They have offers on regularly for new affiliates that sign up, some offers include a flat commission rate on your first month.
Nordstrom
Nordstrom is one of the biggest luxury department store chains founded in 1901.
They offer 5% commissions on referrals with a payment threshold of $25.
Cookie Duration: 14 Days
MVMT Watches
MVMT is an American watchmaker founded in 2013. They have global traffic and free worldwide shipping.
The affiliate program offers a commissions rate starting at 4%.
Cookie Duration: 30 Days
H&M
H&M is a Swedish global clothing brand providing men's, women and children's clothing.
Commission rates vary depending on the items purchased.
Cookie Duration: 30 Days
Pet Affiliate Programs
The pet niche is one of the most lucrative niches to be in this year with Americans spending $103 billion on pets alone in 2021.
There is a whole range of companies available to promote offering anywhere from 20% commissions to flat fees of up to $60 per sale. Check out my best picks below.
FitBark
Fitbark is a company based in Missouri providing dog monitoring technology and accessories. Fitbarks affiliate program offers a starting commission rate of 12% and possibly more based on the affiliate performance.
The average order size on their site is $100 so you can expect at least $12 dollars per referral.
Cookie Duration: 60 Days
HungryBark
Hungry Bark provides dog foods and meal plans for your hungry canines.
They have a very generous commission rate of 20% per referral. They also offer great support including banner links and promo materials via CJ.com
Cookie Duration: 60 Days
1-800 pet meds
1-800 Pet Meds is a pet medication provider based in America. They also sell pet health and nutritional supplements.
They have a great affiliate program that offers up to 15% per referral and a $10 sale bounty per new customer. They also provide you with a dedicated account manager and access to promotional material.
Cookie Duration: 10 Days
My Ollie
My Ollie is a dog food supplier specializing in fresh food. They offer up to $60 per sale on subscriptions. That's a very generous income. As an affiliate, you would only need to refer about 17 people to make $1000 dollars per month.
Cookie Duration: 60 Days
Chewy
Chewy is an American online retailer specializing in pet food and other pet products.
Their affiliate program offers a flat $15 commission on every referral.
Cookie Duration: 15 Days
Vaping Affiliate Programs
The vaping industry has exploded since its beginning and is estimated to grow by 28% every year from 2021 to 2028.
Most vaping retailers offer commission rates between 10% and 20% with cookie durations being very generous with some at 120 days.
Misthub
Misthub was founded in 2013, they provide a vast range of vaping-related products.
They offer 10% commission rates on every sale and a broad range of promotional material to help you promote their brand.
Cookie Duration: 30 Days
Central Vapors
Central Vapors have been around since the start of the vaping industry and they claim to be in the top 150 affiliate programs on Share A Sale.
The commission is very generous starting at 25% and reaching as high as 40% for every referral.
Cookie Duration: 60 Days
CSVape
CS Vape is an online retailer specializing in e-cigs and vaping products. Their affiliate programs are very generous at 20% per referral.
According to their offering, their average is order is about $48.
Cookie Duration: 90 Days
Davinci Vaporizers
Davinci claims to be one of the most recognizable vaping brands in the industry. Their program seems to be very competitive offering 20% per sale.
They also have one of the best cookie duration at 120 days and are listed 15th on the Shareasale top 1000.
Cookie Duration: 120 Days
Vapor.com
Vapor.com is an online retailer specializing in a wide range of products for vaping including CBD products.
They don't disclose the affiliate commission rate but you can expect anything from 20% per sale.
Cookie Duration: 30 Days
Finance Affiliate Programs
Finance is one of the most difficult niches to crack but very difficult does not mean impossible. There is a heavy emphasis on Expertise, Authoritativeness, and Trustworthiness (E.A.T), and Google simply can't trust any Joe Soap with a finance blog. It's best to have some experience and qualifications in this industry.
However, if you can manage to crack the industry, you're talking big bucks. Check out these top recommendations below.
Wise
Wise is one of the global leaders in online banking and provides some of the best transfer fees. They provide you with access to an international account so you can send money to over 60 countries.
Affiliates receive 50 GBP every time they sign up three customers. Each customer has to send at least 200 GBP in transfers.
Cookie Duration: None specified
Bankrate Credit Cards
Bank Rate Credit Cards work on a CPM, CPC, CPL, and CPA basis. This means they pay you based on the number of actions such as views or clicks on the links or banners you display.
Equifax
Equifax is a consumer credit reporting agency founded in 1899. They offer affiliates between $10-40 per sale.
Cookie Duration: 1 Day
Bankaffiliates
Bank Affiliates is an affiliate network for connection content creators in the banking niche. Commissions rates and plans vary widely.
TransUnion
TransUnion is a global credit and risk reporting agency. They offer $20 in commission per referral.
Cookie Duration: 45 Days
CBD Affiliate Programs
Finally, we have the CBD industry. According to Statista, CBD product sales in the USA are predicted to reach nearly 17 billion dollars by 2025.
Affiliate programs in the CBD industry offer anything from 10% to 40% per sale. This means if you have a decent audience size, it can be very lucrative.
Leaf Remedys
Leaf Remedys is an online retailer specializing in natural CBD oils and topicals.
In their affiliate program, they offer 25% on all sales. They also give affiliates a discount to encourage conversions.
Cookie Duration: 60 Days
Organic Naturals
Organic Naturals is a CBD retailer selling a wide range of CDB products. They offer a very competitive affiliate program starting at 25% per sale and up to 35% per sale depending on performance.
They also have a multi-tier program and you can earn 2-5% commissions from referring other affiliates.
Cookie Duration: 45 Days
No High CBD
No High CBD began selling CBD products online in 2017.
Their affiliate program offers from 10 to 30% commissions based on how many sales you refer. You also must have at least 3000 unique sessions per month to join.
Cookie Duration: 30 Days
Pure Hemp CBD
Pure Hemp Shop is headquartered in Los Angeles and sells a wide variety of CBD and hemp products.
They offer a very competitive affiliate program at 40% per sale.
Cookie Duration: 30 Days
Affiliate Program FAQ
How do I choose an Affiliate Program?
The best way to choose an affiliate program is to suit it to the niche you are in. For example, there is no point in promoting a webhost package to a website about gaming or pets. Instead, if your website is in the pet niche, apply to a pet affiliate program. It also helps if you actually use the products you are promoting.
What is a good affiliate commission?
Affiliate commissions usually start as a percentage of the sale. For example, most programs provide between 5% to 20% of a sale. Some programs also offer flat rates. For example, instead of getting a percentage, affiliates receive a flat fee of $5, $10, etc.
How do I become a free affiliate?
Most affiliate programs are free to join. Usually, if you are being asked to pay to join, there is some sort of scam going on.
Can I start affiliate marketing with no money?
Yes, you can start affiliate marketing with no money. However, this is assuming your traffic is coming from social media. If you plan on setting up a website, this is not free.
Is affiliate marketing easy?
Although it has an easy barrier to entry. It is not easy to make a lot of money. The main reason for this is that it's difficult to build an audience with a social media page or website. It takes a lot of time and effort to do this.
Do I need a website to be an affiliate marketer?
In short, no. Plenty of people promoting affiliate offerings have YouTube channels and other social media pages with audiences they can promote to. However, having a website and making content such as articles is a great and powerful way to promote affiliate offerings.