Looking for the ultimate guide on how to write a blog post? Good! because you've come to the right page. I've been blogging for 7 years and I've learned a thing or two. Besides taking you through how to structure and write the perfect blog post. We'll also go through what you should do after you write your blog. I've used these methods to drive millions of page views per month to my websites.
After people start a blog, the first question they have is how to actually write a blog post. This guide is aimed at those looking to step up their blogging game and blog like a professional.
The key to a good blog post is not only quality content. What's even more important is using language that entices your visitor to stay longer. After all, the average page visit lasts less than a minute.
So let's avoid the fluff and get right into it…
There are 5 main types of blog posts that you can write. Each post type has its own purpose and user intent.
For example, "how to" posts guide people and take them through a process. Whereas, "list based" posts take people through a list of different options. For example, the top 10 holiday destinations.
The first thing you need to do is decide what you want to write about. And a good way to do this is to break up the topic into what kind of post to write.
Types of Blog Posts
How to Post
How to posts are a great way of helping people and providing value in your niche. Millions of people around the world are asking the internet "how to" questions and this happens every second of every day.
Everything from how to clean a dog's hair to how to delete an Instagram account. If there's a question to be answered, there's a guide to be written.
How to posts are also a great way of showing your expertise on a subject. If a visitor lands on your page and finds a solution to what they are looking for. This will establish trust and credibility.
List Based Post
List posts have taken the internet by storm. I can guarantee you have visited one at some point. Did you ever visit a post titled something along the lines of "top 10 holiday destinations" or "60 best easy dinners".
These are list posts. The reason they are popular is quite clear. People like to quickly skim through lists instead of reading through a beefy article. They provide quick and easy-to-read points.
Response Post
Response posts are written to answer a very specific question in as much detail as possible. The answer should be kept precise and to the point.
Usually, these posts are anywhere between 500 to 1500 words. A good way to find possible response posts is to google various questions that people may ask relative to your niche.
Then, if you find a lot of forum results and no actual website answering the question, it may be a good response post topic.
The Pillar Post
These posts are what I like to call the Beast Blog Posts. Pillar posts cover a broad range of elements related to one topic.
They are usually long-form content and contain up to 4000 words. For example, pillar posts are often named "ultimate guide" or "complete guide". They take a while to rank but over time bring in tonnes of traffic.
As your website fills with content, you can return to these pillar posts and add inbound links to other relevent blog posts on your website.
Infograph post
Infographs are invaluable to a blog. They provide tonnes of information in one image or graph. Your visitors will love them because instead of reading through a page full of words. They can quickly digest the information visually.
On top of that, if your infograph is done well, it's guaranteed to get a lot of shares which results in more backlinks to your site. It's a win-win.
Preparing Your Blog Post
Do Your Research
The first step to writing a blog post is to start researching your topic. I use Google to find the top 10 ranking posts for the same topic I want to write about it.
When I find them I scan the articles to get a feel of how they are presenting the information and what kind of sub-topics they are discussing.
Most importantly, I check whether they have done an adequate job in solving the visitor's query. If I notice that they have left something out. I know that I can write a better post and eventually outrank them.
If you find interesting statistics or information make sure to bookmark them for later so you can use them to add credibility to your own blog post.
Organize Headings
While doing research on the topic, a good idea is to take ideas from the headings that your competitors use. You will notice that most other blog posts will have similar headings if the topic is the same.
But you're not going to simply copy and paste the same headings. Take inspiration from them and make them your own.
Outline
Once you have gathered the information you need and decided on the headings. The next step is to create the outline. Take a look at the image below of how this post was outlined before I started writing it.
The headings are structured and laid out beforehand so I know exactly what I'm going to write about and in what order.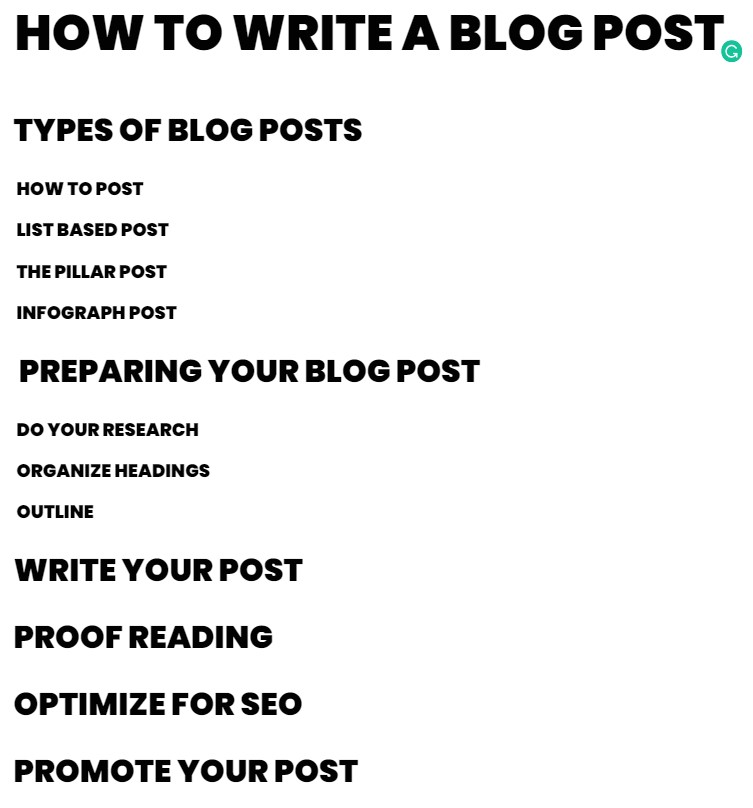 Write your Blog
Now that you have your outline with your headings in place. It's time to actually write. In terms of your topic, start by writing about what you already know.
Make sure to start with an introduction to the topic and summarize exactly how the blog is going to help the reader.
As mentioned above you may need to link to research to back up your points. Make sure to add these points naturally to the text.
Check out how I did this in this post by scrolling back up to the introduction, you will see that the link is placed naturally in the flow of the text.
If you feel like you're getting stuck on a word. A great tool I use regularly is WordHippo. It gives you a list of synonyms, antonyms, and definitions of pretty much every word or term you can think of.
Proof Reading
After you have written your blog post you will then need to proofread it for mistakes or corrections.
Fortunately, you don't need to do this yourself. My number one recommended tool to use is Grammarly. Not only is it very accurate but it's also free.
The universal advice when it comes to writing and editing is to write first then edit later. Well, the one thing I have found over the years is that there is no one rule to follow when writing.
When you are starting out you should experiment with different methods and see what works best for you.
So, I suggest writing with Grammarly activated for a while then try turning it off as you write. Then see what works best for you.
Optimize for SEO
If you don't know what SEO is let me quickly explain. SEO stands for Search Engine Optimization. It's basically the practice of structuring your content so it's easy for search engines to find and read.
If you are using WordPress, there are great tools such as Yoast SEO that has a built-in SEO tool that you can follow as you write to ensure your content has the best chance at ranking.
However, if you are not using WordPress, here are the key factors to include when optimizing your blog for search engines:
Choose a keyword or phrase.
The keyword or phrase is the focused topic of the blog post. For example, the key phrase of this article is "how to write a blog post".
Put this keyword or phrase in the title of the blog post.
The keyword or phrase needs to be in the title of the blog post. This goes without saying but is worth mentioning anyway to avoid potentially irrelevant post titles.
Include the key phrase in the first paragraph of the text.
Your chosen keyword or phrase should be in the first paragraph of the blog post. If you scroll up to the topic you can see I have included the phrase in the opening of the post.
Include the keyphrase in at least one subheading throughout the text.
This is optional but it's best practice to place the keyphrase or a synonym of it in at least one of the H2 or H3 headings.
Write a good meta description with the keyphrase included.
The meta description is the little snippet of information that Google displays when your post appears in the search engine results.
Below is an example of the title with the meta description below it.

Promote Your Post
After you've followed the above steps in how to write a blog post. The final step is to promote your blog post.
There are a few ways that you can promote your content. Firstly, a simple and free method is to share your post on social media.
I have a Twitter page just for my blog and as soon as I finish a post I share it. It often gets favorited and retweeted and some people even comment.
This is a good way to start promoting.
The next method is more advanced and requires some SEO tools. It involves researching your competitor's blog post on the same topic and finding out what other blogs are linking to them.
When you have a list of other websites linking to your competitor's article. The next step is to contact those blogs and pitch your article to them explaining why yours is a better and more up-to-date resource.
Some of the popular SEO tools include:
Summary
Now you know the 5 most popular types of blogs and how to write a blog post correctly by researching, structuring, and promoting.
Let's have a quick look back on the main points from the guide:
Choose the post type
Prepare the blog
Write your blog
Proof Read
Optimize for SEO
Promote your post
Following these steps every time you write a blog post and it will make the process much more efficient. You'll be writing blogs in record time.
Since I started following a more structured method, I've shaved at least an hour off my total writing time for each long blog post.
While you're here make sure to check out more of my free guides on every related to marketing, making money online, and website development.